Gus Kenworthy on traveling to South Korea — and his words of encouragement for LGBTQ communities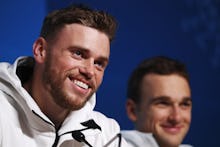 During the Winter Olympics, Mic is tracking a group of athletes who are smashing records and breaking boundaries. To follow the coverage, visit our Olympics hub.
PYEONGCHANG, South Korea — Long before Gus Kenworthy made headlines for calling out Vice President Mike Pence's homophobia, the 26-year-old freestyle skier caught America's attention by winning the silver medal in ski slopestyle at the 2014 Winter Olympics in Sochi, Russia.
These days, the native of Telluride, Colorado, is perhaps one of the most well-known LGBTQ activists in action sports — and the 2018 Pyeongchang Games are the first Olympics where he's competing as an out gay athlete. (Kenworthy came out publicly in 2015.)
Just hours before the opening ceremony Friday, Mic sat down with Kenworthy at the Yongpyong Ski Resort to discuss his LGBTQ activism, his career and what he's looking forward to in South Korea.
This interview has been edited and condensed for clarity.
Mic: What are you looking forward to exploring in South Korea?
Gus Kenworthy: I'm so looking forward to karaoke. I heard there's a spot right by the opening ceremony stadium, so I already scoped that out. I want to go.
In South Korea, you're largely known for your LGBTQ activism. In a previous interview with Time, you said the day you came out as gay felt like your birthday. Since then, have you seen a shift toward acceptance in your sport?
GK: Absolutely, and I feel like I notice it almost every day — even just with the terminology, which is what made me feel like our sport was so homophobic. Everything that was bad was called "gay," and you'd hear people using the word "fag" — and someone would compliment you and then say "no homo" afterward, and it just felt like it was really excluding [the LGBTQ] community. I think that was something that kind of made me very fearful to come out.
But since I've come out, I'll hear my friends say, "Oh my god, that's so — lame." They catch themselves. I appreciate that. I think it shows a willingness to change and acceptance for me, and it's been really nice. My ski community has been so, so supportive.
South Korean newspapers have reported at length about your coming out in 2015. How do you feel about continuing to be an activist while competing in South Korea, a country where being gay is still not very accepted?
GK: I mean, I think it's more important than ever. And I think that as amazing and forward-thinking as the U.S. is, there are still parts of the country and still so many people who are against the LGBT community, who don't understand it and who think negatively toward us. So, I think that we just have to continue to be visible. I think, hopefully, having Adam Rippon and me for the U.S. — as well as other out athletes competing — will help instill a positive change. Hopefully, it will have an impact on South Korean culture, too.
Do you have anything to say to South Koreans who are watching you as members of the LGBTQ communities?
GK: I would say that even if they don't necessarily feel supported because of where they are, they are supported and they are loved. The LGBT community worldwide have got their back. I think that when you're in a community — whether it's a country that's not accepting or a small town — the best way to feel safe is to find a chosen family. Find your community and find your people.
You're currently promoting a Head and Shoulders ad campaign that talks about dealing with pressure. Let's get a little Oprah's Lifeclass for a minute. When you're faced with a challenge, how do you overcome?
GK: With anything that's challenging, it's important for me to focus on everything that is positive, not just the challenging part or the negative. For me, at events, I'll put so much pressure on myself to perform and do well — and of course I want to do well, but I also have to remind myself that, win or lose, I have an amazing boyfriend, an amazing family, a niece that I adore, and I get to do a sport for a living that I really love and enjoy. There are so many positive things, and you can get so caught up on just winning. That's a challenge for me. I have to constantly remind myself of all the things I have to be grateful for.
I heard you're a big fan of Adam Rippon, another Olympian who is out as gay and competes as a figure skater.
GK: We've been Instagram friends for a couple months now. And we've exchanged numbers and have been texting and have been super supportive of one another. I absolutely adore him.
Any plans to hang out?
GK: I'm going to his event. I scored tickets, so I'm very excited to root him on. Maybe he'll come to my event. I have a ticket for him if he wants it.
Olympic athletes don't automatically receive tickets to all the sporting events?
GK: No, it's really difficult! If you want to go to another event as an athlete, you have to get an athlete pass. But you have to apply for it two days before the event, and they'll tell you whether or not you get it the day before.
I've heard this might be your last Olympics. Is that true?
GK: I mean, it's true that it might be. I don't know that it is. I've always wanted to end my career on sort of a high note, and the Olympics are the ultimate pinnacle of sport. It's absolutely a high note. But I don't know. I think that last year, I was feeling pretty exhausted by the travel schedule and I had a few podiums, but it wasn't my most successful season. It's really toiling, going from event to event and not getting on the podium and not doing well.
I've been doing this professionally for 10 years now. Part of me was kind of ready to hang up my skis professionally and focus on other things, other endeavors that I want to do. But this season, despite the qualifying being so grueling and exhausting, I've actually had the most fun I've had in years. I've fallen back in love with it, so I don't know. Maybe it's not time yet.
What other endeavors are you hoping to pursue?
GK: Acting. I did theater as a kid, my boyfriend is an actor, and I've always kind of dreamed of being an actor. I think that having a medal at the last Olympics and hopefully having success at this one will open up some doors. I do not think that it will get me parts, but I do think it will get me into an audition room or give me leg up on the competition. It's something that I would like to pursue while I have the chance.