South Korea's transit is famous, but foreigners are still getting lost and stranded at the Olympics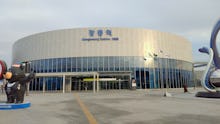 PYEONGCHANG, South Korea — South Korea's transportation is known as some of the best in the world. In under five years, the nation built a glittering, 155 mph bullet train from Seoul to Pyeongchang ahead of the Winter Olympics. Meanwhile, Seoul's elaborate subway system and Incheon International Airport's 12-year streak as the "best airport in the world" proves that Americans have much to envy.
But despite that good reputation, many foreigners are less than impressed with transportation in Pyeongchang and Gangneung, the sites of Olympic venues. As the third day of the games comes to a close, many are finding themselves confused — if not stranded — outside of their sporting events or at local train stations.
"We've been walking a lot — four or five kilometers [about 2.5 to 3 miles] at a time, sometimes," said Geannette Tybben, a spectator from the Netherlands. "There were so many people, and not enough cabs or buses to get where we needed to go."
On the morning of the opening ceremony on Feb. 9, some guests argued over the few taxis available outside of Jinbu Station. Later that night, after the torch was lit, hundreds ran toward shuttle stops in an attempt to beat the lines. But as a stadium with 35,000 seats emptied, it was clear that their efforts were futile — simply put, there weren't enough buses.
Lines were long and the crowds often grew rowdy, with guests screaming at the filled shuttles as they passed them by. For many, it took more than two hours to get to Jinbu Station just nine miles away — and if anyone missed their connecting train, there was a chance that no other seats would be available. Later that night, several spectators told Mic that people stood out on the side of the road and offered money to any passersby. The train schedule had already finished, and few cabs were pulling up to the taxi stand outside.
"After the opening ceremony, we were afraid that we were going to get stuck at Pyeongchang Station and having to sleep there because there was no way home," said Carmen Hindson, a spectator from Calgary, Canada. "There were no buses or taxis. After two hours of waiting, we finally got in [a cab], but there were about 60 people still waiting with us."
The transportation problems are threefold: Not only are taxis and shuttles sometimes scarce, but shuttle buses are often too slow and the bullet train between Seoul and Pyeongchang tends to sell out very quickly. More train times and free shuttle buses from Seoul to Pyeongchang have been added in recent weeks, but those seats, too, are nearly gone at this point.
"It's a big problem. There aren't enough seats on the [KORAIL KTX bullet train] available, so you can't book the times you want to go and even standing tickets are sometimes completely sold out," Tybben, from the Netherlands, said. "We've thankfully been able to go to all of our ticketed events, but we were worried about not being able to get to them."
Even if tickets are available, foreigners have also struggled to use the KORAIL website to book their seats on KORAIL's KTX bullet train. That's somewhat paradoxical, since South Korea is also known to be one of the most technologically advanced wired nations in the world.
"It was very, very laborious," said Catherine Graydon, a spectator from Hong Kong. "You had to enter your ID and other information to look at them, and if you changed your mind, you had to exit and re-enter it all again — every single time. You also can only book one-way tickets — never a round-trip."
Jessie Moore, a native Californian who now lives in South Korea, said she walked 20 to 30 minutes after a speed skating event Saturday night before finding a taxi on the side of the road. Originally, she and her friend wanted to take a shuttle, but they still couldn't find it after following signs and asking information officers.
"Getting from the games back to the hotel was a little tough for us," she said, "Thousands of people are leaving events at the same time, and they're all looking for rides."
Long lines and short patience
On Feb. 11, lines twisted like a maze inside of a tent outside of Kwandong Hockey Center, where the U.S. women's ice hockey team had just beat Finland 3 to 1. Frustrated, some spectators were complaining that they were missing the next Olympic event, which they had already paid for.
The previous night, Jack Hayes — an English teacher in South Korea — had a similar problem. His hotel is in Wonju, approximately 77 miles from the hockey center's nearest bus station that would take him there. Knowing that he would be stranded if he missed his train that night, he decided to skip the free shuttles and searched for a cab.
"Trying to find a taxi to get back from my hockey game was difficult," he said. "I was in a rush to get back to the bus station because I had a ticket already that would bring me to [my hotel], so I couldn't risk taking the shuttle."
Though it's called the Pyeongchang Olympics, sports venues are actually scattered around several parts of Gangwon province. The shortage of taxis is far worse near stations in Pyeongchang, which are the closest train ports to both the Olympic Stadium and several snow sport venues. That's partly because Pyeongchang county has one-fifth of Gangneung's population, so taxis are less in demand year-round. And after 10 repeat attempts, Mic could not call a cab using KakaoTaxi — an app that's somewhat like Uber and frequently used across Seoul and other Korean cities.
"The venues are far from the stations. We don't make much money driving people to where they need to go, because then we also have to drive back to the station to find more customers," said Mr. Im, a taxi driver in Pyeongchang who declined to provide his first name. "Pyeongchang is the countryside, so we don't normally have a lot of customers during the year."