'Black Panther' isn't just a movie that people are excited for — it's a movement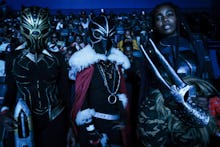 Black Panther stars Chadwick Boseman, Danai Gurira and Lupita Nyong'o have already wowed paparazzi with their regal African attire and glamorous gowns at red carpet premieres for the new Marvel film.
But soon it will be everyone else's turn to enjoy and celebrate the critically acclaimed blockbuster and its virtually all-black cast, which hits theaters nationwide on Friday.
Brooklyn local Addy Salau and her social entrepreneurs group Party Blackly are hosting one of hundreds of Black Panther premiere events taking place across the country and around the world.
Salau and co-organizer Samantha Kendrick rented out four auditoriums at Regal Cinemas' Battery Park Stadium 11 movie theater for their sold-out red carpet social. This isn't just some extravagant viewing party, though; they organized the event to turn excitement for the new movie into activism and support for related black causes.
"When everyone comes in, they're going to get name tags to write down a social cause or issue they care about," Salau said in a phone interview. "Before the movie starts, people are going to be mingling in the lobby and networking ... We really want to capture the energy around this event and see what we can do to channel this into more sustainable energy in our community."
The New Jersey Young Democrats of America's black caucus is hosting a black-tie event at 7 p.m. Eastern on Thursday. Another 500 people are expected to attend a premiere party at Harkins Shea 14 movie theater in Scottsdale, Arizona, on Friday.
Other Black Panther galas are scheduled in Las Vegas, Miami, Houston and Atlanta.
Organizers in Charlotte, North Carolina, are expecting more than 1,000 people, including several local comic book artists, to attend their "Official Blackest Weekend Ever" premiere party Friday night.
Co-planners Tiffany Fant and Nakisa Glover said they decided to turn their event into a three-day affair after tens of thousands of people expressed interest on Facebook before Christmas.
"That's when we realized we had a 'thing' and it needed to be more," Fant said in an interview conducted over Facebook Messenger. "Now [this] includes local black businesses, local black financial institutions, our elders, young people and community members."
New Orleans natives Brian Verrett and Heather Fernandez are expecting 55 people at their Black Panther Cookout on Thursday before they see the film later that night.
"We're asking everyone to bring a dish," Verrett, the Geek Squire YouTube vlogger, said in an interview. "Since [Black Panther's] appearance in Captain America: Civil War, everyone has wanted to see more of him and [his fictional home nation of] Wakanda. I believe in the hype and hope it lives up to all of it."
Opening weekend showings for the latest installment in the Marvel cinematic universe have already sold out at many theater locations due to unusually high demand for presale tickets.
Major theater chains, however, say they're making special arrangements so more fans can see the movie during opening weekend.
"We're adding showtimes at locations around the country to help ensure that anyone who wants to see the movie opening night or opening weekend has the opportunity," AMC Theaters spokesman Ryan Noonan said in a statement. "There are still millions of tickets on sale at AMCs around the country."
While most of these events were created to celebrate a pivotal moment in black culture, organizers Mic spoke with stressed that people of all races are welcome to attend.
Fant and Glover said people don't have to be black to enjoy Black Panther or black culture in general.
"We have created an event where everyone that wants to celebrate our community, our culture, our city, our blackness can find what speaks to them," Glover said.