Applebee's fires employees involved in viral racist incident at Missouri restaurant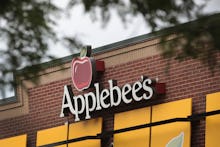 Three employees at an Applebee's franchise restaurant in Independence, Missouri, have been fired for their involvement in an alleged racial profiling incident that went viral over the weekend.
"The franchisee terminated the manager, server and another employee involved in the incident," an Applebee's spokesperson wrote in an emailed statement to Mic Monday evening. "We do not tolerate racism, bigotry or harassment of any nature, and we have taken additional steps to close the restaurant at this time in order for the team there to regroup, reflect, learn and grow from this."
On Saturday, the since-terminated employees called police on two black women who were eating at an Applebee's restaurant inside Independence Center Shopping Mall.
At least one of the employees accused both women of visiting the restaurant the day before and leaving without paying for their food.
"What they're telling me is that they want you to go ahead and pay your bill and leave and not come back," one of the two responding officers can be heard telling the accused women in the video.
"This is racially profiling," responded Alexis Brison, who later posted cell phone video of the incident on her Facebook page. That video has since been viewed more than 2.8 million times.
"We deal with this all the time," Brison continued. "Black people in America have to deal with this all the time."
After police ordered both women to leave the restaurant, one of the accused women, identified in the video as Asia, can be heard crying hysterically.
"We're being escorted out by the police! Oh my God!" she screamed in the video. "I don't know what this is! This is crazy!"
The officer speaking to Brison and Asia didn't seem to understand why they were so upset, at one point telling Brison, "You should get my good side," and, "Make sure you spell my name right," as she began shooting the video.
"You guys are getting worked up for nothing," the officer added.
"This is too much of an accusation to call it nothing," one of the girls replied.
Applebee's corporate office seemed to take the incident much more seriously.
"We are reaching out to the guests involved to apologize directly," the company's spokesperson wrote in an email. "We know rebuilding trust with those affected by the incident will take time, and we look forward to finding resolution in the coming days."