American hero Michelle Kwan still gets emotional when she looks at how far figure skating has come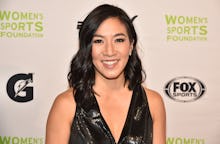 PYEONGCHANG, South Korea — This year's Team USA Olympic figure skating has a record number of Asian-Americans: Karen Chen, Nathan Chen, Madison Chock, Mirai Nagasu, Alex and Maia Shibutani and Vincent Zhou make up half the team.
But long before this crop of Olympic skaters glided onto the ice in Pyeongchang, they were at home watching figure skater Michelle Kwan make her own mark on history. Kwan is a two-time Olympic medalist and five-time world champion, and she's widely considered the most decorated figure skater in history. Kwan, who is Chinese-American and from Torrance, California, has long been a symbol of Asian-American pride. And more than a decade after her retirement in 2006, she continues to inspire young figure skaters.
"[Kwan's] parents owned a restaurant and my parents own a restaurant. We're both from California, so I really looked up to her," Mirai Nagasu told NBC News.
Mic sat down with Kwan at Yongpyong Ski Resort on Feb. 13 to discuss the 20-year anniversary of her first Olympics in Nagano, Japan — as well as her work in politics and what the future holds.
This interview has been edited and condensed for clarity.
Mic: You've been to South Korea before as a goodwill ambassador for the U.S. State Department. What do you enjoy most about visiting here?
Michelle Kwan: I love going to Korea. It's always a great opportunity to eat good food, meet nice people — and I love sightseeing. But to be here during the Olympics is another plus — getting the opportunity to see some of my friends like Lindsey Vonn compete or cheer on Team USA across the board, seeing U.S. figure skaters clinch the bronze medal — it's all special.
How'd you feel the other night, when you saw Mirai Nagasu land that triple axel?
MK: [Gasp.] It was amazing. It was as if I were skating with her. I've seen how hard she's trained for the last four years, and the transformation from the disappointment she went through four years ago to being at her best and in such incredible shape. Following that triple axel was this incredible performance, and with eight other triples.
Mirai Nagasu has said what an inspiration you've been for her, and you're often a point of pride for the Asian-American community. How does it feel to see that seven out of 14 of the U.S. figure skaters here in Pyeongchang are Asian-Americans?
MK: It's pretty surreal. I grew up watching Kristi Yamaguchi, a Japanese-American skater and I remember meeting her when I was 11 or 12. And with Mirai — we've talked about how similar our stories are. Her parents had a Japanese restaurant and, growing up, her mom was sewing costumes and sewing sequins onto her dresses. We talked about how, compared to other skaters, she didn't have custom-made, fancy dresses because her parents couldn't afford those luxury things.
My story is the exact same. Our family had a Chinese restaurant and my mom was the one sewing beads by hand onto everything. I borrowed costumes even up to the senior level, when I was second in the country. I was wearing costumes that people [lent] me then.
I'm just really proud. Mirai is a friend, and I can see her developing into this incredible woman who's strong, who's graceful, who's classy, who's articulate. It's really beautiful to see, and to see how she's representing our country.
When you competed during the Olympics, there were news headlines that implied you weren't actually American. How did you handle moments like that?
MK: I've seen things like that throughout my career. I remember in 1998, they had a pool of press media after the competition and one of the questions — and this was Japan, so I was really far away from home — the question was like, "Oh, how does it feel to be so close to home?" And I was like, "I'm an American and I'm very far away. I'm very far from home and I miss home so much. We're not that close to California." [Laughs.] Or people said things like, "You speak English very well."
But I've grown up with some of those comments, and you know, I didn't let it impact me. I think it's because I had such an incredible team of skaters around me, and I knew who I was, what I represented and how to be myself. Deep down, if people try to say something like that to you, you have to remember to stand up tall and [be] who you are as a person. You can't let other people define you.
You are the most decorated figure skater in history, and even long after you've retired, people are still so excited to see you at the Olympics. What do you attribute all your success to?
MK: My mom. She's played such an important role in my life. My mom is soft spoken but strong as nails. As a competitor, one of the things I have innately — and I think it's Momma and Papa's genes — is this competitive, relentless kind of grit. I can take a lot and be pushed down. I can fall down a thousand times, but I always pick myself back up. It was to the point where my coach would say, "You need to get off the ice — I'm going to pull you off the ice." It's that kind of persistence that I get from my family.
What's been the most interesting experience you've had so far at these Olympic Games?
MK: I went to a hockey game — the unified women's Korean hockey team versus Switzerland. It was so unique. You're witnessing history in the making — you're watching sports, but you're also watching such incredible geopolitical things happen. You hear the North Korean fans up there cheering and singing and I just had to take it all in. I was taking so many videos because I just wanted to share it with my friends and family.
In 2016, you worked as an outreach coordinator for Hillary Clinton during her campaign. What led to that?
MK: I had the honor of working with Secretary Clinton at the State Department. Before she officially announced, I had called some friends and asked, "Is she really doing this? Because a lot of people are moving to New York." A lot of my friends were saying, "We're here, but we don't know yet. But as soon as we get the sign, we're going to start forming." I wanted to be a part of that. I said, "Sign me up."
How do you feel now, given the election results?
MK: Let's not talk about that. [Laughs.] I don't think there would be enough time to talk about that.
What's next for you after Pyeongchang?
MK: I'm on the board of the Special Olympics, to help people with intellectual disabilities. Our next one is in 2019 in Abu Dhabi, so I've been flying to the Middle East a lot. That's what I'm looking forward to.