Olympic medalist Elana Meyers Taylor isn't done breaking gender and race barriers in bobsledding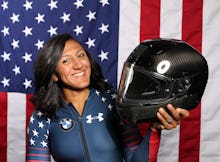 During the Winter Olympics, Mic is tracking a group of athletes who are smashing records and breaking boundaries. To follow the coverage, visit our Olympics hub.
Elana Meyers Taylor, a two-time Olympic medalist and four-time world bobsledding champion, paved the way for women to compete in four-person coed sleds. After she won a silver medal at the 2014 Winter Olympics in Sochi, Russia, for her performance in the women's two-person sled event, the International Bobsleigh and Skeleton Federation started officially allowing women to be drivers in four-person sleds with men as the sled crew.
"When I got into bobsled, I wanted to first show that women could drive sleds just as well as men," Meyers Taylor, one of seven American athletes sponsored by Proctor and Gamble, said Tuesday during a panel at Yongpyong Ski Resort.
Even so, Meyers Taylor also said there's much more work left to do. Mic sat down with the Olympian to talk about her career and how she'd like to see her sport change for the better.
This interview has been edited and condensed for clarity.
Mic: This is your third Olympic games. How does that feel? And how is this one different than the others?
Elana Meyers Taylor: I definitely feel like a veteran of the squad and a veteran of the Olympics at this point. I think, in the first two Olympics, it was just about the medal and just about winning. But in this Olympics, it's really about the performance — putting together the greatest performance I can think of and letting the medal worry about itself.
You were just speaking at a panel about the unique challenges women athletes face. Was there a moment where you felt like you were underestimated because of your gender?
EMT: After I won a silver medal in the Olympics for bobsled, I decided to take on this new challenge and drive four-man sleds. I was trying to assemble a crew of men to push me — three guys to push me — and I was asking different men because the way it works is kind of like The Bachelorette.
In bobsled, you go up to different brakemen and it's like, "Hey, why don't you push for me? Will you accept my rose?" So, you have to go through this whole dating kind of process to find brakemen, and when I went up to one of the guys to try and get him to go into my sled, he was like, "Are you even a good driver?" I was like, "I just won a silver medal in Sochi. Yeah, I think I know what I'm doing!" But to go through that process was pretty humbling experience.
I could not get any of the guys on my team at all. [My husband, Nic Taylor,] came and pushed for me — and because he agreed to push for me, I got three other guys to agree to push for me as well, and finally got a team. But I mean, that was just one of the many times I've been made to question myself.
Do you think this underestimation of women intersects with race?
EMT: I definitely know that to be true. I feel like our sport is a highly European-dominated sport, and it's one of those sports where people don't see black drivers as being of an equal caliber as white drivers. That's something I've heard my entire career from different coaches and different athletes — they question whether drivers of color should actually be there. People think that people of color should just be in the back of the sled, which is crazy to hear in 2018. But I'm out there to prove them wrong, and I think there are other black drivers and drivers of different races that are out there to prove them wrong as well.
"People think that people of color should just be in the back of the sled, which is crazy to hear in 2018." — Elana Meyers Taylor
What do you say to yourself when people question you like that?
EMT: Well, the coolest thing is that I've proven to myself time and time again that I'm one of the best in the world — and more recently, in the past three years, I just remind myself that I'm a world champion. No one can tell me that I can't do anything. I've done it already.
Earlier in my career, it was just about trusting what I was brought up to believe. I was brought up to believe in myself and my mom always told me, "Hey, you can be anything you want," and that she was going to support me regardless of what happened.
You're competing in a two-person sled with fellow American Lauren Gibbs in Pyeongchang. What should be done to make bobsledding more equal for women?
EMT: The first thing would be to increase the size of the women's Olympic field. Right now, women have 20 sleds and only two-person sleds. And there are some years where there's not as much funding, so there are fewer sleds in our overall field. But the men's field at the Olympics has 30 sleds, and that's for two-man and four-man sleds.
Another really simple thing would be just trying to make it so we have better races. Most of the time, we don't get any training time near our races. So, here in Pyeongchang for instance, we train at 10 a.m., whereas our race is at 9 p.m. at night. Training at 10 a.m., the light is different, the ice conditions are different, so it makes a lot of difference. And that happens to us throughout the entire year, during every single race, whereas the men train much closer to their actual race times. We still need to make sure we're putting everything we can in having a good women's race.
What's next for you after the Pyeongchang Winter Olympics?
EMT: I'm definitely looking forward to starting a family, but I would love to keep continuing in bobsled and keep trying to push women forward in the sport. My goal is to one day become the CEO of the U.S. Olympic Committee.