Tara Lipinski and Meryl Davis talk figure skating costumes: the sparkle, the spandex, the drama!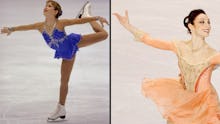 Already at the 2018 Olympics in Pyeongchang, South Korea, there have been some iconic fashion moments.
That red sparkly dress Mirai Nagasu wore when she landed that triple axel and became the first American woman to land the move at an Olympics?
Magnetic.
That sparkly shirt that Adam Rippon twirled in, ever so beautifully, as the first out gay American Olympic figure skater?
Already iconic — and begging to be a sweet Halloween costume.
At any Winter Olympics, the fashion during the figure skating events is hard to beat. While other winter sports have uniforms and bulky parkas, skaters get to skate and dance elegantly in rhinestones and sparkle and spandex and mesh, with blades on their feet. Try to name something both more beautiful and metal than that. You can't.
Each of these outfits, according Olympic ice dancer Meryl Davis, who is a two-time world champion and helped get the U.S. team bronze at the 2014 games, is an extension of the performance, produced and tailored to give the most theatric effect a skater could want.
"I think one of the really unique things about figure skating is that it's athletic, but it's also artistic," Davis said in an interview with Mic. "Appearance and the costuming and the complete package goes hand in hand is a big part of what people see. As a skater, you want to sweep the judges and audience away with the story you're telling. As in theater, costume is a very big part of it."
"As a skater, you want to sweep the judges and audience away with the story you're telling."
Technically, as Davis told us, the outfits don't have any weight in the skater's score, unless they are too skimpy. There's a whole lot of rules from the International Skating Union that outline what exactly the skaters can wear, with a particular level of modesty expected.
"A certain amount of coverage is expected," Davis said. "You're not going to get downgraded on a particular element just because a judge doesn't like your costume. If people are enthralled by what you're trying to say on the ice, the costume can be a big part of it, however. It's impactful in terms of the components and the effectiveness of the story and the choreography."
Skaters receive different sets of marks for each performance. One is for technical elements, and the skills they used in the skate. The other is for "program components," including artistry and presentation.
Tara Lipinski, the Olympic figure skater who won gold in 1998 and is now one of NBC's point Olympic commentators with Johnny Weir, also thinks that a beautiful costume is essential in each performance.
"A skater is always looking to be the full package, from your music to your choreography and finally to your costume," Lipinski said in an interview. "Whether you're channeling a character or not, it reflects your personality and personal style. There are some rules about costumes, but they are not judged. Again, I feel the costume is more for the athlete to feel complete in the performance they are about to give."
"I feel the costume is more for the athlete to feel complete in the performance they are about to give."
If we mention these costumes, we have to mention the sparkle. On a very large majority of figure skating costumes we see on the ice, there are sparkles and rhinestones and sheen and glitz. If someone wore a little black dress without a hint of sparkle, it would look weird, wouldn't it?
Why the sparkle?
"I think it enhances what you're watching on the ice," Davis said. "The lighting on the arena is so well-suited to pick up the crystals. I think it draws your eye, which is what you want. You want people to pay attention and be enthralled by your performance, so if the sparkles are going to be what makes people think it's more radiant, why not?"
As Davis put it: "Life is short and life is difficult. If you can watch a beautiful sport sparkle, why not?"
For Lipinski, sparkle is just one of those things everyone likes. Sparkles are pasta and paid vacations and Oprah.
"Who doesn't love a sparkle?" Lipinski said. "It's been a tradition and when skating in these large arenas, it does not matter where you're sitting, it is hard to miss the glitz and the glamour."
Looking at all these beautiful outfits, with their skirts and rhinestones and intricate detailing, we started to wonder too just how much one of these pieces costs.
Designers have gotten into this game already. Nancy Kerrigan wore custom Vera Wang in the '90s. Italian figure skater Carolina Kostner wore Roberto Cavalli starting in 2005. Donna Karan outfitted the entire 1998 U.S. figure skating team, which included Lipinski and Michelle Kwan.
"Sometimes the most beautiful, successful [outfits] are really simple, like a couple hundred dollars," Davis said. "I've heard rumors of upwards of $25,000. In an Olympic year, designers will work with skaters to put costumes together, and get everything absolutely perfect."
Davis has skated for 26 years, starting at just 5 years old, and she started skating with her ice dance partner Charlie White when she was just 9. She considers one of the outfits she wore to the Olympic games in Vancouver in 2010 her favorite.
"Charlie and I were skating to a Bollywood piece, so we put together a traditional Indian outfit and we went to an Indian boutique and had the store keeper help us and put something together that was authentic," Davis said. "You don't get to wear something that is culturally authentic on the ice very much, if ever, so it felt really special."
As a group though, when you look at the female skaters on the U.S. Olympic team, there is a uniformity to their costumes.
There's usually a tight spandex leotard-like top and then a short skirt that floats away from the body. That's been the standard outfit for a while now, which you can see when looking back at Lipinski's 1998 Olympics.
Certainly there are female skaters who wear pants. Maé-Bérénice Méité from France just did that in Pyeongchang.
But with that one silhouette still trumping all the others, is it time for these outfits to change in a real way? In December, ESPN's Paul Lukas explained why he thinks it's best if figure skating changed from costumes to a uniform.
That's something Davis is strongly against.
"As a skater, I couldn't disagree more," Davis said. "I don't think it detracts from the athleticism, and it enhances the artistry."
And besides, it's not as if these costumes look dated, per se. Looking back at Lipinski or Kerrigan even, although the silhouettes might be similar, styles have changed. Things have gotten simpler and more modern.
"I think the fashion and trend now is gravitating to a more modern contemporary dance style of costume," Davis said. "I don't think costumes in general are as theatrical as they all were. Perhaps that's a result of camera work. Because in the '80s or '90s, it wasn't a clear picture. Now, you can see tiny details. In the '80s and '90s, there was unnecessary excess, like pieces of fabric flowing for no apparent reason, just going overboard with costuming."
Davis' costumes now can look like a dress ready for the Golden Globes, rather than just ice skating.
Lipinski has seen this over time herself.
"Costume designers that skaters use change throughout the decades and each designer usually has a specific style and look," Lipinski said. "Sometimes that will set the tone for the current trend. Certainly trends die, the style and shape of the skirt, puffy sleeves from the '80s, less sparkle or more sparkle — it's always changing. Full body leotards are popping up recently. Alina Zagitova from Russia is currently starting a new trend; she wears a classic tutu, which is both modern and a nod to classical ballet."
Looking forward in time it's hard to predict what figure skating outfits will look like, but Lipinski has just one hope.
"You can never predict what a fashion trend will be, but I hope we always keep some sparkle."