NYPD officer who fatally shot Deborah Danner is found not guilty of all charges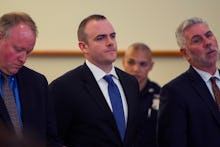 A New York City police sergeant was acquitted Thursday of murder in the 2016 shooting death of Deborah Danner, a black woman who was said to be living with a mental illness.
The New York Times reported Justice Robert A. Neary of the state Supreme Court ruled that prosecutors had not proven that New York Police Department Sgt. Hugh Barry was unjustified, when he used lethal force against 66-year-old Danner. In his own defense, Barry testified that the woman swung a baseball bat at his head before he opened fire, according to the Associated Press.
"The prosecution's evidence has failed to meet that burden of proof," Neary said.
During the two-week bench trial, other witness testimony contradicted the officer's account. Another police officer claimed that Danner did not swing the bat before Barry shot her. Days after the shooting, some police leaders suggested Barry's conduct was a departure from officer training on handling mental distress calls.
Danner's family said they were outraged by the verdict.
On Oct. 18, 2016, police had been called to Danner's home after someone reported her as behaving erratically. According to several accounts, Danner was known to neighbors and police to be a person with paranoid schizophrenia who had been hospitalized for treatment several times. She had written about her fear that a crisis related to her illness might end with her death at the hands of police.
In May, Barry was charged with murder, manslaughter and other charges, after a months-long grand jury investigation.
Danner's shooting death helped revive a national debate about law enforcement training around interacting with people with disabilities and severe mental illness. In 2016, Danner's death and the police shooting death of Alfred Olango near San Diego became rallying calls for advocates. In 2017, the shooting death of Charleena Lyles by a Seattle officer revealed ways the major city police force was failing to enact federally mandated reforms, after years of bad outcomes when police encountered people with mental health instabilities.
Community Access, a New York City-based advocacy group for people living with mental health concerns, called Thursday's verdict a "tragedy on all levels" and called attention to nearly a dozen other fatal encounters between emotionally disturbed people and the NYPD.
"Officers trained in Crisis Intervention Team methods need to be the first to respond to [emotionally disturbed person] calls," the group said in a statement. "The current dispatching system is ill-equipped to appropriately respond. With each passing second, lives are put at-risk, and as we've unfortunately seen over and over again, fatalities ensue."
Feb. 17, 2018, 11:48 a.m. Eastern: This story has been updated.