Jury awards Korryn Gaines' family $36 million in wrongful death lawsuit over 2016 police shooting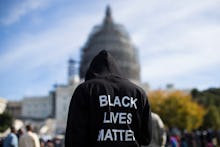 On Friday, a Maryland jury awarded millions of dollars to Korryn Gaines' family, which had filed a wrongful death civil suit over her 2016 shooting death at the hands of police in Baltimore County.
According to a WBAL-TV report, jurors ruled that Baltimore County Police Officer Royce Ruby acted unreasonably when he opened fire on Gaines, who had barricaded herself in an apartment and fired a weapon at officers. Ruby had opened fire first.
Gaines' then-1-year-old son, Kodi, was also injured in the Aug. 1, 2016, shooting.
The jurors awarded more than $36 million to the family. The bulk of the money will go to Kodi and Gaines' daughter. Gaines' father and mother will receive sums of $300,000 each, WBAL-TV reported.
"For Kodi, it means a lot," Corey Cunningham, Gaines' father, said. "Now he's going to be able to get the help he needs. It's a sad situation what happened, and I'm very glad the jury came back and saw what was going on in that courtroom was't right, and what happened Aug. 1 wasn't right either."
Ruby and other officers with the Baltimore County Police Department had been attempting to serve arrest warrants to Gaines and another man at her apartment in Randallstown, Maryland. Gaines allegedly pointed a weapon at officers and barricaded herself inside. According to reports, Ruby opened fire on Gaines, after she verbally threatened to shoot at officers. Gaines returned fire, before she was killed.
In September 2016, a county prosecutor announced that no criminal charges would be filed against any of the officers involved in the incident
Gaines' shooting death was a rallying point for the Black Lives Matter movement. It helped fuel the related #SayHerName campaign, in which organizers urged supporters to consider the number of black women killed in police brutality incidents. The BLM movement has faced some criticism for being more active around the deaths of black men.
Activists in the movement, including a BLM Global Network chapter in Washington, D.C., reacted to Friday's verdict.