What it's like to be at the Olympics when you don't give a damn about sports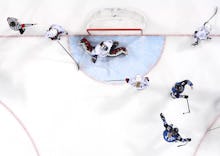 To follow Mic's coverage of the Winter Olympics, visit our Olympics hub.
I'm not a sports fan. I was 21 when I watched my first-ever Super Bowl halftime show, and for several years, I only watched the opening ceremony of the Olympics.
Basically, I'm part of the 37% of Americans who don't consider themselves sports fans, according to a (somewhat dated) Gallup poll from 2005.
But as I shivered through the opening ceremony inside of Pyeongchang Olympic stadium on Feb. 9, I quickly realized that there was a big difference between being there in person and all those years of watching the event on TV. I was there to see the moments when North Korean cheerleaders were (very awkwardly) the only voices in the crowd — and when helicopters above were louder than the music. I knew which parts were animated into the skies and which parts were in the physical world.
That got me thinking: What else is going on off-screen at the Olympics? And what's it like to watch a game when you're not a loyal sports fan?
Here's what I learned from watching the U.S. women's ice hockey team face off with Finland on Feb. 11.
Security measures are everywhere
I'm American, so I'm used to walking through security machines. I did it at my college graduation, at several big-name concerts, at the movie theater, at a baseball game, at museums.
In South Korea, I've only gone through security sensors at the airport. But during the Winter Olympics, spectators go through a security scanner before they even board the train from Seoul to Pyeongchang — then they do it again at the individual venues.
Before walking into an Olympic venue, the security looks something like this: You're told to unzip your winter coat and give up any opened food or liquid containers (one woman behind me demanded to keep her already opened gluten-free snack, and security obliged). I surrendered my electronics and bags to a scanner — just like in an airport, and my ticket was checked twice for authenticity.
But once inside, the undertones of screening for danger started to fade and things began to look like a baseball game — "Western"-labeled concession stands sold hot dogs and pizza, while Korean stands served spicy rice cakes, fried dumplings and Korean fried chicken. Once I found my seat, I was reminded again of the security measures. Police officers lined every section of the ice rink — but, to be honest, it all made me feel safe.
The billion-dollar price tag makes sense
There has been a lot of worry about the debt South Korea is taking on from the Pyeongchang Olympics, and understandably so. The games are thought to have cost the nation at least $12.9 billion already. The 12,000-seat Gangneung ice arena — where hockey games are held — cost nearly $125.5 million by itself, and locals don't know how they'll use it after the games are over.
Sitting in the stands, I could see how it could all add up. The vast number of crew members and the intricate venue design speaks for itself. Announcers hide away on the periphery of the rink — three of them in a studio-lit press box — and about six or seven man-operated cameras film from a balcony. Automated cameras are mounted on the stadium ceiling and along the rink's edges, and a giant, ice-cube-like monitor hangs from above. Before the game, two paid hosts appear on the monitor to talk and sing a "Phantom of the Opera" duet — then during the game, the monitor shows stats that mean nothing to me, tells spectators when to cheer and warns them of stray, teeth-knocking hockey pucks (my worst nightmare).
Then there's the dozens of volunteers in and outside of the ice rink, all of whom are outfitted with an Olympic snowsuit and are fed for free at a specific cafeteria for staff. There's the big, ice-melting machines that smooth out the rink during game breaks and men in black who come out every five to 10 minutes to shovel up shaved ice.
The game has odd silences
In the first 80 seconds of the game, hockey players slammed into each other — then the wall — and evoked a loud "oof" from the crowd. But aside from that, the game was surprisingly quiet.
Fans did cheer (or lament) when players took shots at the goal, but there were long drags of time where only the clashing of hockey sticks and the shouts of players could be heard. Any time there was a penalty, the game paused for about 10 seconds and a short clip of music was played — which felt unfitting at times, especially when 50 Cent's "Disco Inferno" came on.
I did find one part rather odd: The game announcer only spoke English, despite the fact that the majority of the crowd appeared Korean — and with only small clusters of Finland and U.S. fans decked out in their country's colors.
For a few hours, I became a sports fan
I was, by default, rooting for the United States. But it didn't really matter who won to me — at least, not at first.
But 20 minutes into the hockey game, I was converted into someone who looked like a rabid fan. Just like how a spectator behind me said he doesn't "speak snowboarding," I typically don't speak ice hockey, and yet I was muttering under my breath at the referee as if I knew anything about what a "hooking" penalty met.
It turns out this is a phenomenon that social scientists have been debating for years. There are many theories behind why humans experience "collective behavior" while watching sports — which makes excitement in a crowd feel like a contagion.
Scientists have suggested that large crowds give humans a feeling of anonymity, which more or less socially gives us the green light to be more emotionally vulnerable and forthcoming with our excitement. Others have argued that the high density of stadiums literally forces us closer to each other and increases the probability of human interaction.
For me, I think a good part of it was the crowd atmosphere — and that ice hockey, a true symbol of female grit and strength, turned out to be really fun.