Silver medalist Nick Goepper says talking openly about depression is part of his "healing process"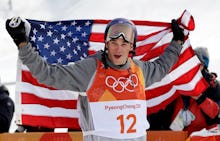 To follow Mic's coverage of the Winter Olympics, visit our Olympics hub.
Nick Goepper, a two-time Olympic medalist and five-time Winter X Games medalist, wasn't always sure he'd be healthy enough to compete at the Pyeongchang Games. Though he had taken home the bronze medal in slopestyle at the 2014 Winter Olympics, Goepper struggled with serious issues such as depression, alcohol addiction and suicidal thoughts in his personal life.
"I don't how it [got to that] point, but there came a time when I pretty much had given up on skiing altogether — had given up on myself," Goepper told reporters in South Korea.
This time around, the 23-year-old athlete from Indiana is showing the world that he's doing much better, especially when he clinched the silver medal in slopestyle Sunday.
Mic caught up with Goepper — one of seven American athletes sponsored by Procter & Gamble — by phone three days after his victory.
(Editor's note: The following interview has been edited and condensed for clarity.)
Mic: How are you liking South Korea so far? Have you done anything fun or new?
Nick Goepper: I'm really loving it. The people here are great. I haven't done anything traditional yet, but trying to interact with the people as much as possible has been fun and cool for me. Korean barbecue and karaoke — those are two things I heard I must try, and I still have a few days left.
We've heard you've been with your family at the Procter & Gamble Family Home every single night of the Olympics. How did you celebrate when you brought home a silver medal for slopestyle?
NG: We gathered in a room and I slouched on the couch with my sisters, my girlfriend next to me. The fact that everyone was here to watch me win that achievement — that was good enough for me.
You've been open about your struggle with depression and addiction, which really seems to have resonated with the public. What advice do you have for people out there who are struggling — especially as you compete in South Korea, a nation with one of the highest rates of youth depression?
NG: I don't really have advice for people. I just really appreciate that people are listening to my story and can take inspiration from it. I definitely experienced some lows after the Sochi Olympics and had to really seek help to really recover from all that. I dealt with some alcoholism and there came a point when I just got so incredibly low that I wanted to end it. That seems to be more and more of a subject in our society nowadays. It has been tough to talk about it, but it's also been a part of the healing process for me.
Honestly, I think it's just a consequence of an extremely productive and competitive society. Americans and Koreans, I mean, there's a lot of pressure that's placed on individuals in these societies to succeed and strive for greatness. I think that can be very good, but it has its consequences. The fact that people are hearing my story about being able to cope with certain issues is great. The more these stories of people living their lives authentically surface in the media, I think the more it encourages people to live their own lives authentically.
Where do you draw strength from when you feel pressure to succeed in your sport?
NG: I draw strength from my training and my past. The contest is one thing, but success is made years and months before the actual event. I mean, it's so much about patience and preparation, and there's so much leading up to that [competition day]. It's rare that you have a sort of this "Hail Mary" performance. It's really about the non-glamorous, boring, methodical work, day in and day out.
You've been on skis since you were 5 years old. When you were a kid, you took on odd jobs like lawn mowing to help pay for skiing. What is it about this sport that you love so much?
NG: I love this sport because it's creative. I consider us entrepreneurs because our success has been riding on only us as individuals. It's up to us to really push for the sponsorships, to practice being a good spokesperson [for brands], to train to be the best athlete you can possibly be. And it's something that I'm proud of because you can't get to the top with hard work alone — it takes money to do it. From a young age, you have to find those sponsorships.
What's next for you?
NG: S-O-S. Same old stuff [laughs]. I'm gonna keep skiing, keep rolling with it. I love this sport. I just keep finding different ways to do it and love it every single year. I love being a professional athlete — it's the coolest opportunity in the world.