#OscarsStillSoWhite: Why is Hollywood ignoring Hispanic outcry for more representation?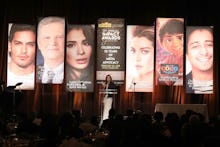 When the #OscarsSoWhite controversy reached its peak two years ago, Alex Nogales, president and CEO of the National Hispanic Media Coalition, thought it was a sign Hollywood was ready to change.
The 75-year-old diversity advocate immediately began calling and emailing reps from the six largest film studios in Hollywood — 20th Century Fox, Paramount Pictures, Universal Pictures, Walt Disney Studios, Warner Bros. and Sony Pictures — to consult with them on ways to increase Latino actors' representation in major movies.
Since then, however, Nogales said top brass at the studios have either declined to meet with him and his allies in the larger Multi-Ethnic Media Coalition or have delegated meetings to subordinates who have failed to produce tangible results.
"They block our every attempt to talk to the top guy," Nogales said during a recent phone interview. "They put every obstacle in front of you so their top boss doesn't have to deal with us."
In January, the NHMC announced its plans to demonstrate ahead of Sunday's Oscars unless the film studios agreed to meet. On Feb. 5, members of the group protested outside a luncheon for Oscar nominees at the Beverly Hilton hotel. As of Wednesday morning, Nogales said that none of Hollywood's six major studios have reached out to him or his allies.
On Saturday, the day before the Oscars, Nogales and his group plan to picket a few blocks away from Dolby Theatre in Los Angeles where the awards ceremony will take place the next day.
"We're prepared to boycott the worst studio in town and start calling them out by name," Nogales said. "This has gone on long enough, and it's something we're no longer willing to put up with."
In 2016, the Academy of Motion Picture Arts and Sciences was inundated with boycott threats and denouncements for its second consecutive year of all-white acting Oscar nominees. The loudest rebukes came from African-American celebrities like Jada Pinkett Smith, Spike Lee, Al Sharpton and social media marketer April Reign, who created the Twitter hashtag #OscarsSoWhite one year earlier.
Even still, the lack of Oscars for black actors pales in comparison to that of Latino actors, who have received just three Oscars in the past 20 years, compared to 11 for African-Americans actors over the same period.
East Asian and LGBTQ Americans also haven't won many Oscars, but Nogales said the disparity for Latinos stands out because of their U.S. demographic ratio. The Hispanic community comprises about 18% of the U.S. population and represented 23% of all moviegoers in 2016, but they make up just 3% of speaking roles in major films since 2007, according to a July 2017 study from the University of Southern California's Annenberg Inclusion Initiative.
In short, Latino actors have received far fewer opportunities to perform in leading roles on screen, which means they're less likely to win top awards. The most recent Hispanic performer to win an Oscar was Spanish actress Penélope Cruz, who in 2009 won a best supporting actress Oscar for her role in Vicky Cristina Barcelona.
"The Academy [of Motion Picture Arts and Sciences] isn't the primary problem," Nogales said. "It's the studios. Their numbers are atrocious. They're excluding Latinos altogether."
The NHMC has been consulting with Reign in recent weeks to develop a plan of action that will compel the six studios to begin fixing the problem.
Reign said that when she started #OscarsSoWhite in 2015, it was about more than the lack of black actors and filmmakers in Hollywood.
"We see things like yellow face and misappropriation of the Asian-American [and] Pacific Islander communities," Reign said during a recent phone interview. "We still haven't seen any American feature films for the Latinx community other than Coco. Where's their Black Panther? How about some real characters and not just animated ones?"
Four of the six studios did not respond to multiple requests for interviews for this story; neither did the Academy. Twentieth Century Fox declined to comment. A representative from Paramount Pictures said Chris Petrikin, the company's executive vice president of global communications and corporate branding, was unaware of the NHMC's previous requests to meet.
To its credit, Disney did cast Latino voice actors for Coco and consulted with Nogales and the NHMC on how to make its characters as culturally authentic and meaningful as possible.
To date, Coco has earned more than $739 million worldwide, beating box-office expectations. It has already won a Golden Globe, an Annie Award and an NHMC Impact Award. The movie is also expected to win an Oscar on Sunday for best animated film.
"Pixar showed us what they were doing," Nogales said of Coco. "We critiqued the film, told them how it would be better. "They took the advice and ran with it. We publicized it all over the nation and it worked."
In a political climate where many Latinos feel maligned and alienated in the U.S. under President Trump, finding inspiration and respite in entertainment is as important as ever, according to Nogales.
"Is it important? Of course, it is," Nogales said. "Latinos are not treated very well in this country right now. Movies help shape how we are perceived and how we are perceived is always going to [affect] the way we are treated."