From "Malcolm X" diss to slavery reenactments, NYC schools keep failing at Black History Month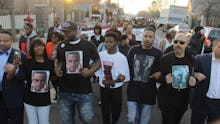 Wednesday marked the 53rd anniversary of Malcolm X's assassination in New York City.
Christ the King High School student Malcolm Xavier Combs and dozens of his supporters commemorated the event by marching outside the Queens private school where officials have refused to let the 17-year-old honor roll student put his first name and middle initial, Malcolm X., on the back of his senior sweatshirt.
Earlier this month, assistant principal Veronica Arbitello told Combs that the original Malcolm X was a controversial figure and someone he did not want to be associated with, according to the New York Daily News.
"Why am I in 2018 fighting for my own name?" Combs asked reporters during a Wednesday afternoon press conference after leading a march around the school. "Why does everyone have their names and initials and nicknames on their sweater, but why can't I have my name?"
It's one of the latest actions in a string of Black History Month controversies involving New York City private and public school administrators that has leaders from Rev. Al Sharpton's National Action Network saying black history itself is under attack.
"We're getting case calls about similar incidents across the country," NAN crisis coordinator Kevin McCall told Mic during an interview on Wednesday. "This is something that's not going to stop here. We're going to continue to do what we need to do by any means necessary."
On Tuesday, New York University's dining hall celebrated Black History Month by serving a meal featuring Kool-Aid and watermelon-flavored water along with BBQ ribs, collard greens, and cornbread, according to the New York Times.
Earlier this month, Bronx middle school students told reporters their social studies teacher Patricia Cummings kicked off Black History Month by forcing just her black students to lay on the floor while she stepped on them and said, "You see how it was to be a slave?"
She was reassigned.
On Feb. 10, Bronx English teacher Mercedes Liriano said her middle school's new principal Patricia Catania ordered her to stop teaching black history to her students.
According to Liriano, Catania complained that she's an English teacher and black history doesn't fall under her purview even though Liriano has been teaching the same lessons about the Harlem Renaissance and the writings of Frederick Douglass every Black History Month for more than 14 years.
Other school staffers told the Daily News that Catania has singled out black teachers for abuse at her school. Liriano said the principal has told her peers black teachers have poor knowledge of their subjects and were only useful for controlling kids in class.
"Anytime she tried to come after my teachers, it would be an issue," Liriano told Mic of Catania during a recent phone interview. "She made a lot of the harassment for me a personal thing. It became beyond personal when she said my students couldn't learn about black history."
After a Department of Education investigation was launched against Catania, students at the school said she confiscated their Black History Month projects, saying they couldn't have them back until the investigation was completed.
"The principal took a poster board of Lena Horne out of the hands of the students and told them, 'You ain't getting this back till everything is over,'" McCall said.
Department of Education spokesman Doug Cohen said Catania has returned the Black History Month projects to the students.
"We're providing the school community with ongoing support," Cohen wrote in an emailed statement to Mic. "There is an investigation into these allegations and we will ensure any necessary follow-up action is swiftly taken."