#WakandaTheVote registration drives at 'Black Panther' showings will continue this weekend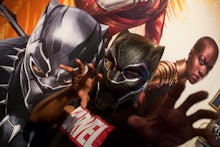 The Movement for Black Lives' Electoral Justice Project is doubling down on its #WakandaTheVote voter registration effort this weekend at showings for Black Panther after positive results during its first week.
The campaign to get Black Panther moviegoers to register to vote launched on Feb. 15, the day before the new Marvel film opened at theaters nationwide. It resulted in more than 1,000 people across the U.S. registering to vote via text message through Wednesday, according to St. Louis-based organizer Kayla Reed.
Organizers for #WakandaTheVote haven't finished counting the print registration cards filled out by hand at local theaters. A total of 100 organizations have signed up to host their own #WakandaTheVote registration drives this weekend at local movie theaters in 34 states, including presidential battlegrounds like Ohio and Wisconsin, Reed said.
"We've also had news articles that have been shared over 10,000 times that have talked about the initiative," Reed told Mic in a phone interview. "We've had Black Lives Matter chapters support us. We've had NAACP chapters sign up to host drives. We're in every corner of the country."
Grassroots organizations in black communities across the U.S. have sought to capitalize on all the enthusiasm surrounding Black Panther, which has broken several box office records on its way to claiming the second biggest opening weekend ever for a Marvel film. Only 2012's The Avengers earned more money in its first four days, according to Gizmodo.
The film, starring Chadwick Boseman, has already topped Fandango's weekend sales and "fanticipation" pre-sale ticket buzz list for the second week in a row, beating out new releases, Game Night and Annihilation, which both premiere on Friday.
"Black Panther is poised to rule the weekend once again at the box office," Fandango managing editor Erik Davis wrote in an emailed statement. "[The ticket demand] is fueled by newcomers who've been drawn in by the news of [Black Panther's] record-breaking success, as well as those moviegoers looking to watch it again on the big screen."
Voter registration efforts aren't usually done at movie premieres, but after the success around Black Panther, Reed said her organization is planning ahead to register voters for the March premiere of director Ava DuVernay's new film A Wrinkle in Time, starring Oprah Winfrey, on March 9.
"We'll continue #WakandaTheVote for the duration of time Black Panther is in theaters," Reed said. "We knew that black people were going to go see this film more than any other film in a very long time. Bringing policy to culture is really helping to demystify democracy and making it clear that anyone can participate."