This Vermont school is flying the Black Lives Matter flag. Meet the students who made it happen.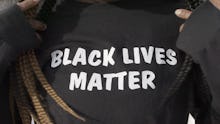 MONTPELIER, Vt. — For Joelyn Mensah, it was the moment when she heard some of her white schoolmates use the word "nigger" more than a year ago, when a black poet performed at Montpelier High School.
For her cousin, Noel Riby-Williams, it was a teacher's failure to indulge a class discussion around the oppression of black women during a lesson on feminist literature.
And for Montpelier High School principal Michael McRaith, it was a recognition that those and other incidents revealed racial insensitivities among some students and staff, making the black students — only 5% of the school's population — feel like afterthoughts.
"I just feel like an other, and not really as important as the white students in our school," Riby-Williams, a senior, said during a recent interview at Montpelier High. "And I feel like, why don't we learn about things that have to do with my history?"
So in January, after more than a year of consideration and planning, the Montpelier Board of School Commissioners granted a request from the Racial Justice Alliance, a student group created to address racism and privilege among the overwhelmingly white school community. On Feb. 1, they raised the flag of Black Lives Matter, the grassroots movement that became an international phenomenon after the 2014 police shooting death of Michael Brown, an unarmed black teenager in Missouri.
"We asked for the flag to stay up pretty much forever, until the black students in our school felt like the American flag alone represented us," Mensah, also a senior, said in an interview. "But the school board decided on allowing it for Black History Month, and then we're gonna revisit it at the end of this month."
Despite warnings from residents that it might divide the progressively liberal city of 7,500, students, staff and administrators at Montpelier said they raised the flag to begin transforming conversations about race and inequality in their Vermont enclave. Aside from being among the first public schools in the nation to raise the flag with the approval of a governing body, the action has inspired a second high school in Burlington, Vermont, to raise and fly the flag through the remainder of the school year.
At a time when national tensions around issues of race, justice and inequality are heightened, it was a risk for the community to endorse a movement that has been derided as violent, anti-police and anti-white. 2018's national Black Lives Matter Week of Action in Schools suggests that more and more predominantly white school communities see the benefits of affirming their black students while teaching their white counterparts humility, all in service to a holistic education. It's a trend that pioneers of the BLM movement, along with advocates of human and civil rights in schools, hope spreads.
"When you allow students to lead, and when adults and administrators step out of the way of students, you get to see a student population that is much more engaged [and] being given the opportunity to exercise their democratic rights," Patrisse Khan-Cullors, a co-founder of the Black Lives Matter Global Network, said in a recent interview with Mic. She reached out to students and staff at Montpelier High after the flag was raised.
"This whole moment around the Black Lives Matter flag, yes, it's a symbolism of Black Lives Matter — but it's also a leadership moment," Cullors said. "When so much of their lives is determined by their parents, by guardians, by the courts, by a teacher or administrator, they get to say this is what's most important to me."
The lack of diversity in public education persists
Finding privilege-rejecting, culturally competent adults to report racism can be difficult, especially for students of color being educated by predominantly white faculty and administrators, advocates have said. The most recent survey of the National Center for Education Statistics reports that the racial makeup of the more than 3.3 million classroom teachers skews overwhelmingly white, with just 6.8% black teachers, 7.8% Latino teachers and 1.8% Asian-American teachers.
According to the same survey, 97.1% of Vermont's 9,400 teachers were white in 2012. Noel Riby-Williams' dad, Emmanuel Riby-Williams, is a physical education teacher at Montpelier's Union Elementary School and is the only black teacher in the district. In a recent interview, Emmanuel said he began working with a statewide civil and human rights commission for educators, when he noticed his daughter was being treated differently than white children.
Harry Lawson, director of human and civil rights at the National Education Association, a public teachers' union, said the commission has provided resources to schools embracing the BLM movement and incorporating anti-racist lessons into their curriculum. "The reality is, having any discussions about race is hard," Lawson said in a recent phone interview with Mic. "Everybody is not going to be with you immediately, but that is part of the work."
Schools that have waded into the BLM topic, and found that all hell hasn't broken loose as a result, are providing roadmaps for other communities hoping to do the same, Lawson said. "I think we'll see more places like Montpelier, where they're raising the flag, not just during 'Black Lives Matter At School Week,'" he said. "They are loudly saying that they are in support of young people in their schools and have recognized that there are problems."
Raising the flag took more than a year
Mensah and Riby-Williams remembered being very excited that black poet Major Jackson had been invited to give a reading in the high school auditorium during their sophomore year. But other students weren't as appreciative, they recalled.
"There was a group of students behind me who were being pretty boisterous the entire time and, at one point, I heard one of them use the N-word," Mensah said. The student who used the slur was white.
"I said it as calmly as I could, 'Please don't use that word,'" Mensah said in an interview. "The student who used it said to me, 'This is America, it's a free country. You can use whatever words you want to use.'"
Furious, Mensah left the auditorium. She recalled having a full-body reaction to the exchange, shaking and needing a moment to steady herself. Mensah involved Mary Allen Solon, a former school social worker, to help them unpack what had happened.
The Diversity Club, a student group, was borne out of their discussions. But it wasn't until this year that the group's name changed to the Racial Justice Alliance. The old name was too vague to embody what they were really after: accountability for racial insensitivity, acknowledgment that white privilege exists and reform in how race is discussed and taught at school.
Mensah and Riby-Williams brought the idea of raising the flag to Superintendent Brian Ricca, who they said took some convincing. The rest of the school board learned of their request roughly one year ago, Rebecca Bowen, a Montpelier School Board commissioner, said in an interview.
Bowen, who is white and whose adoptive black daughter was a member of the Racial Justice Alliance, pushed other commissioners to begin flying the BLM flag permanently last year. Over time, she realized there was no universal appetite for it. Next, Bowen pushed for flying the flag from Martin Luther King Jr. Day in January through Black History Month. But when the board delayed a vote, MLK Day was out.
"I finally got really pissed off," Bowen said in the interview. "They were going to push it off. I feel like I forced it to come to a vote."
The board's late January vote was unanimous. On Feb. 1, the Racial Justice Alliance, teachers, students from other schools and members of the police gathered to see the flag raised. Mensah delivered a pre-written speech, in which she quoted the well-known black revolutionary and university professor, Angela Davis.
Mensah said she choked back tears the entire ceremony.
A mild backlash was expected
McRaith, who has been the Montpelier High School principal for three years, said he wasn't exactly surprised by the reactions that poured in, after the community became national news for raising the BLM flag. Sure, several dozens of supportive letters and postcards had come in from as far away as Washington state, California and Florida. He has kept stacks of them on a desk in his office.
McRaith also saved some of the unsupportive voice messages. Before and after the flag was raised, callers denounced the move as "offensive," warned of a "gigantic constitutional fight," and threatened lawsuits.
"Hi, Mike. I'm calling in regards to the nonsense that is happening with the Black Lives Matter flag and the other different, just ridiculous, unsubstantiated claims of racism that are going on in Montpelier High School," one caller said in a message left the day after the flag was raised.
"All lives matter, not just black lives," a woman said in a message left after the school board signed off on the flag. "I'm not a racist. Never have been. Some of my best friends are black, Filipino, Hispanic, all of them."
There were out-of-state callers, too.
"Needless to say, I am very, very, very concerned that you will flying a Black Lives Matter flag outside of your school. The flag of a group who wants dead police officers," a man calling from a Utah area code said.
The messages served as a reminder that there is more work to do, beyond raising the flag, McRaith said. "I'm really learning how to be a strong and reliable ally, and I don't always get that right," he said in an interview. "The faculty and our students are digging in and doing the internal work and the reflective work that I think is necessary, for there to be real and lasting change."
For each school day in February, students have been required to use small-group counseling sessions to discuss a number of vocabulary words such as "privilege," "implicit bias" and "systemic racism." During a recent session led by McRaith, students used a quote attributed to the Pulitzer Prize-winning author Toni Morrison as a springboard for debate.
"In this country, American means white," the quote reads. "Everybody else has to hyphenate."
Mensah, the senior who helped lead the effort to raise the BLM flag, said the small steps toward progress have encouraged her. She looks forward to the day when black students don't feel a burden to nudge their white peers into becoming woke.
"My main focus is to learn and get a good education," Mensah said in an interview. "But it became my responsibility, when I saw what I was learning didn't seem like the truth to me, and it didn't seem representative of what actually happens."
Building a legacy takes work
As a senior, Riby-Williams is well aware of the possibility that the Racial Justice Alliance could fizzle away when she and Mensah are gone. But they, along with a capable cadre of white lowerclassmen, have done some work to prevent that and they've already shown the community that embracing BLM has been a net positive.
"The Black Lives Matter flag did not disrupt students at our school," Riby-Williams said. "It made them happier and more engaged and more aware of our world."
During a recent meeting of the student group, about a dozen and a half white and black students, many of them freshmen and sophomores, committed to keeping the alliance going. The group hopes to make black history lessons a mandate for K-12 education in Montpelier and across Vermont.
They'll continue to have the support of McRaith, who said he hopes his leadership on the flag motivates principals across the country.
"My message is to listen to students and to trust them," he said. "It doesn't have to be this flag. Whatever it is for your system to grow and evolve on this topic of inclusion and culture competency, I think it's very important."
Mensah echoed that sentiment.
"My dad always told me that a great leader isn't someone who can do amazing things — it's someone who can move other people to do amazing things," Mensah said. "I definitely hope that other schools can look at our group and see what we did and know that they can do it, too."
March 2, 2018, 10:47 a.m. Eastern: This story has been updated.