After the Olympics, will Pyeongchang's rebrand as an international tourist destination stick?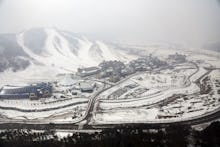 GANGWON, South Korea — Every detail of Gangneung Backpackers Hostel was made by hand: the deep-angled ceilings, the slate walls with the exposed brick, the murals and the row of potted succulents on the window sills.
The place landed somewhere in between an elaborate Keith Haring tribute and an art teacher's bungalow. Hostel beds — roughly $27 USD a night during the Winter Olympics — looked like jungle gyms, while the $184 family rooms had enough space for four, plus sliding doors to a rooftop view.
Not bad for a place that's just a 10-minute walk from the train station and Olympic shuttles.
Yet nearly two weeks into the Olympics, 39-year-old Kim Soo-hee stood behind the reception desk in eerie silence. Her only other company was her skittish dog, and stools were stacked on top of the tables in the communal kitchen area. "To be honest, I'm not feeling great," Kim said, quietly. "I couldn't sleep for a few days because I kept looking at the front door whenever I heard [the sound of people]."
Kim is one of several South Koreans in the hospitality business who are less than satisfied with their profits made during the Olympics. The nearly $13 billion Winter Games — equivalent to about 2.3% of the nation's national debt — came with big promises to brand Pyeongchang and the Gangwon province as an international tourism destination. The philosophy looked something like this: Build world-class ski facilities, win the long-awaited Olympic bid and wait for business to boom in one of Korea's poorest provinces.
But if the Winter Olympics were the start of a new chapter for the region, not all business owners are confident it will be a good one.
"Even though most of the accommodations around here cleaned up, they're still empty for the Olympics. I only saw one car over the weekend in the other hotels' parking lots," Kim said. "There are no customers. It's all deserted."
Some people saw this coming. First, ticket sales looked disappointing and local businesses in Pyeongchang lamented seized land and customers lost from Olympic preparation. Then there was the confusion between Pyeongchang and North Korea's capital city, Pyongyang. And despite hundreds of opportunities to correct itself, NBC and other news organizations chose to continuously mispronounce the host county's name, with one Chicago station mistakenly labeling it "P.F. Chang's." The internet responded en masse, and one Korean YouTuber racked up more than 30,000 views while politely teaching foreigners how to pronounce the last syllable by doing the cha-cha dance and adding an "-ng."
In some ways, there's no question that the 2018 Olympics will be memorable: From the arrival of Kim Jong Un's sister on the first day to moments like Gus Kenworthy's candid kiss, Pyeongchang has been a source of international fascination. It's just not Pyeongchang the tourist destination that seems to be in the spotlight.
Locals in rural Pyeongchang County are concerned their home was lost in the shadow of North Korea's Olympic delegation and Gangneung, its neighboring city. Gangneung is where moments like Team USA's monumental ice hockey win over Canada, Mirai Nagasu's triple axel in figure skating and South Korea's "garlic girls" curling champs happened. Plus, it has about five times the population of Pyeongchang and is better outfitted with Seoul's basic urban pleasantries, like karaoke bars and pet cafes.
"North Korea got too much attention in the beginning of the Olympics," said Jeon Chung-won, the owner of a local sheep farm that welcomes tourists. "Personally, I think Pyeongchang should have been the focus, and it should have been more highlighted at the time. But that's not how things went."
"The Olympics are basically hosted in Gangneung, not Pyeongchang," agreed Jeong Eui-won, the 57-year-old owner of the Beauty Hotel. "Truthfully, nobody is in Pyeongchang. [Many tourists] have gone there and figured out that there's nothing to do. I felt bad."
Jeong, unlike several other hotel owners interviewed, is satisfied with the small fortune he made during the Olympics. But that's because he's in Gangneung, where he purchased a downtrodden motel by the station two years ago. Jeong said much of his Olympic success comes from renovating the hotel with a long list of "expensive but necessary" changes: a new restaurant serving a European buffet, Western-style beds, multilingual employees and free rides for customers who can't get to the Olympic shuttle. It didn't hurt that Team Finland booked his hotel either.
"There was a time during the Olympics when I couldn't take in any more guests because all the rooms were full," he said. "But the story is very different in other areas. It would be nice if the whole place was in a boom, but that's not the case."
Yet just down the street from Jeong is Mr. Bae, whose family opened a hotel on the same street in part because of the Olympics. Though he declined to give his first name, Mr. Bae did confide that his Gangneung business, too, had fallen far short of expectations.
"I'm worried and frightened. Many hotels moved here, so we face fierce competition," he said.
A bad first impression?
Pyeongchang, albeit beautiful, is much quieter than Gangneung. A five-minute walk outside of Jinbu Station — the closest port to the Pyeongchang Olympic Stadium — will reveal that instantly. Vast, empty farmlands and a few stray shops fill the landscape against a backdrop of mountains. Foreign tourists would have to really search to find the nearby "downtown" street, which has only a handful of restaurants touting English menus.
Skiing, snowboarding, bobsledding, luge and skeleton are here — but they're still a bus or cab ride away from the station. And during the first days of the Olympics, visitors to the area struggled with a severely depleted taxi supply and confusing Olympic shuttles. More than one Olympic spectator told Mic that they decided to skip events in Pyeongchang after hearing about or experiencing its transit.
"This Olympics was a logistical nightmare. The venues and games were beautiful, but to be honest, how effed up the transportation system is — that's what's going to be remembered," griped Gary Morgan, a past Olympian who worked on previous Olympic bids. Morgan also competed for Team USA in track and field during the 1988 Seoul Olympics.
"People always remember the negative stuff. That's how it is," he said.
What's Pyeongchang's Olympic legacy?
The opening ceremony branded the 2018 Winter Games as the "Peace Olympics" — a tagline that may very well outlive the others, though the political future between North and South Korea remain uncertain. An estimated 300 million people tuned in to see North and South Koreans march under a unified flag, which hasn't been used since the 2007 Asian Games — a moment that really resonated with foreign spectators.
"The Olympics is the one time that the world is at peace together, especially with North Korea joining South Koreans," Jennifer Nelson, a traveling volunteer from Philadelphia, told Mic that night. "You could really feel that today."
But of all the messages Olympic planners have been trying to get across, "peace" isn't one that acutely benefits the host county of Pyeongchang's tourism industry. Besides, as far as rebranding the area goes, the county's Olympic tagline — "It's you Pyeongchang" — has been rightfully called a "PR disaster." A better translation from the Korean version would have been "You are Pyeongchang."
"I think it means it's [its] turn for the Olympics? Right?" Rachel Luby, a figure skating enthusiast from the United States, said with a laugh. "Like, 'It's you, Pyeongchang. It's all on you now.' I don't really know. It's just a whatever slogan."
Pyeongchang runs the risk of becoming yet another newly renovated, yet bygone Olympic memory. The world has already gotten used to the idea of rotting multimillion dollar venues, especially in debt-plagued host communities. Only six months after the 2014 Sochi Winter Olympics, pictures of the Olympic Plaza with ripped-out toilet seats and ghostly roads circulated online. Photos of Olympic fallout in places like Berlin; Sarajevo, Bosnia and Herzegovina; and Athens, Greece, have also become fodder for slideshows of economic macabre.
Before the Olympics, parts of Gangwon province were already poverty-stricken and struggling to survive. The local government is still arguing with national politicians over who should pay for maintaining Olympic venues. In Pyeongchang, the 35,000-seat Olympic Stadium — the genesis of the games' "peace" identity — has already been deemed useless. After just four uses, it'll be torn down and forgotten. And as the crowds wane at the adjacent Olympic plaza, fears of bankruptcy are trickling in.
Not everyone has lost hope, but the warning signs are there.
"I think the world will only be acquainted with Gangneung and Pyeongchang as a place of the Olympics," said Hwang Kyu-eun, a 24-year-old university student at the games. "As soon as this is all over, this place will soon be forgotten."
Jisoo Hong contributed to this report.