In states, NRA-backed bills falter as gun control proposals flourish after Florida shooting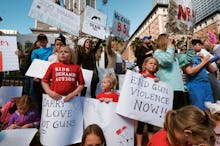 Welcome to Mic's daily read on Donald Trump's America. Want to receive this as a daily email in your inbox? Subscribe here.
Friday's Dispatch: Guns in states
With members of Congress away from Washington this week, Republican leaders have been silent about what gun legislation they will support when lawmakers return next week. But states have moved aggressively since the February 14 shooting to advance new bills that either expand gun rights or increase control over who can buy a firearm, Mic has found.
Lawmakers in Florida have faced pressure to quickly pass liberal and conservative proposals to prevent mass shootings after 17 people were killed at Marjory Stoneman Douglas High School in Parkland, Florida. Gov. Rick Scott, a Republican, is introducing on Friday a comprehensive overhaul to Florida's gun laws in years.
Since the mass shooting, new bills that would restrict access to firearms have also been introduced in 12 other states. This week, Wisconsin and Oregon have passed legislation to make it more difficult for Americans who should not be able to buy firearms to purchase a gun. But bills that would have expanded access to guns were voted down or postponed in six state legislatures since the Stoneman Douglas shooting.
Four states — California, Delaware, North Carolina and New Jersey — are considering bills that would allow law enforcement to temporarily take guns away from someone who is deemed a threat to themselves or others. That "firearm restraining order" is in effect in California, Oregon and Washington (California legislators want to expand their law) and the idea of using authorities to spot dangerous individuals and prevent them from having weapons has won support from President Donald Trump.
Those numbers are according to a Mic review of news reports in 49 states since Feb. 14. In the same span of time, six new bills have been introduced that would expand gun rights or focus on improving school safety. A bill in Utah, passed the day after the shooting, would let schools place locks on classrooms. A bill passed in Wisconsin would fund armed security guards at schools.
Sixteen states have not introduced new legislation or taken votes on guns since the Florida shooting. But in several states, the shooting has renewed the urgency to consider pending legislation. In Georgia, for example, a bipartisan coalition of lawmakers are hopeful they can pass a bill that will stop the deletion of mentally ill people from a state gun background check database five years after their diagnosis. Georgia is the only state that deletes those people after they've entered the database, with thousands of people removed.
The red-state, blue-state divide on gun issues clearly remains. Leaders in Republican-controlled states have shown hesitancy to considering new bills that would restrict access to guns. For example, Republican governors in Nevada and New Mexico have signaled no new openness to considering gun control bills.
But the majority of gun rights bills rejected since the Florida shooting came in GOP state legislatures. In Kansas, Missouri, South Dakota and Tennessee, Republican lawmakers backed off of National Rifle Association-supported bills in the wake of the shooting. Kansas lawmakers canceled debate on a proposal to let the NRA teach school safety courses in schools. And Missouri Republicans postponed a hearing on a bill that would nearly eliminate gun-free zones.
At the federal level, the president has signaled support for expanding background checks, making it more difficult for the mentally ill to buy guns and increasing the age to buy firearms to 21. Trump has also pushed aggressively for arming teachers. Legislators in Alabama, Iowa and Nebraska have followed his lead by exploring legislation to arm teachers since the Florida shooting.
Today's question: Do you think changes to gun laws are more likely at the state level than the federal level?
Please email us at trumpsamerica@mic.com with your thoughts.
Friday in Trump's America:
Trump's smorgasboard on guns: The president hosted another meeting on guns on Thursday. Trump floated a series of proposals that will all face varying degrees of opposition in Congress. The president pushed firmly for arming teachers, indicating it's a top priority for him. He also suggested reopening mental institutions and changing how video games are rated. Trump reiterated a call to ban bump stocks, strengthen the existing background check system and raise the legal age for buying guns to 21 — all proposals that have routinely failed in Congress.
Meanwhile, billionaire progressive donor Tom Steyer will spend $1 million to register high schoolers to vote and mobilize them around the issue of gun violence.
Indictment: Former Trump campaign chairman Paul Manafort and his associate Rick Gates allegedly laundered more than $30 million. They face 32 counts in the indictment from special counsel Robert Mueller.
Israel embassy: With the U.S. committed to moving its embassy to Jerusalem — a move that angered Palestinians — Jewish GOP megadonor Sheldon Adelson has offered to help cover the cost of the new embassy. The U.S. State Department is trying to determine whether that's legal.
Transgender troops: Defense Secretary James Mattis is expected to recommend to Trump that transgender Americans be allowed to serve in the military, contradicting Trump's infamous tweet over the summer saying their service would be banned.
Election security: Under the recommendation of House Speaker Paul Ryan (R-Wis.), the official overseeing a federal commission focused on preventing cyberattacks on U.S. elections will be replaced. Ryan's office said they will fill the position with someone new, ending the tenure of popular chairman Matthew Masterson.
2020: Ohio Gov. John Kasich is continuing to prepare for a potential 2020 election bid, though his advisers offer mixed opinions about whether he will run if Trump seeks reelection.
2018: The Democratic Congressional Campaign Committee posted opposition research about Laura Moser, a progressive running in the March 6 primary against six other Democrats for a shot to run against U.S. Rep. John Culberson, a Houston Republican, this fall in Texas' 7th congressional district. The DCCC traditionally avoids the view that it takes sides in Democratic primaries, though it has recently faced criticism for working behind the scenes to stonewall progressive candidates.
All in the family: Sen. Bernie Sanders' son wants to run for a U.S. House seat in a New Hampshire district that is expected to be one of the most challenging in the country. Many Democrats are not on board.
Immigration: U.S. Citizenship and Immigration Services will remove "nation of immigrants" from its mission statement.
North Korea: The White House announced new sanctions against North Korea on Friday that are aimed at strangling the country's funding for its nuclear program.
Today's MicBite:
Lane Murdock is only a high school sophomore. But with the help of Change.org, she's starting a national movement to walk out of school on 4/20 — and it's over 150,000 strong.
Click or tap below to watch the video.