During South Korea's #MeToo, 20 people report sexual violence at Olympic resource centers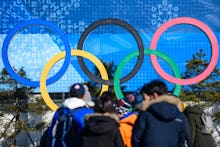 Amid South Korea's growing #MeToo movement, a total of 20 people reported sexual assault or harassment to resource centers between Feb. 9 and Feb. 23 of the Pyeongchang Olympics.
Kim Sung-sook, a nun who also goes by "Sister Maria," is a head of Gangwon Province's new sexual violence resource centers. Four of them are placed around various Olympic venues — and despite a lack of financial support from the International Olympic Committee, she said that Gangwon decided to move forward and build them for the sake of keeping spectators, volunteers and athletes safe.
"Korean women in their 20s and 30s have become very conscious [of sexual misconduct]," Kim said "First and foremost, we carefully listen to the victims of sexual violence and say, 'It's not your fault, and we don't want you to feel any shame.'"
Twenty cases is an incredibly small number for a place with more than 16,000 volunteers and thousands of spectators — Pyeongchang Olympic Stadium can seat 35,000 spectators at a time, for example. Kim is well aware that there were probably women who did not seek help using the centers, but she's still glad that services were available.
"There were probably many more cases of [sexual misconduct]. I think few people came because of the lack of publicity at the Olympics," she said. "As the games went on, the number of people coming in every day increased."
"The seven local Gangwon Province offices that are operating this center are making a great legacy," she added. "Now, the center will also be operating at the 2022 Beijing Olympics in China."
In recent months, allegations of rape, sexual harassment and assault against high-profile men have made frequent headlines in South Korean media. The most infamous cases include allegations against a senior justice ministry official and famous stage director, and they certainly can be horrifying — in one report, internationally acclaimed film director Kim Ki-duk was accused of sexually abusing a female actor. He has denied it but did admit to slapping an actress across the face on set as an "acting lesson."
In Pyeongchang and Gangneung, anyone who visits the four centers will see counselors (28 total across all locations) and several English-language translators. At-will psychological help, support reporting crimes to the police and referrals to a nearby medical center are all available — and a 13-hour hotline is there for late-night hours after its doors are closed.
"I hope that women will have a safe time at the [Paralympics in March], too," Kim said. "We will make the center known on banners inside of athletes' accommodation and around other venues."
Jisoo Hong contributed to this report.