'Traffic Stop' star Breaion King isn't quite ready to attend the Oscars, but she's going anyway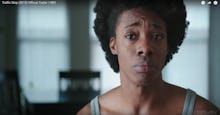 Most people fortunate enough to attend the Academy Awards spend days, if not weeks, preparing for the star-studded, red carpet affair.
Texas teacher Breaion King, star of HBO's Oscar-nominated short documentary Traffic Stop, waited until the last minute — this week — to buy her outfit.
She hasn't had time to think about it.
The 27-year-old Austin native spent Wednesday in a deposition hearing for her ongoing civil lawsuit against the Austin Police Department after one of its former officers, Bryan Richter, manhandled her in a parking lot in June 2015. The incident was captured on Richter's dashcam, which director Kate Davis and producer David Heilbroner used to make their Oscar-nominated film.
"I don't think it's really quite hit me yet," King said about attending the Oscars during a recent phone interview. "I'm grateful, blessed and honored to have this platform to help more people who have had situations like this who did not get a chance to speak."
While transporting her to the police station, surveillance video showed Officer Patrick Spradlin telling King that black people are inherently more violent than the rest of the human race.
"Why are so many people afraid of black people?" Spradlin asked King as she sat handcuffed in the back of his vehicle. "Ninety-nine percent of the time when you hear about stuff like that, it is the black community that's being violent. That's why a lot of the white people are afraid, and I don't blame them."
Richter, who was reprimanded for the incident with King, was fired on Jan. 22 after apparently lying about another use-of-force incident, when he put his foot on a suspect's head during an arrest, the Austin American-Statesman and KVUE reported, citing a memo.
As of October 2016, Richter had charged more people with resisting arrest than any Austin officer in the previous 10 years, according to KXAN, the city's NBC affiliate.
During our interview, King recalled a 2017 traffic stop with her boyfriend, her first since the 2015 incident, during which she began convulsing. This time, everything ended peacefully, but it didn't stop her from crying uncontrollably.
"The officer was a good officer," King said. "I'm sure he didn't know who I was, but it didn't stop me from feeling the way that I felt. My physical body remembered."
Since her traumatic arrest nearly three years ago, King has earned her master's degree in education from Texas State University and now teaches at Harmony Science Academy in Austin.
She says her life has changed quite a bit since the day Richter slammed her into the ground, but policing in America hasn't, unfortunately.
While the officer has been fired, he was not criminally charged for the incident. Neither are most officers involved in the many misconduct incidents that are instead adjudicated and often settled in civil court each year, costing American taxpayers in major cities more than $248 million annually, according to the Wall Street Journal.
"I believe with my case, it has peaked awareness, but the truth of the matter is has anything changed?" King asked. "I'm hoping there are some things going on in legislatures where they're working harder and they're doing due diligence to make sure this stops, because something is wrong with our system."