Black Lives Matter cofounder launches biggest survey of the black population "after Reconstruction"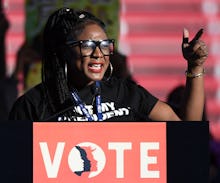 Alicia Garza, cofounder of the Black Lives Matter movement, said she is beginning a new chapter of her groundbreaking work in the modern struggle for black liberation.
In an announcement Monday, Garza formally launched the Black Futures Lab, a broad effort to engage black people, legislators and grassroots organizations working to build political power and enact policies that make black communities stronger.
The lab's first major undertaking will be a national data collection effort that Garza is calling the Black Census Project. It will attempt to methodologically survey tens of thousands of black people in nearly two dozen states on issues that disproportionately affect them, according to the announcement.
If successful, the census effort could be a game changer for organizers, academics and journalists; the federal government's data sets on race, socioeconomic and civil rights issues can be spotty, out of step with current trends and missing certain marginal black demographics entirely. The Black Census Project aims to cast a wider net than similar previous efforts, Garza said.
"We are really excited about what we feel is a really historical moment," Garza said in a phone interview with Mic. "We are trying to break the mold, so that we can shape agendas that really respond to the conditions in our communities."
Through an online survey and door-knocking operation, the Black Census Project wants to hear directly from 200,000 black Americans about issues of generational oppression, mass incarceration, police violence and inequities in access to health care and employment, the announcement stated. The survey will target 20 states and the District of Columbia, chosen for their concentration of black Americans, black LGBT communities and black immigrants, among other black demographics, Garza said.
The hope is that a 200,000 sample size will ensure a data set that is representative of the diversity within in black America, she added.
The states include Alabama, California, Delaware, Florida, Georgia, Indiana, Louisiana, Maryland, Mississippi and Texas. The Black Futures Lab will dispatch field organizers who will conduct in-person surveys in March. The online survey will be available through August. Once compiled and analyzed, the data will be revealed by the end of 2018, according to the lab's announcement.
"We can't say [that] what black people in Oakland [California] are experiencing is the same thing that black people are experiencing in Jackson, Mississippi," Garza said. "Black communities are incredibly complex and not to the stereotype of what people have said they are."
To meet its goal, the lab has partnered with several organizations that include sociologists and social science researchers with experience in targeted outreach and data collection. The online survey and website has been built by Color of Change, the largest online racial justice group in the United States. Demos, the New York City liberal public policy think tank, will handle the compilation of the collected data; Socioanalítica Research, a Maryland-based research consulting firm, will ensure the survey methodology is scientific; and the Center for Third World Organizing, a Oakland, California-based racial justice group, will build infrastructure for the on-the-ground and door-knocking operation, Garza explained.
"For a country built on the exclusion of black votes, the Black Census Project is a vital step toward asserting the power of our community's voices in an era where our president is leading a white nationalist movement against us," Rashad Robinson, executive director of Color of Change, said in a statement.
Launch of the project comes as the U.S. Census Bureau readies its 2020 population count, which some civil rights groups worry has been underfunded by the Republican-controlled Congress. A lack of funding could lead to undercounting of certain communities, such as nonwhite or minority communities. The preparation for the official count, which happens every 10 years, has also raised alarms in communities of color because of the U.S. Department of Justice's request to include a citizenship status question. That could be a pretext for future targeting of immigrant communities for deportation, immigrant rights advocates have said.
Unlike the bureau's count, which collects information about race, household size, income and education level through in-person interviews and mail-in surveys, the Black Census Project's online website aims to catch a litany of data points specific to the black experience in the U.S.
Garza said she believes the effort may constitute the largest, targeted survey of black people "after Reconstruction."
After the American Civil War ended, the country engaged in a debate about who was an American and what rights all Americans enjoy, given that the roughly 3.5 million blacks who had been enslaved were freed. The Thirteenth, Fourteenth and Fifteenth Amendments to the U.S. Constitution, along with the Civil Rights Act of 1866, afforded black men the right to vote, hold elected office, own land, work and use public accommodations. But whites, particular those in former Confederate states in the South, eroded black freedoms through Jim Crow laws, oppressive policing and anti-black violence.
More than a century and a half later, Garza, Opal Tometi and Patrisse Khan-Cullors founded the BLM movement and a global network of chapters that continues to grapple with eerily similar problems. Garza, who is special projects director for the National Domestic Workers Alliance in Oakland, California, said the Black Census Project will yield data that will ultimately sharpen the work of movement organizations.
Since stepping back from day-to-day business of the BLM Global Network in 2017, Garza focused her energies on building the "generously funded" Black Futures Lab, she said.
"We are trying to use that resource in service of people who don't have it," Garza said in the phone interview. "We want to make it possible for you to go out and collect this data."