Everything you missed — but need to know — from the Winter Olympics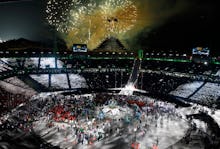 PYEONGCHANG, South Korea — By the time fireworks erupted over Pyeongchang Olympic Stadium on Feb. 25, South Korea had delivered exactly what they promised: a closing ceremony that bombasted crowds with high-tech special effects, symbols of inter-Korean peace and live performances that transitioned from traditional music to Kpop dancers performing a dead drop against a circle of flames.
The show — unlike the opening ceremony — was much more about South Korea than the North. Instead of unity flags and humans forming the shape of doves, the closing ceremony dazzled spectators with things like giant dandelions, light-up turtles and Soohorang the Olympic tiger drawn in the sky with dozens of drones.
"It was very, very artistically well done," Nicole Milne, a spectator from Denver, said. "I really loved how they projected thematic images onto the ground. It was a really great show."
Here's a recap of what happened at the closing ceremony and during South Korea's action-packed, 17-day-long Olympics:
Unified, yet standing alone
The closing ceremony largely focused on South Korea's feat of hosting the 2018 Winter Games. The first round of fireworks cracked through the sky, then announcers swiftly pointed out South Korean President Moon Jae-in — who stood inches away from Ivanka Trump — in the glossy box overlooking Pyeongchang Olympic Stadium. The crowd cheered, then athletes trickled onto the stage in uneven clusters and in no particular order. No one announced who they were individually, and many of them didn't even take their nation's flag with them.
North and South Korea did march together once again, but this time, they each wore their own uniforms and sometimes bore flags from their own respective countries. The North Korean cheerleaders — donned in the same red sweatsuits they had been in for the last two weeks — appeared to cheer for both crowds, but they were much quieter than before. It was, in many ways, a more toned-down ceremony than the one we saw on Feb. 9 — but, by contrast, the opening ceremony was almost painfully redundant about its messages of peace.
"Truthfully, I didn't really think about [North and South Korea] during the closing ceremony," Eiva Aibne, a spectator from Latvia, said.
Even so, much of the news media was transfixed on the latest developments with the North. Hours before the closing ceremony, TV cameras and dozens of spectators staked out at Pyeongchang's Jinbu Station to see North Korea's delegation as it arrived for the games. This time, instead of Kim Jong Un's sister, the Democratic People's Republic of Korea instead sent Kim Yong Chol, a high-level official accused of "masterminding" the 2010 attacks on a South Korean ship that killed at least 46. It's still unknown whether Ivanka will meet with Kim, but Vice President Mike Pence did not make contact with North Korea's delegation during the opening ceremony. And although some conservative groups protested Kim's visit in the streets of Seoul, Pyeongchang's most prominent demonstrators were more concerned with the nice dog meat industry or Japan's past crimes against Korean "comfort women."
"Don't forget Pyeongchang"
Before the closing ceremony, female volunteers wearing Korean traditional dresses stood inside Jinbu Station and smiled as queues of foreigners lined up to take pictures with them. While spectators flashed the peace sign, two volunteers held up a sign with rainbow bubble letters. It read: "Don't forget Pyeongchang."
Though well-intended in nature, the message is one that many local business owners hope sticks with foreign visitors. Beyond the uncertainty with North Korea, local business owners are are left wondering whether their $13 billion Olympics will pay off in the future. Already, some hotels and businesses in Pyeongchang and Gangneung have lamented surprisingly low profits during the Olympic Games.
Barriers broken
In 2018, the Olympics are about so much more than who takes home a gold medal. It's about athletes who stand out for communities craving representation — or those who use their platform to address inequalities around the world.
During the Pyeongchang Games, the examples appear almost never-ending: There was the time Gus Kenworthy — one of the first out gay Winter Olympians — was filmed candidly kissing his boyfriend by NBC cameras. Then there was the time Adam Rippon — another out gay Winter Olympian — threw shade at Mike Pence and his track record of homophobia. Elana Meyers Taylor has pointed out major inequalities in how women are treated in bobsledding, and both Mirai Nagasu's historic triple axel and Chloe Kim's gold medal in halfpipe were breakout moments in Asian-American representation.
South Korea's "Garlic Girls"
In almost every modern Olympics, an athlete or two accidentally becomes years worth of fodder for memes. But in the case of the Pyeongchang Winter Olympics, South Korea's entire women's curling team has been elevated to internet fame — or perhaps even cultural icons.
Though they fell to Sweden and took home the silver medal, South Korea's "garlic girls" (named after their garlic-growing hometowns) have been called "the real pop stars" of the Olympics. Simply put, they've got talent and charisma, along with "iconic owlish glasses" that have been referenced all over the internet. According to The Korea Bizwire, demand for curler Kim Seon-yeong and Kim Eun-jung's glasses have shot up since their success in the Olympic Games.
Pyeongchang: The future and the legacy
Both political and supposedly apolitical, the legacy of the Pyeongchang Olympics largely hinges on what its soft diplomacy could yield. Some analysts and many South Koreans are suspicious that North Korea is simply deploying a "charm offensive" to alleviate itself from economic sanctions, but two back-to-back visits from high-profile North Korean officials and an invitation for the South Korean president to visit Pyongyang are certainly unprecedented.
Now, the next steps are largely up to President Moon Jae-in and President Donald Trump, whose administration has been promising even tougher economic sanctions against North Korea. But in general, the U.S. has long held a stance that it is unwilling to hold talks with North Korea until the Kim regime stops its nuclear weapons program — and that inevitably complicates an invitation for South Korea, amid an ongoing, nearly 70-year stalemate.
Nevertheless, some legacies are already set in stone: For a little over two weeks, South Korea managed to show itself off as a peace-seeking nation that has come a long way since hosting the 1988 Seoul Games.
"The atmosphere here tonight has been just great. It's amazing to have all these countries come together," Kari Hilton, a spectator from Ontario, Canada, said. "And I think [North and South Korea] still have a long way to go, but this feels like a good start."