The creator of #OscarsSoWhite is launching a new site to help Hollywood find POC talent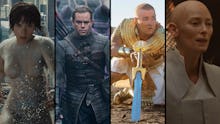 Hollywood studios that say they can't find actors or filmmakers of color to headline blockbuster movies now have a solution to their problem, thanks in part to #OscarsSoWhite creator April Reign.
On Thursday night, the former attorney-turned social media marketer will host a Los Angeles reception to celebrate the launch of Akuarel, a digital database for people from marginalized groups looking to work in creative industries.
Reign, who came up with the name, said it's a play on the French word "Aquarelle," which characterizes the water-colored pencils that her artistic friend from childhood used to draw.
The site goes live on Friday.
"This answers one of the issues raised by #OscarsSoWhite of studios saying, 'We want to work with people from marginalized communities, but we just don't know where to find them,'" Reign said during a recent phone interview. "This is going to drop them right in their lap."
Akuarel has been a work in progress since the #OscarsSoWhite controversy peaked in 2016. It was developed in partnership with the Motion Picture Association of America, according to David Morgan, president of the Multicultural Media Correspondents Association, which built and hosts the site.
Morgan said Akuarel allows actors, other creatives and media professionals of color aspiring to work in film, television, or journalism to join and use the database for free.
"Our main objective now is to get Akuarel populated by the talent and the stakeholders themselves," Morgan said during a Thursday phone interview. "The value to the studios will be once it's sufficiently populated. A lot of the studios were already partnering with us on sponsorship arrangements."
Akuarel users can identify themselves by race, sexual orientation and gender in addition to age, location and level of experience.
Studios and industry pros must pay a fee to subscribe to the service, which allows them to search for applicants based on these criteria rather than relying solely on traditional talent agencies to find dream chasers to audition for roles or interview for other creative career opportunities.
In July, director Guy Ritchie and Walt Disney Studios caught hell on Twitter after Ritchie complained his production team couldn't find a male actor in his 20s of Middle-Eastern or Indian descent to play Aladdin in Disney's 2019 live-action adaptation of the 1992 animated film.
The Twitterverse erupted once again when biracial actress Naomi Scott, who is of white British and Gujarati-Indian descent, was confirmed to play Princess Jasmine in the movie. And again when white actor Billy Magnussen was cast to play an original role created for the new film. And again when reports of Disney "browning up" white extras with dark makeup while filming in Surrey, England, were reported by the London Times.
The Aladdin race controversies followed other accusations of Hollywood white-washing characters of Asian descent. Paramount Pictures' live action adaptation of Ghost in the Shell became a box office bomb after the studio took heat for casting white actress Scarlett Johansson to play the Japanese heroine Major.
In 2016, Matt Damon played a 12th-century white guy who saves China from invading monsters in the fantasy epic The Great Wall. Fresh Off the Boat star Constance Wu was not amused.
"We have to stop perpetuating the racist myth that [only a] white man can save the world," the American daughter of Taiwanese immigrants tweeted after the movie's trailer hit the internet in 2016.
Marvel's Dr. Strange was a commercial success the same year, even though the film drew criticism after casting white actress Tilda Swinton to play a Tibetan character from the comics.
When people complained about director Ridley Scott casting white actors to play Egyptians in the Biblical epic Exodus: Gods and Kings, Scott rebuffed with a once-common Hollywood refrain.
"I can't mount a film of this budget, where I have to rely on tax rebates in Spain, and say that my lead actor is Mohammad so-and-so from such-and-such," Scott told Variety in 2014.
Reign said the idea that studios just can't seem to find nonwhite talent will no longer be an excuse with Akuarel up and running.
"There are a billion Asian people in the world, but we can't find our Princess Jasmine?" she said. "To me that's nonsense."