'Mic' announces "Black Monuments of New York," a push to build five statues in the city's boroughs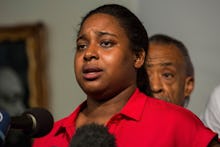 Erica Garner, the late racial justice activist and daughter of New York City police violence victim Eric Garner, could soon have a permanent place of prominence in Staten Island, the city borough where the fight for justice over her dad's chokehold death took root.
On Wednesday, during a celebration of its Black Monuments Project, Mic announced that the Garners are among honorees for whom it will seek to have monuments built in each of the city's boroughs.
Each honoree is a black American who has significantly contributed not just to the progress of their borough but also to American culture and history at large. Actor and activist Harry Belafonte of New York was already nominated in the list of honorees that Mic launched on Feb. 1.
A monument to Belafonte will have a home in Manhattan. Shirley Chisholm, the first major-party black candidate to run for the presidency, has been selected for Brooklyn. The Garners, who became iconic figures in the Black Lives Matter movement, will have a monument on Staten Island. Marie M. Daley, the first black woman to receive a Ph.D. in chemistry, will be immortalized in Queens. DJ Kool Herc, one of the founding fathers of hip-hop, will have a monument in the Bronx, where the music genre originated.
In launching this endeavor, Mic is calling for both privately and publicly owned spaces such as institutions, municipalities, universities, museums, hospitals, parks and beyond to volunteer a spaces for these monuments to be erected in New York City. Akili Tommasino, a renowned art curator, is helping organize the Black Monuments of New York project — and he will put out a nationwide call for proposals to design monuments for each of the honorees.
The designs can be in any material of the artists' choosing, including traditional metal structures, 3D-printed materials and virtual creations via augmented reality. A jury of curators, artists, activists and historians will chose the design winners. Winning designs will be announced at the conclusion of Black History Month in 2019.
Also during Wednesday's celebration of Mic's Black Monuments Project, Michelle Duster, the great-granddaughter of Ida B. Wells, Mic's Mississippi honoree, announced a Kickstarter fundraising campaign to erect a monument in Wells' honor.
Wells, a journalist, suffragist and civil rights activist, became best known for her documenting of lynchings in the United States.
Through the work of a committee in Chicago, Duster named world-renowned sculptor Richard Hunt, a native Chicagoan, as the artist who will bring Wells' image and biographical information to life. Upon completion, the monument will be donated by the committee to the City of Chicago's Public Art Collection. The artwork will be located in Bronzeville, the Chicago neighborhood where Wells once lived.
"Several of the Black Monuments Project honorees, like slain teenager Trayvon Martin and journalist and activist Ida B. Wells, are near and dear to our hearts because their lives and legacies are so closely tied to why we do this work in the first place," Erin Evans, Mic's editorial director of culture and the brains behind the project, said during Wednesday's event.