Burning Man might be fleeting, but it has left Reno as the unlikely haven for outrageously good art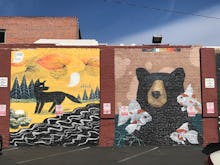 Reno, Nevada, has long been considered a gambling and drinking paradise akin to Las Vegas. But its proximity to Burning Man — the summer festival that celebrates radical self-expression and art in a temporary community set up in the Black Rock Desert — has ushered in a burgeoning arts and culture scene.
"Reno is the gateway. We have a huge influx of people from all over the world who come into town for the 'Burn' and stay after the 'Burn,'" Eric Brooks, co-founder at Art Spot Reno, a nonprofit that that supports local arts and businesses and also gives city art tours, said in an email interview. Many pieces of artwork from Burning Man find a permanent home in Reno, and the city has over 185 art pieces that, in total, are worth an estimated $5 million.
In Reno's City Plaza, the Believe sculpture by Jeff Schomberg and Laura Kimpton is a 12-foot-high block letter word sculpture made of four-foot-thick steel. A few steps away, the 50-foot-tall, stained glass humpback whale dives down alongside a whale calf. Titled Space Whale, the sculpture was created by Matthew Schultz and The Pier Group, a global collective of artists and builders that focus on large-scale art. The Pier Group produced former Burning Man pieces including The Pier in 2011, a 300-foot long, 9-foot wide wooden pier used as a meeting space, The Pier 2 in 2012, a smaller version that features a full-scale Spanish galleon shipwreck, and Embrace in 2014, an enormous wooden sculpture of a man and woman holding each other.
A few blocks from the Reno Arch landmark, the Reno Playa Art Park features a total of 10 former Burning Man sculptures. Pieces include Maya's Mind, a 15-foot, hollow bronze bust of Maya Angelou by Mischell Riley, and Scultura Di Colletivo, a sculpture of steel and iron wings preparing to take flight by Kyle Larrain. Large installations include the 50-foot life-size replica of Nevada's State Fossil, The Ichthyosaur Puppet, by Jerry Snyder — now a permanent sculpture in the Terry Lee Wells Nevada Discovery Museum.
Reno's art scene has been expanding for the past 25 to 30 years, largely due in part to the Reno Arts and Culture Commission and its project, Artown, a month-long summer arts festival that brings talent to Reno while also highlighting local artists. The annual Reno Sculpture Festival, which features more than 30 works from established local sculptors in downtown Reno, is another festival dedicated to the area's artists.
Where the walls are a colorful dream
In addition to the large-scale sculptures around town, more than 110 murals decorate midtown and downtown Reno. Some simply add life and vibrant color to walls and buildings, while others depict historical figures and natural wonders. Since Reno is close to natural wonders such as the Sierra Nevada Mountains, Brooks, the co-founder of Art Spot Reno, said that many artists include the mountain range — and nearby Lake Tahoe — in their murals.
Art Spot Reno began to develop tours of these midtown murals in 2014 (Mic attended one recently as a media guest). Some of the murals they show visitors include "Nevada Row" by Erik Burke and Joe C. Rock, with portraits of several historical figures significant to Nevada in some way, including Abraham Lincoln and Mark Twain. Another mural titled "Hands Up" shows a black woman dancing with her grandson in the shadow of a crow, a symbol of the former Jim Crow laws. Another Nevada-themed mural is "Blueprint of a Mother," a blue-hued profile of Burke's wife with a sage bush and Mount Whitney, overlapping one other on her image.
Burke, a world-renowned muralist, was one of the first artists who began painting murals in the late '90s in Reno's midtown area.
"When I really started homing in on street art and murals was in 2004 and that began the early snowball for Reno murals," Burke said in an interview. "Initially I was drawn to street art. Over time this grew into more permanent works and larger commissioned projects that needed to survive the elements."
Burke and his fellow muralists were one catalyst that transformed Reno's midtown, Brooks said in an email interview, explaining that business owners later joined forces to beautify the area. "Midtown was originally an industrial area with lots of auto repair shops and the like. With the downturn in the 1980s, it became run-down — lots of drug abuse, homelessness ... It is now a bustling area with bars, restaurants, retail shopping and several alternative art venues." Brooks said. "The current [city] mayor has been very vocal about midtown becoming a destination for dining and shopping."
Brooks and Art Spot Reno co-founder Geralda Miller tapped Burke, among others, to help launch a Mural Expo in Reno's downtown area in order "to create walking spaces and community pride in some of the worst and most desolate spots downtown," Brooks said. In fall of 2017, the first Mural Expo brought artists from around the world to decorate more than 31 plain walls and alleys, resulting in more than 20,000 square feet of murals in three days.
"It was an impressive change in the downtown landscape, which beforehand felt a bit like a casino purgatory," Burke said. Though he explained that some real estate developers see colorful murals as a sort of "Trojan Horse" that can go into poor neighborhoods to change the neighborhood's stigma, he felt that Reno Mural Expo did "a fantastic job of reactivating downtown" without initiating changes that would displace locals.
Looking ahead to an artistic future
There's been increased focus on enticing artists to stick around post-Burning Man. One solution? Reno has established dedicated spaces where artists can pursue their passions. The Generator, a space for creating large-scale public art, began in 2013. What began as a one-off project in an abandoned warehouse for the Artown festival later became the Salvagery, a large, underground community arts facility.
In 2012, Reno Art Works, an independent art gallery, provided additional artist workspace during a time when there were no other community art spaces. In 2013, the Potentialist Workshop, a multidisciplinary collaborative arts collective, began providing artists with the space, education and means to produce multidisciplinary artwork.
"There are so many people working to make Reno an international art destination," Aric Shapiro, development director for The Generator, said in an interview. "Those that sit on art committees today want to ensure that the younger people have a voice and place to produce the art they're passionate about. In the past when kids got old enough, they left Reno completely, but now, there are reasons to stay."