At Oscars, Common and Andra Day perform "Stand Up for Something" with BLM, #MeToo movement leaders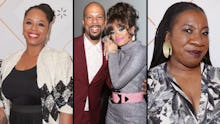 Some representatives of the nation's most influential social movements took the stage during Sunday night's Academy Awards ceremony, in what was arguably the largest moment of visibility for their causes.
Black Lives Matter, #MeToo, indigenous rights and immigrant rights were among the movements represented, during rapper Common and pop singer Andra Day's performance of their Oscar-nominated song, "Stand Up for Something." At a highpoint of the performance, Patrisse Khan-Cullors of BLM, Tarana Burke of #MeToo and transgender rights advocate Janet Mock were seen standing under spotlights.
The performance ended with some of the activists raising a fist.
"Stand Up for Something" is from the original soundtrack to the motion picture, Marshall, a film about the nation's first black Supreme Court justice Thurgood Marshall, and was nominated in the best original song category.
#NeverAgain, the fledging campaign against gun violence launched by students in the wake of the deadly Majorie Stoneman Douglas High School shooting, is the latest movement to enter the national conversation. Time's Up, the legal defense fund for sexual assault and harassment victims created by Hollywood stars, was mentioned more than a handful of times on the red carpet. But the inclusion of a wider range of social justice and civil rights groups marked a rare moment of visibility for progressive causes, who leveraged Hollywood's biggest night to drive awareness and advocacy.
"Even when we celebrate the beauty and genius of our artists and storytellers, we shouldn't forget the vulnerable, the incarcerated, the condemned, the unprotected and disfavored," Bryan Stevenson, founder and executive director of the racial justice group, Equal Justice Initiative, said in a statement sent to Mic ahead of Sunday's performance.
In April, Stevenson's EJI plans to open the world's first memorial to lynching victims in Montgomery, Alabama.
"I'm thrilled that even for a moment, people watching the Oscars were reminded that there is an ongoing struggle for basic human rights and equal justice that should never be ignored," Stevenson said.
Khan-Cullors, who pioneered the BLM movement in 2013, noted the moment's significance to black civil rights activists.
"Tonight, the Black Lives Matter Global Network took to the Oscar stage to remind the country and the world that black folks are still fighting for our lives and dignity," Khan-Cullors said in a statement to Mic. "We want folks to remember that there has been a long legacy of black people on the frontlines of changing the very fabric of America."
Following the Oscars performance, the BLM network released a video PSA about its efforts.
Other prominent movement leaders on stage with Common and Day included Planned Parenthood president Cecile Richards, labor movement and immigrant rights advocate Dolores Huerta and teenage Standing Rock activist Alice Brown Otter.
Although ceremony viewership has been down for three years in a row, last year's Academy Awards attracted 32.9 million viewers, according to Deadline. Even if those numbers were to dip slightly, that's a rare audience for many of the leaders and the causes they represent.
March 5, 2018, 5:07 p.m. Eastern: This story has been updated.