Actor Lee Pace opens up about his sexuality after an uncomfortable interview in 'W' magazine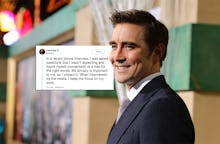 Wednesday, in an interview with W magazine, actor Lee Pace (The Hobbit, Halt and Catch Fire) mentioned how important it is for gay actors to portray gay characters. This was in reference to his own performance in the current revival of Angels in America on Broadway, in which he plays Joe Pitt, a closeted Mormon.
Naturally, the conversation turned to Pace's own sexuality — but Pace seemed taken aback, declining to answer the question definitively.
"I've dated men. I've dated women," Pace said, according to W. "I don't know why anyone would care. I'm an actor and I play roles. To be honest, I don't know what to say — I find your question intrusive."
Once the interview started circulating, the reaction was mixed. On the one hand, some people argued that if Pace wasn't ready to be out, he has every right to preserve that privacy. Others noted that it was odd of Pace to come so close to coming out and then shutting down once the conversation headed that direction.
But in a series of tweets posted Monday morning, Pace cleared the air. He said he was "at a loss for the right words" at the time of the interview, and eventually identified himself as a member of the queer community.
Like any good member of the queer Twitter community, Pace finished off his tweet thread with a Missy Elliott gif and some gay emojis.
Angels in America is on Broadway. Alongside Pace, it stars Nathan Lane and Andrew Garfield.