Ohio police officer Zach Rosen, who beat up a suspect on video, just got his job back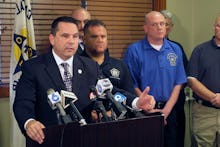 The Columbus, Ohio, police officer who was fired in 2017 for stomping on a man's head will soon be back on the force, after a police union arbitrator's ruling on Monday.
On April 8, 2017, a bystander's cellphone video caught Columbus police officer Zach Rosen stomping on the head of suspect DeMarko Anderson. Police were responding to a call about a man with a gun in the city's Linden neighborhood, according to reports summarized by the Columbus Dispatch.
Anderson was already laying face down on the concrete and being handcuffed by officer Darren Stephens when Rosen ran up and kicked him in the face, the video and local news reports indicated.
Rosen was fired by city officials in July after a four-month investigation, during which the officer's own deputy chief stated his actions were "unreasonable," and made "no sense," according to the city's assistant public safety director, who spoke to Mic on the phone Monday.
Police Chief Kimberly Jacobs previously recommended Rosen be suspended for three days without pay. The Fraternal Order of Police Capital City Lodge No. 9 previously appealed Rosen's firing, which was ultimately reversed Monday.
Columbus Mayor Andrew J. Ginther denounced the arbitrator's ruling Monday afternoon.
"We disagree with the decision of the arbitration of Columbus Police Officer Zach Rosen," the mayor said in a statement posted on his Facebook page. "We believe the Public Safety Director's decision for termination was the correct one. However, we respect and will abide by the legally-binding arbitrator's decision."
A CPD spokesperson said Jacobs is not commenting on the arbitrator's ruling.
"She doesn't comment on personnel matters," CPD spokesperson Denise Alex-Bouzounis said in a phone interview Monday.
Rosen must go through mandatory training before returning to his job, according to Columbus Assistant Safety Director Cathy Collins. Alex-Bouzounis said the officer will be assigned to zone four, which includes Ohio State University's campus and the Linden neighborhood where the stomping incident occurred.
"He'll go through training like any officer who has been gone for a while would," Alex-Bouzounis said.
With his reinstatement, Rosen becomes one of at least 451 other officers across the U.S. since 2006 who were fired for alleged misconduct before having their jobs reinstated, according to the Washington Post.
They include Philadelphia police officer Cyrus Mann, who was fired in 2015 after killing one out of three people he shot over three years, before a police union arbitrator reinstated his position on the force.
Some officers who aren't fired are allowed to stay on the payroll in spite of misconduct allegations levied against them by their fellow officers or superiors. Others resign from their position in one department to be hired by another.
Former Tulsa, Oklahoma, officer Betty Shelby resigned from her job in July after being acquitted on murder charges for the 2016 fatal shooting of Terence Crutcher. In August, she was hired by the Rogers County Sheriff's office.
In September, Rolling Stone reported that New York's Civilian Complaint Review Board recommended NYPD officer Daniel Pantaleo be charged by his own department for using a banned chokehold to kill Eric Garner in July 2014.
Former New York Police Chief William J. Bratton previously indicated the maneuver Pantaleo used on Garner appeared to be against the department's rules, according to the New York Times.