"What about OUR kids?": Inner-city gun control activists back Parkland teens despite feeling ignored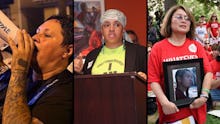 Chicago mom Maria Pike has been fighting for stricter gun control measures in her city and on Capitol Hill ever since her eldest son, Ricky Pike, was killed in a drive-by shooting in August 2012.
On March 24, the veteran member of the anti-gun-violence group Moms Demand Action, plans to join thousands of other advocates expected to march in the Windy City in support of the larger March for Our Lives protest in Washington, D.C., the same day.
Simultaneous demonstrations are set to take place in New York City, Los Angeles and dozens of other cities across the country. High schoolers nationwide also plan to participate in a walkout Wednesday in support of stricter gun laws.
This outcry for more stringent gun control wasn't sparked by the roughly 12,000 to 15,000 shooting deaths that occur every year in the United States — a gun homicide rate more than 25 times higher than other high-income countries like France and Canada, according to data compiled by CNN.
It was ignited by the teen survivors of the Feb. 14 mass shooting at Marjory Stoneman Douglas High School in Parkland, Florida, which left 17 people dead, 14 of whom were students.
"I am very grateful for what these young people are doing," Pike said of the Parkland activists during a recent phone interview.
While Pike commended Parkland teens like David Hogg for leading the #NeverAgain movement, she also acknowledged that the Stoneman Douglas youths have garnered more media attention and support from lawmakers in less than a month than inner-city gun control advocates like herself have received in years.
Pike's son was killed in Chicago's Logan Square, which borders Humboldt Park, a high crime neighborhood in a city that has become notorious for fatal shootings. In 2012, the year Ricky Pike was murdered, Chicago endured at least 487 homicides, 87% of which were gun-related, according to the Washington Post.
Parkland may be getting most of the headlines as of late, but Chicago has been at the center of the American gun-violence debate for years. It is commonly invoked by Republicans and National Rifle Association pundits — like NRA spokesperson Dana Loesch — as an example of how liberals only care about gun violence when school shootings occur, ignoring the daily carnage that happens in neglected black and Latino communities across the nation.
Pike said the NRA often uses Chicago as a political red herring because the organization knows the root causes of its bloodshed — issues like poverty, the school-to-prison pipeline, lack of economic development and access to firearms — comprise a tedious conundrum that the public is often too tepid or impatient to solve.
That reality appears to be changing, thanks in part to the Parkland teens.
"We could talk for hours about how gun violence affects us on the South Side and how there doesn't seem to be an appetite to help our young people unless they're kids like the ones at Parkland," Pike said. "Parkland and Newtown [Connecticut], those are the two events that we were able to tap into to elevate our voices. I have to be forever thankful for that."
On Friday, Florida Gov. Rick Scott, a staunch Second Amendment supporter who is expected to run for U.S. Senate, spurned the NRA by signing a gun control bill passed by the state's Republican-controlled legislature in the aftermath of the Parkland shooting. Scott currently boasts an A+ grade from the NRA's Political Victory Fund, the organization's political action committee, though it's possible that will be lowered in response to the bill. The NRA responded to the bill's passage by filing a federal lawsuit.
If upheld, the new Florida law will impose a three-day waiting period for most long-gun purchases — including the AR-15 models used in many high-profile mass shootings — while also raising the state's minimum age to buy such weapons to 21. Legislators in Pike's home state of Illinois passed similar post-Parkland gun control bills Feb. 28. Illinois' new measures go a step further than Florida's by requiring all gun dealers in the state be licensed to sell firearms and conduct mandatory background checks on all gun purchasers.
Mass shootings like those in Parkland, Newtown, Las Vegas and Orlando, Florida, account for a small fraction of the thousands of shooting deaths that occur annually in the U.S. Many mass shooters, like accused Parkland killer Nikolas Cruz, purchased their firearms legally. But the bulk of guns used to commit acts of violence in high-crime neighborhoods nationwide are either stolen or bought and possessed illegally, according to PBS and the federal bureau of Alcohol, Tobacco, and Firearms.
"Typically, gun traffickers are getting [their weapons] from FFL [Federal Firearms License] burglaries, straw purchasers or families," Matthew Fleming, spokesman for the New York office of the Bureau of Alcohol, Tobacco, Firearms and Explosives, said in a phone interview.
Drug dealers, gang leaders and organized crime syndicates that operate in cities or states with strict gun laws often recruit subordinates or family members with clean criminal records to travel to gun shows or meet straw dealers in areas with more lax gun laws to purchase handguns and some assault rifles, according to Fleming, who spent more than eight years working as an ATF field agent.
These weapons, Fleming said, are often transported illegally across state lines instead of being shipped to and from licensed gun shops the way federal law usually requires. Once the guns are transported, they're frequently sold or distributed illegally once more.
"Someone who's living in Brooklyn either has family or a girlfriend [who's] driving back and forth, or they themselves go back and forth, to areas of the South like Virginia or Georgia," Fleming continued. "New York is a market state where those guns will usually wind up."
While assault rifles have become a weapon of choice in school shootings, handguns remain the most common weapon used in the far more prevalent domestic-violence-related or inner-city mass shootings — commonly defined as shootings in which four or more people are injured or killed, not including the shooter — which occur once a day on average in the U.S.
These shootings receive relatively little national media coverage, if any, according to Gun Violence Archive researcher Mark Bryant, whose organization maintains a database of mass shootings nationwide.
"Society does not put the same value on a drive-by that shoots and maybe kills five or six as it does on a school shooting," Bryant said in a phone interview. "When we have shootings at malls or other places where the public goes and feels safe, that is a different perspective than if you go into an area with a historically high crime rate. There's a lot of street violence that does not get the public attention that it should."
Congress could simultaneously reduce the number of school shootings and crack down on the illegal gun sales that fuel much of the nation's gun violence by requiring all firearm dealers to be licensed, Bryant said. They could also mandate universal background checks to better ensure people with felony records or other red flags — such as domestic violence infractions or mental health issues — can't purchase guns so easily through legal channels, he added.
But restricting firearms use is just one part of preventing inner-city gun deaths. Chicago's Mary Long, president and founder of youth mentoring group Sacred Ground Ministries, spends more time fighting to keep kids from the city's South Side in school than she does pushing lawmakers to institute stronger gun control measures, which she supports nonetheless.
Long's son, Eric Williams, was fatally shot in 2012. His alleged murder, like the vast majority of Chicago homicides, remains unsolved, according to his mother. Long founded her organization to help break the cycle of violence that's plagued the city's South Side for decades.
"These kids go around and glorify guns, how they got them, how easy they can get 'em, how so and so shot so and so," the 59-year-old said in an interview. "Some of them are in so much despair and hopelessness. Their schools are underfunded. They don't know what they're going to do after high school."
Washington, D.C., native Lauryn Renford, 16, has faced her own roadblocks fighting for change in her local community. After her boyfriend, Zaire Kelly, was gunned down during a failed robbery attempt in September, Renford started a Change.org petition to paint murals around town dedicated to Kelly and other D.C. shooting victims. In six months, the petition has received a mere 3,800 signatures. Parkland teens like Emma Gonzalez, meanwhile, have gained millions of Twitter followers and were invited to a CNN town hall with Sen. Marco Rubio (R-Fla.) in less than four weeks.
Americans seem to look at school shootings as a more pressing issue, which is part of the problem, Renford said.
"It's hard for us to get people to listen because we're black kids in Washington, D.C., and we don't really have that stage to use our voices," Renford said in a phone interview Sunday. "I've tried to be the catalyst for progress and it's frustrating."
Still, the junior at Thurgood Marshall Academy in the nation's capital said she's backing the Parkland teens and plans to join the estimated 500,000 attendees at March for Our Lives, even though she's skeptical about the effectiveness of protests.
"The Parkland event has opened a couple doors for us to advocate for issues in our own city as well as Florida and America," Renford said. "I don't know if it's the fact that it's a mass shooting or that [14 kids] were killed that they have a lot of attention on this. Regardless of that, I support it."