How the Time's Up movement may have changed red carpet commentary forever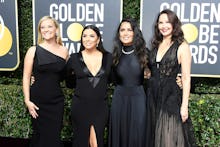 Red carpets, once known for their frivolous and circus-like spectacles, are now becoming major platforms for important political conversations.
Years ago, it'd be like this: Turn your head one way and you'd see Joan Rivers gawking at a not-so-great gown or someone's new plastic surgery. Turn your head the other and there was Ryan Seacrest and Giuliana Rancic, begging an actress to show off her jewels and manicure by walking her fingers down a tiny red carpet as if they were tiny legs.
It was called the Mani Cam. It didn't last long.
But now, on those same exact red carpets, important questions are being asked, and movements are taking shape.
This change in red carpet commentary began in 2014 with the #AskHerMore movement, which called for an actress to be asked about more than who she is wearing, from her dress to her shoes to her jewels. People on social media started tuning into major awards show red carpets and pointing out when someone like Ryan Seacrest would talk to an actress about something more than her appearance.
At the same time though, there was still a a sound argument that questions like "Who are you wearing?" were perfectly valid. Years ago, when social media wasn't as all-consuming, a designer's career could be kickstarted with a red carpet mention. Now, however, talking about who someone is wearing is entirely unnecessary, because if you want to know, chances are it's on their Instagram.
"Who are you wearing?" has kind of died. R.I.P.
This year, when we talk about red carpet commentary changing amid the Time's Up and #MeToo movements, we're talking about seeing a change in not only the tone with which we're talking about these (mostly) women, but also in the issues being brought up in these short interviews on the carpet.
For the most part, we can thank the actresses, actors and awards show attendees for sparking this exact change. Starting at the Golden Globes, they forced these conversations into the spotlight because of those Time's Up pins and those all-black dresses, as well as constant social media posts. They made it so discussion surrounding the topics of sexual harassment and Time's Up was unavoidable on the red carpet.
Similarly, in the past, it's been attendees who have launched conversations through their fashion on red carpets, from Elizabeth Taylor wearing a red AIDS ribbon to all of those blue ACLU ribbons at the 2017 Oscars.
They have been so effective in their statements and outspokenness that people who appeared on the E! network's live red carpet coverage, which routinely grouped actresses as best and worst dressed with biting — and sometimes cruel — commentary, have encouraged this change from frivolous questions to more meaningful ones.
Comedian Kathy Griffin, who was a Fashion Police host back in 2015 and once a live E! red carpet commentator, wrote in Time just last week: "Ninety percent of the viewers are aware that many of these women who are now showing up with jewels in their hair and a smile on their face have been sexually assaulted."
"When you see Ashley Judd on a red carpet, you don't want someone to say, 'Who are you wearing? Oh my God, you're a sample size?'" Griffin wrote. "I don't want to hear another woman asked about her 'lucky charm' — many women at awards shows, we now know, have been raped. You can't ask them to spin in front of a camera. These poor women have spun enough."
On ABC's telecast of the Oscars red carpet Sunday night, Ashley Judd and Mira Sorvino, who have both accused Harvey Weinstein of sexual harrassment, were asked about the Time's Up movement specifically.
"This movement isn't stopping, we're going forward until we have an equitable and safe world for women," Sorvino said.
That moment was admittedly an outlier on the Oscars carpet, which preferred much quieter political statements than the Golden Globes.
But is the red carpet really the place to have these open conversations about sexual harassment? To Guy Branum, a writer and comedian who wrote for Fashion Police, if you see the red carpet as the wrong place to start, maybe consider why that is.
"Criticizing red carpets as a frivolous place to start political conversations is a subtle way of saying women's interests aren't important," Branum said in an interview. "It is a different way of marginalizing women from authority over their own lives. We are more resistant to political discourse happening in traditionally female spaces because they are frequently treated as frivolities. We think we're saying, 'Ugh, not there,' but what we're really saying is, 'Ugh, not them.'"
"We are more resistant to political discourse happening in traditionally female spaces because they are frequently treated as frivolities."
Actresses and actors on red carpets have the right to get as political as they want.
What has also disappeared, for the most part, is the worst-dressed list. For the past few years, as reported by Mic, it's been phased out. Last year, rather than saying "worst-dressed" after the Grammys and SAG Awards, People used the term "risk-takers."
While there are still outlets that subscribe to the belief that people want to rank women — Perez Hilton and Breitbart among them — the list has mostly dissipated. Most outlets now focus on the good, or the best-dressed, as it were.
Now, that's not to say that this year has eliminated our ability to critique red carpet fashion. These are, after all, incredibly privileged people who have every opportunity to dress the way they want for any reason. It's just that now we've all taken to writing about less gorgeous outfits in a more nuanced, sensitive way.
"If we have a class of people whose quite lucrative careers rest on being beautiful and glamorous, we, as unbeautiful and unglamorous people who are helping pay for their lifestyles, should be allowed to comment on and engage with that glamour," Branum said. "I think right now we're figuring out how to do that in ways that are less misogynistic and more respectful of different body types."
Red carpet fashion commentary is just getting smarter, but will it continue to involve politics too? For Branum, the answer to that question is in the women leading this moment — and those refusing to let it go.
"Gabrielle Union, Reese Witherspoon and America Ferrera are not going to let us continue to treat these spaces as strictly decorative and apolitical anymore," Branum said. "And I'm excited by that."