In the throes of South Korea's #MeToo, it's "very hard to speak up"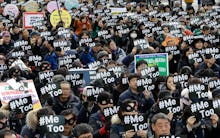 SEOUL, South Korea — Against the backdrop of Seoul's towering office buildings and the distant mountains, crowds of South Korean men and women chanted in unison on Thursday. It was International Women's Day, and their words had traveled thousands of miles from the United States, all the way to their mouths and microphones:
"Me too," they shouted, over and over again.
South Korea is in the midst of its own reckoning with sexual misconduct. Horrifying cases once confined to offices, film sets and deserted classrooms are now the subject of frequent national headlines. Since January, numerous rape allegations have been made against well-known people, along with calls for legal crackdowns and a controversial suicide from an accused perpetrator.
"I think this has been building up forever. This is not just a recent thing," said C. Harrison Kim, an assistant professor at the University of Hawaii at Manoa who teaches courses on North and South Korea. "This has been entrenched in South Korean society for so long, and if the #MeToo movement or any kind of gender equality movement doesn't take this moment as an opportunity, then it will be a tremendous loss."
One after another, allegations surface
South Korea has seen a feminist movement burgeon long before the Harvey Weinstein allegations in late 2017. However, one could argue that the phrase #MeToo touched down in South Korea in late January, when an award-winning prosecutor recounted a harrowing sexual assault allegedly committed by a Ministry of Justice official eight years prior. Her interview, aired on South Korean broadcast network JTBC, sparked public outrage — just a day later, President Moon Jae In responded to the interview during a Jan. 30 press conference, calling on the government to "take definite steps to create a culture in which such incidents do not occur" and to make it so that "victims can speak up without fear.
"Women in the workforce have pleaded with us to do something about sexual harassment on the job, but this [incident] confirms once again that the situation is not improving at all," he said at the conference.
Since then, several other high-profile cases have been publicly unraveled: Renowned poet and former Buddhist monk Ko Un — who has repeatedly been floated as a candidate for the Nobel Prize — has been accused of yelling at female writers while masturbating in front of them (he denies it). Sixteen women have come forward with rape and sexual assault allegations against theater director Lee Yoon-taek, who is currently being investigated by police. Three women have also accused Kim Ki Duk — a famous director known for edgy, high-art films — of raping, stalking and sexually abusing them on and off set. He has also denied these claims, but he did admit to slapping a female actor across the face in front of a film crew. He called it an "acting lesson."
"In these situations, it's honestly very hard to speak up," said Choi Yoon Hee, a 29-year-old entertainment strategy planner in Seoul. "Now, women are starting to call out these people of a higher social status. It's a good thing."
And as new allegations continue to fill the front pages of newspapers and the endless scroll along the bottom of TV news reports, Choi believes that South Korea is on the verge of real change.
"The #MeToo movement is a huge deal," Choi added. "When I was in college, there were professors who were [sexually inappropriate], but since they were professors, nobody could talk about it. I think the influence of #MeToo is becoming so powerful that those professors are probably acting more carefully now."
Others, however, remain skeptical that the movement will reach women in everyday jobs, without high-power, international headline-making perpetrators.
"I've seen [sexual misconduct] happening at work a few times, and I don't think there's anyone who can raise their voice inside of the workplace — especially when you're a new employee like me," said Jo, a 24-year-old office worker in Seoul who declined to give her first name because of the subject's controversial nature. "I think the #MeToo movement is a good idea for women, but it doesn't have direct effects yet on people like me."
"I feel that many women are still hesitant about revealing their secret because of the secondary damage they might receive," said Kim, a professor in Seoul who also declined to give his first name. "But to be honest with you, I'm a man and I could see that if I lived as a woman, there would be many cases [of sexual misconduct]."
The long, contentious fight for change rages on
As it stands, South Korea's rank on the World Economic Forum's Global Gender Gap Report has been declining, with a placement at 118 out of 144 countries in 2017 (it ranked at 116 in 2016 and 115 in 2015). Aside from a significant gap in pay and other manifestations of sexism in the workplace, domestic abuse has been a primary concern: In August, a survey of 2,000 South Korean men suggested that nearly 80% admitted to behaviors considered physically or psychologically abusive to their girlfriends, while nearly 40% admitted to sexual harassment and 22% to physical violence.
In May 2016, a man who said he "hated women for belittling him" stabbed and killed a 23-year-old woman he didn't know in a Gangnam subway station. Hundreds — if not thousands — of women added their messages and stories on sticky notes in the station as a makeshift memorial. Violence against women became an important subject of national concern, especially since the perpetrator had a noted sense of male entitlement somewhat similar to what Americans saw in the 2014 shooting in Isla Vista, California.
That same year — starting in October 2016 — some South Korean women used hashtags on Twitter like "sexual abuse in the art world" or "sexual abuse in the literary world" to tell their stories. In many ways, #MeToo is an extension of years of ongoing activism and pain.
But as that movement gets louder and more mainstream, anti-feminists and those who feel threatened by women's honesty are also loudly lashing out. On March 7, the words "Pence rule" became a trending topic on South Korea's Naver internet portal (somewhat like Korea's Google), with men advocating that Korean men follow U.S. Vice President Mike Pence's advice not to dine out with women for fear of being falsely accused of misconduct.
"I think women are more likely to be rejected in the workplace after this movement," Jo, the 24-year-old Seoul resident who asked to keep her first name private. "Men say they're being 'careful,' but it's not that they are. They're just keeping a distance from women now."
On Sunday, South Korean actor Jo Min Ki — who is accused of sexually assaulting eight women — died by apparent suicide. Some took it as grounds to call #MeToo a "witch hunt," leaving South Korea in an odd and unclear place as its public confrontation with sexism and violence against women appears to be ever-growing.
"It's too bad that our whole society isn't feeling positive about the #MeToo movement," said Kim Hyun Ah, a 19-year-old university student in Seoul. "I hope the movement will make a path for women to enjoy all of their rights in a variety of ways. I hope we can end these man-on-woman confrontations."
Jisoo Hong contributed to this report.