Black leaders in Austin plan town hall Thursday to discuss unsolved home bombings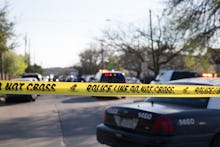 Black community leaders in Austin plan to hold a town hall meeting Thursday to address fears of a suspected serial bomber who appears to be targeting local African-Americans, and remains at-large.
The Austin Justice Coalition — a non-profit advocacy group supporting marginalized communities — and its leader, Chas Moore, are co-hosting the public meeting at Greater Mt. Zion Baptist Church, in partnership with Austin's NAACP chapter president Nelson Linder and Black Lives Matter Austin chapter leader Margaret Haule.
Local and federal law enforcement officials also plan to address the gathering, according to Moore and Linder. All three activist leaders said the city's historically black community in east Austin is "on edge" after the bombings, which have killed two members of prominent black families since the beginning of March.
"We're going to make sure the public is informed about the nature of this and take necessary precaution," Linder said over the phone Wednesday.
On March 2, Anthony House, 39, was killed by a bomb contained in a package delivered to his east Austin home.
On Monday, 17-year-old Draylen Mason died after another package bomb exploded in his family's kitchen. The blast also injured Mason's mother who remains in stable condition at a local hospital. Draylen was a double bass player and member of a local youth orchestra program called Austin Soundwaves. He was set to attend the prestigious Butler School of Music at the University of Texas in the fall.
UT College of Fine Arts dean Doug Dempster, who serves the board of directors for the Hispanic Alliance, the organization that runs Austin Soundwaves, said Mason was remarkably talented and had a bright future ahead of him.
"I've been watching Draylen blossom in the program for the last few years," Dempster wrote in an emailed statement. "The loss of any child is heartbreaking. The loss of a child with such conspicuous ambition, talent and determination is the cruelest kind of heartbreak."
House and Mason were connected through their families, both of which were prominent in Austin's close-knit black community. African-Americans account for roughly 7% of Austin's 963,116-person population.
House is the stepson of former-Wesley United Methodist Church pastor Freddie Dixon, who co-founded the Austin Area Urban League — a black advocacy group — in the 1970s with Mason's grandmother, LaVonne Mason. LaVonne and her husband, Norman — a dentist and mentor to local youth — are longtime members of Wesley United Methodist, which Dixon still attends (though he has retired from the pastorship).
A third bomb was delivered Monday to the home of Maria Moreno, 93, and nearly killed her 75-year-old daughter, Esperanza Herrera, who remains in critical condition at a local hospital. Both Moreno and Herrera are Hispanic and authorities believe they may not have been the intended targets of the bombing, according to the Austin-American Statesman. Police are investigating whether the explosive was actually meant for Moreno's neighbor, Erica Mason, who lives two doors down.
Investigators spent Wednesday night questioning Mason, who told the Statesman that she is from Iowa and is not related to the Masons of east Austin.
"They basically just wanted to know if I was a relative or married to one of them, if I was in any way associated with the family," Mason said, adding that she feels "survivor's guilt" after the bombing. "I don't know if it's more terrifying that it could have happened to me or my boyfriend, and that it happened to this poor, sweet, innocent woman."
And contrary to widespread speculation, Linder is unconvinced that the bombing victims were targeted because of their race.
"It appears to be a personal angle," he said. "If this is about black political representation there are much more obvious targets."
Haule is less sure. She said racial tensions have risen in Austin since the University of Texas removed three Confederate monuments in the aftermath of the deadly violence that unfolded at a white supremacist rally in Charlottesville, Virginia, in August.
Haule referenced a recent brawl between pro-Confederate monument group called the Texas Nomads and anti-racist demonstrators during the city's Texas Independence Day parade on March 3.
"They've been emboldened lately," Haule said of Confederate supporters and white nationalists. "Hate crimes have been on the rise everywhere."
Linder, Moore and Haule hope their Thursday town hall will dispel rumors and alleviate rising fears. Austin police have received more than 150 calls about suspicious packages since Monday. All of them were false alarms.
"What is occurring here in this community is packages are being left on door steps over night," Chief Manley said at a press conference Tuesday night. "Out of all of these incidents that have come up, we have not found any one additional package that was suspicious or that was involved in any way in the investigation that we have ongoing right now."
Moore, leader of the Austin Justice Coalition, said people will feel unsafe until the police apprehend a suspect. He recalled peering anxiously out the window of his east Austin home Wednesday as a FedEx delivery man pulled up to drop off a package containing his new Samsung S9 smartphone.
"I was making sure the guy was going to actually get out of the truck and give it to me," Moore said.