Sen. Doug Jones says Dodd-Frank rollback he voted for won't hurt black Americans. Is he right?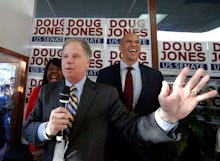 Sen. Doug Jones (D-Ala.) is defending himself against allegations that the GOP-backed Dodd-Frank rollback bill he co-sponsored and voted for on March 14 is particularly bad for black Americans, a voting bloc that overwhelmingly supported his historic United States Senate bid in December.
"[Senate Bill] 2155 does not weaken efforts to combat lending discrimination," the senator said in an emailed statement, responding to one of the bill's most critiqued provisions. "Existing reporting requirements [around demographics and lending] ... including ethnicity, race and gender data, are preserved."
Jones is one of 17 Senate Democrats who supported SB 2155 — dubbed the Economic Growth, Regulatory Relief and Consumer Protection Act — which, if signed by President Donald Trump, would get rid of some of the Wall Street regulatory requirements passed along partisan lines in the aftermath of the 2008 financial crisis.
On March 15, the Root's Michael Harriot pointed out that, in its current form, the bill would grant many institutions an exemption from a law that requires smaller banks across the U.S. to report demographic data for most approved mortgage loans.
"Under the new proposal, only the largest banks will have to report demographic data, which means that it will be impossible to find out if the other banks discriminate," Harriot wrote. "If the law passes, these banks will be able to deny black customers without fear of repercussion or lawsuits."
The current set of regulatory protections — first implemented as part of the Home Mortgage Disclosure Act of 1975 and Community Reinvestment Act of 1977 — were designed to ensure that banks aren't redlining, a once-common practice intended to keep black Americans from purchasing homes in white neighborhoods, or using other forms of discriminatory lending.
Alleged racial discrimination has been a problem for big banks in recent years. In 2012, Wells Fargo, one of the nation's largest mortgage lenders at the time, paid $175 million to settle a class action lawsuit stemming from allegations that it systematically discriminated against qualified black and Hispanic mortgage applicants from 2004 to 2009, according to the New York Times.
JPMorgan Chase and Co. paid $55 million to settle a similar lawsuit in 2017 for allegedly making black and Hispanic borrowers pay higher rates than white borrowers with similar financial backgrounds, according to USA Today. The protections that made these lawsuits possible would be weakened under SB 2155, Harriot argued.
"Doug Jones and the Democratic Party, once again, have thrown black people to the wolves," he wrote.
The overarching criticism of the rollback bill is that it weakens reforms put in place under President Barack Obama aimed at prevening another financial crisis. The financial collapse of 2008 and subsequent recession helped cause overall black unemployment to reach a high of 16.8% in 2010.
The Dodd–Frank Wall Street Reform and Consumer Protection Act, also passed in 2010, required the nation's largest banks — classified as "structurally important financial institutions" — to comply with regular "stress tests" from the Federal Reserve to ensure they had enough capital to continue operating in the event of an economic downturn, and wouldn't require another bailout.
SB 2155, the rollback bill, raises the threshold for what is considered a structurally important financial institution, from $50 billion in assets to $200 billion. This means that only the very largest financial institutions would be subject to the same stress tests. Smaller — but often still big — banks would be released from those same obligations.
"Massive banks are no longer subject to the strict oversight that they were put under by Dodd-Frank," Jordan Haedtler, a campaign manager with the Center for Popular Democracy, a progressive nonprofit watchdog group, said. "This bill deregulates 25 of the largest 38 banks in the country."
Jones' office acknowledged to Mic that the senator had seen Harriot's scathing article, and has been beating back similar criticism levied in the subsequent days. Jones denies many of the piece's statements about the bill downsides, and articulated as much in an op-ed for AL.com on March 15.
Nevertheless, the exemptions in SB 2155 have been hotly debated in Congress. In its current form, they would apply to 86% of all U.S. financial institutions, according to Haedtler.
"There was so much controversy over this provision of the bill that Sen. Angus King (I-Maine) said he was going to introduce an amendment to strip out that part," Haedtler said over the phone. "King and the other co-sponsors did not insist that amendment be considered or voted on before voting on the final bill. As a result, it's going to be a lot harder to enforce and stop that redlining."
Jones' press secretary, Sam Coleman, claimed that people are misinterpreting this section of the proposed law.
"The release the banks receive is from new reporting requirements, not the original ones," Coleman said. "It doesn't exempt anyone from reporting race or gender. It also has a specific provision in there for reporting bad actors. It ensures banks that have scored poorly on a CRA exam never get that release. It doesn't exempt them at all in any way."
According to Coleman, exemptions granted under SB 2155 would only reduce new reporting requirements that went into effect in January, not those established by the CRA of 1977. When it passed in 2010, Dodd-Frank created the Consumer Financial Protection Bureau, and tasked the new entity with thinking up more regulatory reporting categories over the next few years for banks to comply with.
The CFPB finalized these new categories via ruling in October 2015, adding 25 more to the 23 already in place, including ones detailing borrowers' financial history, additional data about the lender, and the terms of the loan.
Coleman said that Republicans and others crying foul were arguing that Dodd-Frank's regulations were too cumbersome for smaller banks. GOP senators responded last week with a bill that reduces many of its requirements. Section 104 of SB 2155 explicitly states that banks and credit unions that lend fewer than 500 closed-end mortgage loans or extended fewer than 500 open-end lines of credit in each of the two preceding calendar years don't have to disclose the new data currently required by Dodd-Frank.
Both Sen. Kamala Harris (D-Calif.) and Sen. Cory Booker (D-N.J.), the only black Democratic senators in Congress, voted against the rollback. Booker, who campaigned for Jones in December, did not respond to multiple requests for comment on this story. Mic also reached out to Congressional Black Caucus chair Cedric L. Richmond, whose office said he declined to comment about Jones or this bill.
According to Jones' team, the main reason he and 16 other Senate Democrats supported the bill is that small banks were being unfairly penalized by Dodd-Frank. As it stands, these institutions are being made to pay the same price for legal compliance as those with exponentially larger amounts of capital, like Chase, Wells Fargo and Bank of America — banks widely considered most to blame for the financial crisis.
This can be especially devastating for black and Hispanic buyers and entrepreneurs, small banking advocates claim, because small banks are more likely to lend to them. The overhead expenses from Dodd-Frank also leave these banks with less money to lend to small business startups and mortgage-seekers, they say.
Alabama, incidentally, is home to three of the largest black-owned banks in the U.S. Dodd-Frank arguably penalizes them as well, which is why the National Banking Association, a Washington D.C.-based trade group comprised of at least 157 minority- and women-owned banks or financial institutions, supported the rollback along with Jones.
"Every dollar that our institutions do not have to commit to compliance costs is a dollar we can commit to the consumer and small business lending in the communities that we serve," NBA chairman Preston D. Pinkett III wrote in a letter to the Senate supporting the Dodd-Frank rollback.
But Haedtler said Republicans who support the financial services industry often use rhetoric around aiding small banks as a propaganda tool to get backing for bills that aid the wealthiest banks in the country.
"What Republicans have done is they've said, 'Look, Dodd-Frank has caused all these community banks to fail,'" Haedtler said. "[But] many of those community banks are profitable. If they've closed it's because, often, they've merged with a bigger bank."
NBA lobbyist Jarrod Loadholt, who works for a firm called Pine Street Strategies and previously served under Rep. Maxine Waters (D-Calif.) as senior counsel on the House Committee on Financial Services, said the reporting on the risk of the HMDA exemption to borrowers of color has been overblown.
"[Black] banks don't have the luxury of waiting on a perfect bill that only works for us because the votes are not there," Loadholt said over the phone. "If we thought the [Dodd-Frank rollback bill] did substantial damage to African-Americans, we would not support it."
Newly-appointed NBA chief executive Kenneth Kelly admitted it is possible that the bill they endorsed could open the door for lending discrimination from some banks. But he noted that getting legislation passed that aids black lenders often comes with a price.
"There's always a tradeoff," Kelly said.