Black man beaten by white nationalists in Charlottesville, Virginia, found not guilty of assault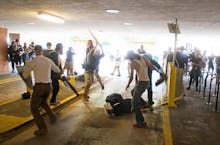 The gallery of Judge Robert Downer Jr.'s courtroom in Charlottesville, Virginia, broke out in subdued cheers Friday afternoon when a jury found local resident DeAndre Harris not guilty of misdemeanor assault.
Video and images of Harris' battered and bloodied head went viral Aug. 12 after he was brutally beaten by a mob of white nationalists at the "Unite the Right" rally that descended on the city.
Harris required 10 stitches to close the head gash he received at the hands of the mob. He was initially charged with felony assault for allegedly brawling with the racist demonstrators in the streets of downtown Charlottesville before they surrounded and beat him in a parking garage.
Charlottesville Black Lives Matter organizer Lisa Woolfork was in the courtroom when the verdict was read.
"The reaction was jubilance," Woolfork said in a phone interview Friday. "When we came outside, people were waiting. It was an electric response. People chanting, 'Black Lives Matter!' and 'Being black is not a crime!'"
Harris did not address the crowd after the verdict, according to Woolfork and Mimi Arbeit, an organizer with Showing Up for Racial Justice Charlottesville, whose members attended the rally in August and were present in the courtroom.
Harris' defense attorney, Rhonda Quagliana, told reporters her client was grateful for the community support and that she herself was very moved by it.
"Unite the Right" rally organizer Jason Kessler, on the other hand, was quick to denounce the verdict on Twitter.
"Deandre Harris was found not guilty in [Charlottesville] kangaroo court because judge claimed he was 'not intending to harm' victim," Kessler tweeted, linking to a video that appears to show Harris defending another black male wrestling a flag away from a white male demonstrator.
Fellow Charlottesville counterprotesters Corey Long and Donald Blakely are still facing criminal charges for their alleged roles in the violent clash.
Arbeit, the SURJ organizer, said the police were to blame for the violence in August because they failed to intervene.
"The police did nothing," Arbeit said Friday. "DeAndre was charged with a crime based on the same testimony of the people who attacked him. That was outrageous."