Prince Harry and Meghan Markle's wedding cake flavor is a complete departure from royal tradition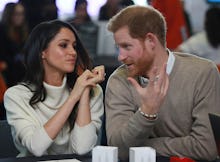 Kensington Palace announced via Instagram on Tuesday that a baker has been chosen to create the cake at the much-anticipated wedding of Prince Harry and Meghan Markle.
Pastry chef Claire Ptak of Violet Cakes will have the honor — and pressure — of delivering a showstopper at the May 19 wedding at Windsor Castle. Like Markle, Ptak was raised in California and is now based in London.
According to the royal announcement, the cake will be a "lemon elderflower cake that will incorporate the bright flavors of spring." The cake will be covered in buttercream and decorated with fresh flowers.
This is a departure from the traditional fruitcake, which was served at the weddings of Queen Elizabeth II and Prince Phillip as well as Prince Charles and Diana. Other couples have found ways to personalize the cake tradition: "Prince William and Kate also served a traditional fruitcake, but paired it with a groom's chocolate biscuit cake, by William's request," Kylie Carlson, director of the International Academy of Wedding and Event Planning, said in an email interview.
Prince Harry and Markle's decision to buck tradition and select a lemon elderflower confection speaks volumes about their desire to modernize their big day. "The happy couple is going to great lengths to incorporate details personal to them, while still honoring protocol," Carlson said.
This is not the first time fruitcake has been passed over in recent times. For example, guests at the wedding of Prince Edward and Sophie Rhys-Jones enjoyed devil's food cake. But it's the first time this branch of the royal family has eschewed the fruitcake altogether.
"I think it's a sneak peek of what's to come. We're all eager to see how the couple will combine their modern ideas and preferences with long-standing traditions," Carlson said. "Elderflower will be in season for the wedding and symbolically promotes positive energy. And given Meghan's background as an American, it makes perfect sense that the two would select this sweet treat."
"I can't tell you how delighted I am to be chosen to make Prince Harry and Ms. Markle's wedding cake," Ptak said in a statement. "Knowing that they really share the same values as I do about food provenance, sustainability, seasonality and, most importantly, flavor, makes this the most exciting event to be a part of."