Racial justice groups are sending thousands of black and brown kids to the March for Our Lives rally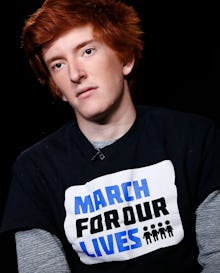 When the history books mention Saturday's March for Our Lives, a nationwide mobilization of teenagers protesting the prevalence of gun violence, they will have to note the display of diversity, national civil rights and racial justice leaders say.
In interviews with Mic, the NAACP, the National Urban League, the National Action Network and grassroots organizations with ties to the Black Lives Matter movement, said they are prepared to send dozens of buses packed with over 2,000 black and brown teens and young adults to the march planned in Washington, D.C. Much of their efforts are independent of the scholarship programs helping less fortunate youths travel to the nation's capital that have been spearheaded by #NeverAgain movement leaders and survivors of the Feb. 14 mass shooting at Marjory Stoneman Douglas High School in Parkland, Florida.
"For me, it was painful as a young black woman to see the binaries of the nation's response to violence in Parkland and the violence in black communities," Tiffany Dena Loftin, national director of the NAACP's Youth and College Division, said in a phone interview on Thursday. "Our student members find this march to be in line with the work they've been doing for years."
The NAACP has announced a partnership with MTV and Everytown for Gun Safety, to cosponsor 17 busloads of young NAACP members from various cities across the country. More than 900 people from Atlanta, Baltimore, Chicago, Philadelphia and New York City, among other cities, will receive messages of support from musical artists The Roots and Pusha T.
The 17 buses are symbolic of the 17 lives taken in the Parkland shooting, Loftin said.
"We want to be clear: Don't let this be a march to which we just want black faces to show up," Loftin added. "This rally is not going to end gun violence. It's not going to bring about legislation. This is about making sure the agenda is completely representative."
Since the Stoneman Douglas shooting, black civil rights activists and victims of street violence have criticized the ongoing national debate about gun violence and gun control for seeming to sideline the voices of minority youths. Black and brown teenage activists in neglected neighborhoods of Chicago and Washington, D.C., have for decades sought solutions to violence that stems from inadequate gun laws, as well as from police patrolling their neighborhoods and schoolyards. So, while they applaud the efforts of predominantly white and affluent students leading the fight from Parkland, civil rights leaders want their teens to have a seat at the table, too.
"I feel very strongly that black and brown kids should not be left out of a very important moment," Marc Morial, president of the National Urban League, said in a phone interview with Mic. "The excitement is that this is youth-generated. But after Saturday, we have to ensure that there is follow-through."
The Urban League is sponsoring nearly 700 youth from more than a dozen of its affiliates, many from as far away as Seattle and Portland, Oregon, according to a spokesperson. On Saturday, the organization will host a pre-march rally and breakfast in Washington, where participants will receive a short presentation on social activism from Don Cravins, Jr., who heads up the Urban League's D.C. bureau.
A spokesperson for the National Action Network, founded by the civil rights leader and Rev. Al Sharpton, said the organization would also be sending a few buses to Washington. More than 100 students from NAN's chapters near D.C. are expected to participate.
Pre-march programs have been taking place well in advance of Saturday. Before they boarded buses to Washington, dozens of youth from the South met on Thursday evening for a town hall on urban gun violence with the newly-formed National Black and Brown Gun Violence Prevention Consortium. The event was held in Atlanta's Ebenezer Baptist Church, the home church of Rev. Martin Luther King Jr.
On Thursday morning, well-known Parkland students Emma Gonzalez, Cameron Kasky, Alex Wind and David Hogg appeared at Thurgood Marshall Academy, a charter school in Southeast D.C., where students lost at least two classmates to street violence within the last year. One local organizer said she'd pushed for the Parkland students' visit with black students, to expand the narrative about gun violence.
"Not including and intentionally centering black and brown youth, from the outset of [the gun violence] discussion and in the planning of the march, perpetuates a deadly lie," April Goggans, the core organizer of the Black Lives Matter Global Network chapter in D.C., said in an email to Mic. "The lie that some deaths are more tragic than others, or that some victims are worthy of action even if that action results in the state sanctioned murders of others."
BLM DC worked with March for Our Lives organizers to pay for transportation and boxed lunches for kids from majority black neighborhoods, Goggans said. The chapter has also invited people to march with their contingent on Saturday.
According to news reports, an estimated 500,000 participants are expected for the Washington march alone. As of Thursday afternoon, the official website for the march showed more than 830 sibling marches had been planned in communities that ranged from Hawaii to cities in Europe. Sandy Hook Promise, an organization created after the mass shooting that left 27 elementary school children and staff dead in 2012, has promised to reimburse selected groups up to $3,000 for transportation and hotel arrangements.
Through a GoFundMe page, the March for Our Lives Action Fund has raised well over $3.3 million to support the march and Parkland shooting victims' families.
When the marching is done on Saturday, some civil rights groups are preparing to send participants home with toolkits to spur more nuanced conversations about gun violence, policing and education. In the wake of the Parkland shooting, Florida's governor proposed increasing the level of police presence in public schools — one officer for every 1,000 students — while President Donald Trump called for arming classroom teachers.
Police presence on campus created the school-to-prison pipeline, a term often used among activists to point out the criminalization of youths in an educational setting. These policies can make campuses resemble prisons, while also pushing a disproportionate number of black and brown students out of the classroom and into the juvenile and criminal justice systems.
"We will be engaging people on these issues, while out at the march," Kaitlin Banner, senior attorney for the Advancement Project, a national civil rights group that has been at the forefront of school discipline issues, said in a phone interview. "It's about saying we don't need more cops, more criminalization or more guns in our schools."
The Parkland students have shown that they have a sharp analysis on the influence of the National Rifle Association and gun control, according to Rachel Gilmer, co-director of Florida-based racial justice group Dream Defenders that is part of the Movement for Black Lives coalition. The Dream Defenders and its partners are sending two buses to Washington — nearly 60 people in each bus, Gilmer said.
Saturday's march should be an opportunity to expand that analysis and join forces with black and brown youths, Gilmer said in a phone interview.
"What has created the condition for the Parkland movement to happen is the fact that they've grown up in the age of Black Lives Matter," she said. "So, it's not like this movement is happening in a silo. They're actually joining our movement and that should be something that's seen as progress and not in competition with the other.
"This actually means that we're winning," Gilmer added. "We're winning the moral argument. We're seeing a real united front forming."
March 24, 2018, 10:11 a.m. Eastern: This story has been updated.