BLM protesters delay the Kings game for Stephon Clark. Watch how the team's owner responded.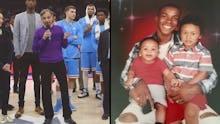 Protests over the death of Stephon Clark, an unarmed black man killed Sunday in his own backyard by police officers in Sacramento, California, caused the delayed start of a Sacramento Kings-Atlanta Hawks basketball game Thursday evening.
Hundreds of protesters affiliated with a Black Lives Matter chapter in Sacramento blocked the entrances to Golden 1 Center, locking arms to prevent game attendees from getting inside. According to a KCRA-TV report, arena officials responded by locking the doors so that no one could get in or out.
"Not one more! Not one more! Not one more!" the protesters chanted, in addition to shouting Clark's name. The 22-year-old father of two boys was fatally shot by two Sacramento police officers in his grandparents' backyard. The officers, who had been in pursuit of a person allegedly breaking car windows in the city's Meadowview neighborhood, said they thought Clark had pointed a gun at them. It was his cell phone.
The officers, identified in a Sacramento Bee report as Terrence Mercadal and Jared Robinet, shot at Clark 20 times.
At the arena, the protesters' human chain caused the game to start about 15 minutes late, with players taking the court to mostly empty stands. The demonstrators reportedly didn't disperse until 9 p.m. Pacific. And according to Sacramento Police Department, no arrests were made as a result of the protest.
Ahead of the game, protesters converged on Sacramento City Hall and attempted to march onto Interstate 5, where police blocked them at an on-ramp.
At a time when protests over police brutality cases seem to be attracting less attention than the BLM protests that rocked communities across the U.S. just a few years ago, the Sacramento demonstration represents a significant movement moment, activists said in a interview with Mic. When NFL players took a knee during the singing of the national anthem to protest racial injustice, it divided fans, players, team owners and politicians who either supported the demonstrations or saw them as unpatriotic.
But in an arguably rare moment, Kings owner Vivek Ranadivé took center court before the start of Thursday's game to offer his sympathy to Clark's family and to call his death "horrific."
"On behalf of the players, the executives, the ownership and the entire Kings family — I first of all wanted to express our deepest sympathies to the family," Ranadivé said to a smattering of applause from attendees. "What happened was absolutely horrific, and we are so very sorry, we're so very sorry for your loss."
The Kings owner said he and the Kings players respect the BLM protesters' ability and rights to demonstrate peacefully.
"We stand here before you — old, young, black, white, brown — and we are all united in our commitment," Randivé continued. "We recognize that it's not just business as usual, and we are going to work really hard to bring everybody together to make the world a better place starting with our own community, and we're going to work really hard to prevent this kind of a tragedy from happening again."
The Kings went on to defeat the Hawks, 105-90.
Patrisse Khan-Cullors, a co-founder of the Black Lives Matter Global Network and author of the recent bestseller, When They Call You a Terrorist, said activists have not stopped resisting police brutality, contrary to what some believe about the movement.
"For five years, BLM has been in the streets protesting," Khan-Cullors said Friday in a phone interview with Mic. "And we've also been in the halls of power, challenging lawmakers who have been unable to hold law enforcement accountable."
Each one of BLM network's California chapters are thinking about ways to harness the attention on Clark's case to push forward with their policy work, Khan-Cullors said. That work includes seeking legal or subpoena powers for civilian commissions with oversight of police and jail systems, as well as abolishing the Peace Officer's Bill of Rights that shields officers from accountability in homicide cases.
"I think it's not a coincidene that the Sacramento protest is happening on the eve of the March for Our Lives," Khan-Cullors said referring to the global demonstrations planned for Saturday in the wake of the mass shooting in Parkland, Florida.
"But the question that I have is, when are we going to have millions of people stand up for black lives?" Khan-Cullors added. "Do people care enough to fight for us? Do we have enough people, outside of black people, fighting for us?"
March 24, 2018, 10:39 a.m. Eastern: This story has been updated.