Michael Bennett's civil attorney says player's felony charge may be payback for his activism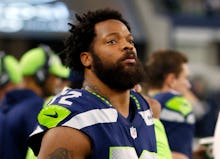 Philadelphia Eagles defensive lineman Michael Bennett hasn't filed a lawsuit yet against the Las Vegas Police Department for allegedly threatening to blow his head off on Aug. 26, though his legal team is gathering evidence for a potential case.
Bennett's civil attorney, John Burris, says that incident — combined with Bennett's vocalness on the issue of police brutality — probably played a role in the felony charge the lineman now faces in Houston.
"In my own mind, it sounds like retaliatory conduct by a law enforcement agency to diminish the stature of Michael," Burris said over the phone Monday. "An African-American man who stands out and takes a position like that is very vulnerable to being ostracized, criticized and undermined."
Bennett turned himself in to Houston authorities Monday afternoon after being indicted Friday on a felony charge for allegedly assaulting a disabled woman after the 2017 Super Bowl.
District Judge Robert Johnson set Bennett's bond at $10,000, according to local ABC Houston reporter Miya Shay. He faces up to 10 years in prison if convicted.
Bennett's younger brother, Martellus Bennett, was a tight end for the New England Patriots when quarterback Tom Brady led a miraculous comeback on Feb. 5, 2017, to defeat the Atlanta Falcons in overtime at the Super Bowl.
On Friday, Houston Police Chief Art Acevedo said Michael Bennett forced his way onto the field at NRG Stadium after that game 14 months ago to celebrate the Patriots' championship win with his brother. The elder Bennett allegedly shoved past two female stadium employees — one a 28-year-old "white female," the other a 66-year-old "black female" paraplegic — and ignored officers' orders not to do so, according to Acevedo.
"Mr. Bennett then went up to a 66-year-old, black female employee of the NRG, a paraplegic, and pushed her," Acevedo told reporters. "Mr. Bennett's assault on this individual actually caused injury, according to medical records, a sprain of her shoulder."
Burris said that it's odd Houston police waited 14 months to charge Bennett with such a serious crime.
"You knew the facts early," Burris continued. "For it to take as long as it did makes me really question whether or not there was a real notion that a crime had been committed."
Bennett's alleged brutality incident with LVPD and his ongoing NFL protests took place months after the reported shoving incident. The subsequent protests and LVPD case may have motivated Houston police to charge Bennett, according to Burris.
"I don't know that for a fact, but that was my initial reaction," the attorney said. "Law enforcement people kind of stick together."
Bennett is one of several NFL players who have protested police brutality in recent years, by sitting during the national anthem before games and taking a knee after sacking a quarterback in at least one game. He's also been one of the most outspoken supporters of free-agent NFL quarterback Colin Kaepernick and the #TakeAKnee movement Kaepernick started in 2016.
Las Vegas police allegedly threatened Bennett and drew their guns on him Aug. 26 after raiding the Cromwell Casino on the Las Vegas Strip and mistaking the defensive lineman for an active shooter who didn't exist. (Reports of gunfire turned out to be velvet rope stands that fell over when a fight, in which Bennett was not involved, broke out in the casino.)
On March 7, the Seattle Seahawks traded the three-time Pro Bowler to the Philadelphia Eagles, putting Bennett on the same team as fellow Kaepernick-supporter Michael Jenkins — where the two could engage in more off-the-field activism together.
Some critics, including ESPN reporter Stephen A. Smith, have suggested Bennett is being targeted by police for his pro-Kaepernick, anti-police-brutality message — and that Houston authorities rushed to condemn him in the court of public opinion.
"If anything about this is wrong, what has been done to Michael Bennett is beyond cruel," Smith said Monday on First Take.
Former 49ers free safety Eric Reid, another staunch Kaepernick supporter, remains unsigned and recently promised not to protest the national anthem anymore if he's signed by another NFL team.
During a press conference Friday, Acevedo, the police chief, took a pointed tone in criticizing Bennett.
"Mr. Bennett may think that because he's an NFL player and because some time passed ... rules don't apply to him ... [and] he doesn't have to respect the dignity of a paraplegic woman who's trying earn a living," Acevedo said. "He may believe he doesn't have to answer to a police officer ... I'm very proud of the fact that our department took this case very seriously like it should have."