Civil rights attorney: Stephon Clark's family should "stay focused" in the fight for justice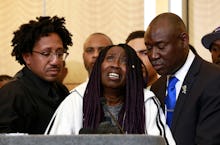 The family of Stephon Clark, a young unarmed black father fatally shot by police in Sacramento, California, should not get caught up in immediate publicity around the case, a prominent California civil rights attorney said Monday night.
The fight for justice over alleged brutality tends to be a marathon and not a sprint, John Burris said. Burris is the civil rights attorney noted for his involvement in the officer-involved shooting cases of Oscar Grant and Mario Woods, as well as the Rodney King beating case.
"Stay focused — don't get caught up in the hype," Burris said. "Remember you have a family member who is lost here, and you have surviving family members who you want what's best for them."
The attorney offered the words of advice as the family and their attorneys called for charges against the two officers who killed Clark the night of March 18. Sacramento police encountered the 22-year-old father of two boys in the backyard of his grandparents' home, where he also lived. The officers had been in pursuit of a person allegedly breaking car windows in the city's Meadowview neighborhood, and said they thought Clark had pointed a gun or another object at them.
The object turned out to be his cell phone. Officers fired 20 times at Clark.
(Editor's note: The following video contains images of violence.)
"I want justice," Clark's grandmother, Sequita Thompson, said at a news conference on Monday. "Please give us justice."
Benjamin Crump, the Florida-based attorney known for his involvement in the Trayvon Martin and Michael Brown cases, is now representing Clark's relatives. "No family should have to endure this pain and suffering as they try to seek answers for an execution of their loved one who was only holding a cell phone," Crump said in the news conference, according to a San Francisco Chronicle report. The family has also called for an independent autopsy, ahead of a funeral planned for Thursday.
Crump and his law firm did not respond to Mic's request for an interview on Monday.
The Clark family had initially contacted Burris' law firm, based in Oakland, California, Burris said. During early interactions with Sacramento police after the shooting, a staff attorney learned the names of the officers involved in Clark's death — they are Terrence Mercadal and Jared Robinet, Burris firm attorney Melissa Nold told the Sacramento Bee on Friday. Police officials have not officially identified the officers, as of Tuesday morning.
In an interview, Burris confirmed that Nold was with Clark's family when they were shown, ahead of Wednesday's public release, footage from helicopter cameras and officer body cameras. Despite the number of videotaped brutality cases in recent years that have not resulted in charges or convictions, it still matters that there is video of Clark's encounter with the officers, Burris said.
"The question is, did [Clark] present himself in such a way that a reasonable police officer would perceive that he was a danger," Burris said in the phone interview. "And then, secondly, was it reasonable for the police to presume that he was a danger? Or was this really just assumptions, panic [and] not exercising options that might have been available to them?"
Members of the public seem inclined to believe the latter. A day after authorities released videos of the shooting, which shows officers giving Clark verbal warnings before they opened fire seconds later, protests erupted across Sacramento. On Thursday, a Black Lives Matter chapter in Sacramento led a march that ended at Golden 1 Center, the basketball arena where the Sacramento Kings were facing off against the Atlanta Hawks.
Protesters caused the delayed start of the game, and the Kings' owner and players have come out in support of Clark's family. Leaders of the BLM chapter said they planned to protest Tuesday at District Attorney Anne Marie Schubert's office.
"The list of black lives unjustly taken by law enforcement continues to grow, not just in Sacramento, but nationwide," Tanya Faison, founder of the local BLM chapter, said in a statement released Monday. "Stephon's murder is among countless victims of abuse by local law enforcement within our community. Too many have yet to receive justice."
Based on his experience with police misconduct cases in Sacramento, Burris said he thinks Clark's family and activists will find the Sacramento Police Department is more willing than other departments to address reform issues.
"I must admit, there's been more receptivity, in recent memory, in terms of trying to improve the relationship between the police and the community," Burris said.