Netflix's 'Rapture' is proof that we're in a golden age for hip-hop documentaries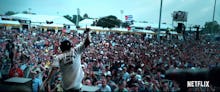 About 20 minutes into the second episode of Netflix's docuseries Rapture (available in full March 30), legendary New York emcee Nas philosophizes that, "Hip-hop is about being truthful, not sparing feelings. It's about being bluntly honest, comical, imaginative. You can do what you want with it. That's freedom… power."
That excerpt epitomizes Rapture's grounded approach to framing hip-hop history. It also exemplifies how it serves as a counterpoint to the streaming behemoth's fantastical, big-budget period piece The Get Down, which failed to sufficiently synthesize the landmark American cultural movement's nascent days. And as it turns out, Rapture is the more epic work.
Each hourlong chapter focuses on a single rapper or producer (or a pair, as in the case of one installment featuring Nas and his mentee Dave East), some established and others on the rise, and offers an intimate and unglamorous glimpse into their life and creativity. Other participants include hit-machine rappers T.I. and 2 Chainz and their buzzy young counterparts Rapsody, Logic and A Boogie Wit Da Hoodie, as well as Bay Area dual-threat G-Eazy and path-forging producer Just Blaze.
Rapture is utterly immersive as it journeys from interviews with Logic's godmother, who shielded him from an abusive and dysfunctional childhood environment, to Blaze's inspiring deconstruction of how influential house music outfit Masters at Work informed his work on Jay-Z's landmark 2001 album, The Blueprint. The sum total viewing is visceral, vulnerable catnip for hip-hop heads and a master's course in smashing skeptics' preconceptions. And along with Allen Hughes' sprawling HBO series The Defiant Ones, which tracked hip-hop's pop-culture coup through the lens of Dr. Dre and Jimmy Iovine's unlikely partnership, Rapture typifies a wave of similar films (like Beats, Rhymes & Life, Time Is Illmatic) that are finally allowing hip-hop to control its own narrative.
"I look for music to be a source of nutrition," executive producer Sacha Jenkins explained. Jenkins directed one of the series' eight episodes and is chief creative officer of tastemaker media-and-content company (and Rapture backers) Mass Appeal. By phone from South by Southwest, where he's been conducting screenings, he continued, "If you don't fully understand where it's all coming from, then you're not getting the full nutritional value of what hip-hop can offer. Because I know a lot about hip-hop vitamins, I knew where there were great deficiencies in how the culture was represented."
Of the artists' atypical candor and accessibility (think fewer camera-conscious backstage warmups and more naturalistic firesides with friends, family and collaborators), Jenkins added, "What people are seeing are things that have been present but never really pulled out in the way we pulled them out, because people didn't know to pull them out or weren't native speakers in a manner that would make [artists] feel comfortable enough to pull those things out. Hopefully, we've been able to do that."
Pulling back the curtain
Dave East can attest that Jenkins and his crew's credibility helped convince him to discard any pretense, and assured him that Rapture was genuine in its mission to communicate hip-hop's authenticity. Yes, there was also the no-brainer of wide exposure, but what prevailed was a sense that his episode — and the series as a whole — would be preserved as a time capsule for future believers and doubters alike.
That's why Dave East looked past any self-consciousness and allowed himself to be visible but mostly silent in the background (his young daughter audibly babbling away) as his father — with whom he recently reconciled — recounted East's lifelong leanings toward prolific writing. East only interjects to laugh when his dad confesses, "I grew up in a West Indian family. [Your son] come up and tell you, 'I wanna be a rapper,' what kind of attitude do you think I had? If I woulda told my father that, he'd have beat the shit out of me."
"That was my first time really having my mother and father on film like that, my daughter on film like that," East said by phone from the Four Seasons in Austin, where he was joined by Rapsody during SXSW. Riding high on a few years of budding recognition for a series of mixtapes and back-to-back Def Jam EPs boasting staccato-cadence street storytelling, he said, "The opportunity was so dope. I sat my mother and father down and said, 'Look y'all, this is a good look. This is a real introduction to what I'm doing, where I came from, and you've all got to be a part of it.' All my friends, they're like, 'What are the cameras here? What's going on?' And me and Nas being able to vibe out like that in the studio, I feel like that's something the world hasn't really seen before."
Rapsody, a vocal gymnast with wordplay that would make Eminem blush, is currently part of Jay-Z's Roc Nation umbrella while recording for mega-producer 9th Wonder's Jamla imprint. Like East, she's equally aware of the unfiltered spotlight Rapture puts her under. But it wasn't long before she felt similarly at ease in the creators' hands, particularly director Geeta Gandbhir, who helmed her episode.
"With some people, if they ain't coming with the right motives, they can take this story in a way that may not be all the way what you want it," Rapsody explained. She's an alum of North Carolina State University, where she co-founded her first group, Kooley High, before going solo. "They wanted to make me really feel comfortable and tell my story, and after that it was go time."
That leap of faith isn't lost on the filmmakers. Rapture executive producer (and director of the 2 Chainz episode) Ben Selkow, who previously helped shepherd projects including Reza Aslan's controversial CNN series Believer and Selkow's underappreciated directorial debut Summer in the Cage, was on a wave of anxiety leading up to Rapture's completion.
"When this was finally done after a year and a half, the artists had to check for it, and if it didn't breathe authentic and real, then we hadn't done our jobs," Selkow said via phone, having just returned from SXSW. "We had to push hard to get all those boxes checked, and we felt responsible. It's been very gratifying to have the support of the artists around the series. What's coming forward is very exciting."
Forward motion
"Forward" is an operative word in Rapture's case, as it does appear to be part of that aforementioned continuum of credible hip-hop docs. There are myriad possible reasons for this sudden opening, like the inspiration of other filmmakers or the kind of life cycle that a lot of outlier music experiences, migrating from marginal mystique to a more mainstream and relatable space. (Think Metallica's journey from early '80s fringe metal gods to sensitive therapy subjects in 2004's Some Kind of Monster). To Selkow, it's a convergence of these and other variables, but can be boiled down to timing.
"It's certainly overdue," Selkow said. "Hip-hop has been a lifeblood of American culture for 35 years. The fact that the greenlighters have gotten past the misperception that this can't play to wider audiences, or understand that hip-hop fans are possibly the most diverse demographic there is, they're like, 'Oh man, this is some big market.' But also, these are some of the most dynamic artists of our society that are underrepresented, fascinating and necessary. That appetite has grown. You can say hip-hop's in control of the narrative, but hip-hop isn't necessarily in control of all the platforms. There's an overdue recognition of the power of the medium."
And as for Rapture coming on The Get Down's heels, Selkow gave Netflix kudos for devoting its resources to that story. He views Rapture as "an expansion of that," crediting their benefactor for the "incredibly astute choice" of joining forces with Mass Appeal. "There's no tourism through the hood," he says. "The lens is an empathetic one, 'cause they're about it."
Joy to the world
Rapture's most groundbreaking contribution to the ongoing documentation of hip-hop as a preeminent American innovation might be its emphasis on the sheer enthusiasm of its subjects. Whether it's Logic, T.I., Rapsody or 2 Chainz, none of those captured across its eight episodes have had an easy life. A lot of their beats and rhymes recount and reflect those realities. But Rapture is also rife with unapologetic happiness.
There's Nas bugging out over finding out late MC Big Pun's grandson is named after his song "Ether," and also Rapsody's self-effacing smiles as she freestyles with her former Kooley High crew. Neither Nas nor Just Blaze can contain their emotions when giving praise due to oft-overlooked producer/rapper Large Professor. These are all demonstrations of hip-hop as shared language and torch passed, like ancestral American blues and jazz before it.
"There's joy in seeing how [hip-hop] connects and uplifts people," Rapsody, who confronts her struggles with self-confidence in Rapture but testifies to perseverance, said. "To come up with this idea, and you look down 10 years later and you're at a show with 500 people singing your words… it's like, this is so much bigger than me. We've seen how joyful it is, how many lanes it creates, and how these artists are able to have legacies and bring their children up in it. Hip-hop is so layered and multi-dimensional."
Hip-hop is far from done documenting its history and future, and no matter how many people stream Rapture, its mere existence is, as Selkow suggested, a huge step in commandeering the record, on wax or in the annals. Now the question could be: How will hip-hop storytellers' breakthrough get paid forward? What's the next musical movement overdue for a chance to represent itself in its own native tongue, to paraphrase Jenkins by way of A Tribe Called Quest and De La Soul?
Jenkins can't be sure, but his own arc from journalist to activist documentarian has given him a bit of insight. "I don't know," he said, "but there's probably a young, poor kid in a trailer park or housing project who will be able to tell that story in another 20 years."