In Aaron Katz's 'Gemini,' LA noir is filtered through a modern lens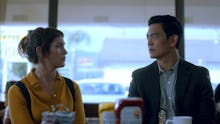 Film noir — the dimly lit, hard-talking pictures featuring dangerous femme fatales and jaded sleuths — has been a recognized genre since 1946. The French critic Nino Frank came up with the term (French for "dark film") that year, but the Hollywood-made motion pictures that comprise the genre date back even earlier. Movies made as early as 1939's Rio have retroactively been classified as film noir.
In the nearly 80 years of the genre's existence, noir has taken many shapes and forms — its bounds often as hazy as the seedy city streets the films capture on screen. There have been gangster noirs, gothic romances, police procedurals, neo-noirs, noirs set in America and abroad, in cities and suburbs. And yet, one variable has scarcely been altered is the principle casting. The genre was borne partially out of tough-guy pulp fiction and as a result, even Humphrey Bogart's shrewd private investigator Philip Marlowe would have a tough time finding a noir film with two female leads — let alone one in which three of the four top-billed actors are women and nonwhite, and in which the primary romantic relationship is same-sex.
Until this week, that is. Friday, March 30 sees the release of 36-year-old writer-director Aaron Katz's (Cold Weather, Land Ho!) fifth narrative feature, Gemini. The film, which has a slick blue tint and a seductive drum loop pulsing throughout, is set in contemporary Los Angeles. It centers on the blurry relationship between a Hollywood starlet named Heather (Zoë Kravitz) and her assistant, Jill LeBeau (Lola Kirke).
We follow the pair through a night of work — Jill tells a director that Heather's quitting a project as Heather waits in the car — and pleasure — Heather and Jill meet up with Heather's new girlfriend (played by Greta Lee) for drunken karaoke. Then, early the next afternoon, Jill stumbles upon the scene of a murder. Finding herself the lead suspect, she must crack the case before the police (led by a detective played by John Cho) put her away.
Katz, who is from Portland, Oregon, had been living in LA for two years and watching a lot of '80s and '90s thrillers — salacious stuff like Lawrence Kasdan's Body Heat and Paul Schrader's American Gigolo — when, in August of 2015, he began writing Gemini's script. "I realized that I wanted to make something that was in that tradition but inhabited by different kinds of characters," Katz said in a phone interview. "I wanted the cast to reflect the diversity of the city where the movie takes place."
Though the film doesn't quite parallel LA's demographics — Latinos are mostly absent in Gemini but comprise 49%, of the city's population, according to Census Reporter — it does capture something of the city's diverse fabric, seamlessly putting talented actresses and actors of color in roles traditionally inhabited by white men.
The effect isn't glaring subversion so much as radical normalcy. Katz hardly calls attention to the ways he's flipping the noir script. If you haven't watched a bunch of these movies and grown accustomed to certain people playing certain roles, you just accept it as a portrait rather than a statement.
There's no better illustration of the way Gemini subtly plays with the genre's tropes than Kirke's Jill LeBeau. Katz found his way into the character — and really, the movie — after watching Noah Baumbach's whimsical 2015 comedy Mistress America. Kirke stars in the film as a precocious New York City college freshman who becomes enchanted by her new 30-year-old impresario step-sister (played by Greta Gerwig). "Lola's just very natural and loose and she's also very funny," Katz said of what he liked in her Mistress America performance. "Like, she's not doing jokes. She's funny the way people are funny."
Without knowing her, Katz wrote the role of Jill for Kirke specifically. And Kirke brings much of the same understated charm and charisma to what is, on the page, not a particularly juicy character — Jill is smart, not brilliant; responsible, yet a bit lackadaisical. As I wrote in a review of the film after seeing it at BAMCinemaFest in 2017: "[Jill's ordinariness] is the point: Normal women, like Jill LeBeau, can navigate extraordinary circumstances just as well as normal men, like [North by Northwest's] Roger Thornhill or [Blue Velvet's] Jeffrey Beaumont."
Jill also has a bit of the skepticism of her noir protagonist predecessors — except she's disillusioned by Hollywood artifice. Kirke helped Katz shape Jill into a character who got into the movie business out of love for cinema, rather than obsession with actors or celebrities. "I wanted her to be over it" — fame — "because we're all a little too not-over-it, and it's fun to represent that," Kirke said.
Kirke herself grew up around fame — her father, Simon Kirke, was the drummer for the rock bands Free and Bad Company; her older sister, Jemima, was one of the stars of Lena Dunham's Girls — and found Hollywood's sordid underbelly an exciting backdrop. "I think I saw a lot of the insecurity and vanity that goes along with being famous and trying to stay that way, and that was always pretty upsetting," Kirke said of growing up around the family's celebrity friends and acquaintances.
In Gemini, Kirke's Jill is both witness and intermediary between Kravitz's Heather and the public. Along with the viewer, she sees Heather continuously feel the burden of being watched and having to perform. When a superfan asks for a selfie, for instance, Heather's face morphs from unmoved to a poised smile in the instant that the picture is snapped. Other times, she's batting away paparazzi or looking over her shoulder.
"I wanted the cast to reflect the diversity of the city where the movie takes place." — Aaron Katz, writer-director of 'Gemini'
John Cho, who became recognizable in the late '90s through his role in the American Pie series, also related to the way fame can pervade a celebrity's life. "People adjust their behavior a little bit, sometimes in microscopic ways, but you see it," he said. "It's like something you don't really talk to people about, but it seeps into so many transactions in one's life."
Beyond the film's deft depiction of celebrity, Gemini is a film that gave Cho the opportunity to play a role he hadn't played in a genre he hadn't previously acted in. And as an LA resident, he said he "liked how [Katz] got LA right." He added, "I feel like LA is often misportrayed in cinema. There is this New York disdain for LA sometimes — or people just think the city is west of La Brea, and the east side is essentially Beirut. I liked how fluidly the characters went from area to area. It felt like an Angelino wrote it."
As a viewer, Los Angeles indeed feels like a real place in Gemini, somewhere at once alluring and potentially haunting. The tactility that infuses the setting is partially due to how much of the film was shot on location — often in vibrant, historied destinations. One of the opening scenes, for instance, takes place at Casa Bianca, a 50-year-old Italian restaurant in the Eagle Rock neighborhood with red-checkered tablecloths and a comical number of appetizers. Later in the film, an in-disguise Jill snoops around Tonga Hut, a shimmeringly exotic North Hollywood-situated Tiki bar, LA's oldest. Both locations possess personality and, despite their age, are rendered current — their decor kitschy, their servers eccentric hipsters or fast-talking teens.
And as with previous directorial efforts, Katz incorporated many shots of the city itself. Characters are constantly on the move, driving, walking and busing around LA's sprawl. Throughout, the camera lingers on palms trees — sometimes, as in the film's first shot, flipping and obscuring them. "Growing up in Portland, Oregon, from afar, palm trees feel like this iconic version of Los Angeles," Katz said. "And you think you know what it's going to be like and then when you're here it's different."
Fans of noir will have a similar experience watching Gemini. You think you know what this story's going to be like — and in terms of the broad beats, maybe you do — but then you watch and it's different: still dark, but more colorful; still suspenseful, but more character-driven; a portrayal of Los Angeles, today.