Vigil for Stephon Clark started out peaceful, but clashes with police left one woman with injuries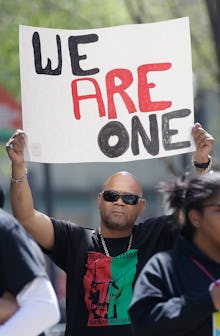 SACRAMENTO, Calif. — Community members held a vigil near the South Sacramento neighborhood for Stephon Clark, the unarmed 22-year-old killed by city police, on Saturday evening. The event, organized by the Party for Socialism and Liberation, started out peaceful.
But things intensified after about 75 attendees began marching south in the middle of Florin Road, crossing into a neighboring town. Clashes between police and protesters along that road left one woman who participated in the event with minor injuries.
A sheriff's vehicle sustained damage caused by some of the event participants, authorities confirmed early Sunday morning.
Though initially shaken and angered by the incident, protesters steeled themselves and continued their procession. They remained a cohesive group well into the evening Saturday. There did not appear to be any arrests made, although local law enforcement threatened to detain participants who did not disperse.
"How are you protecting us if you're killing us?" protesters chanted at police as they marched past shopping centers. "Indict, convict [and] send those killer cops to jail! The whole damn system is guilty as hell!"
During the march, city police, California Highway Patrol and sheriff's vehicles attempted to block the group's procession. When the marchers did not back down and after some in the crowd began kicking the vehicles, a sheriff's department vehicle accelerated away from the crowd and clipped the woman, who fell to the ground in pain.
Guy Danilowitz, a legal observer from the National Lawyers Guild, called 911.
The vehicle did not stop to see if the woman was all right, angering many in the crowd. In a statement, the Sacramento County Sheriff's Department confirmed the woman sustained minor injuries and was transported to an area hospital.
Shaun Hampton, the sheriff's spokesman, said the vehicle sustained scratches, dents and a shattered rear window, all caused by vandals in the crowd.
On Sunday, a local Black Lives Matter chapter said it did not organize the vigil and march that took place the previous night. "However, we stand in solidarity with this community as we champion through the pain," Tanya Faison, founder of Black Lives Matter Sacramento, said in a statement.
"This is just another glaring example of the reckless nature of Sacramento
After a couple of standoffs with law enforcement Saturday night, the protesters regrouped and kept marching. A helicopter hovering overhead threatened to arrest people who didn't disperse from the "unlawful assembly."
After the crowd made its way back to the original vigil location, speakers took turns urging the community to continue resisting police brutality on behalf of victims' families. Clark's family and others headlined a rally earlier in the day.
"When people are occupied, resistance is justified," protesters chanted.