National Day of Action for Stephon Clark: Protests coincide with memorial events for MLK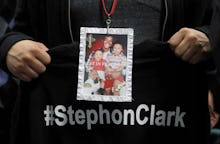 SACRAMENTO, Calif. — On the day that the civil rights community is remembering the assassination of movement icon Rev. Martin Luther King Jr., activists in California's capital city hope also to use Wednesday to draw more attention to the police shooting death of a young unarmed black father.
Stephon Clark, a 22-year-old killed in March by Sacramento police officers in his grandparents' backyard, will be the subject of a national day of action that coincides with commemorative events marking King's murder at a Memphis hotel 50 years ago. The call for Clark remembrances was put out by the Black Lives Matter Global Network chapter in Sacramento and the Anti-Police Terror Project, groups that have in recent years used King's words as a guide in their fight against police brutality.
"As we mark this day in history, we continue to fight for the lives of all those who are harmed, treated with no respect and dignity and killed by the state," Tanya Faison, founder of the BLM Sacramento chapter, said in a statement.
As of Wednesday morning, four other BLM chapters, including Chicago; Los Angeles; Lansing, Michigan; and Greensboro, North Carolina were participating in the day of action, according to a press release about the effort. In Sacramento, members planned to continue their ongoing protests at the local district attorney's office, calling for charges to be filed against the two officers involved in Clark's March 18 shooting death.
"Stephon Clark is not just a Sacramento issue — it is a national issue," Cat Brooks, co-founder of the Anti-Police Terror Project, said. "We say all of the names and demand an end to all forms of state-sanctioned violence against black bodies."
King spoke out often about violence against black Americans. In his "I Have A Dream" speech, one of the most famous address delivered by a black civil rights leader, King addressed police violence.
"There are those who are asking the devotees of civil rights, 'When will you be satisfied?'" King said in a infrequently quoted part of the speech, delivered on Aug. 28, 1963, from the step of the Lincoln Memorial in Washington, D.C.
"We can never be satisfied as long as the negro is the victim of the unspeakable horrors of police brutality," he said.
On March 18, police were reportedly looking for a vandal in the South Sacramento neighborhood where Clark often stayed with his grandparents. A sheriff's helicopter directed officers to the home where, on that night, Clark was likely knocking on a bedroom window to get someone inside to open up, family members have said.
Footage from a body-worn police camera shows Clark was fired at 20 times, within seconds of an officer's verbal warning. A report from an independent autopsy ordered by a family attorney revealed Clark was struck in the back six times.
But what most angered Clark's family, friends and local activists were initial police accounts that the young father of two boys had brandished a gun, a crowbar or some other threatening object. Investigators only found a cellphone with Clark's body. Those details have helped reignite a furor against officer-involved killings, one that would likely include King's voice if he were alive today, Patrisse Khan-Cullors, a national co-founder of the BLM Global Network, said.
The BLM movement is "the modern incarnation of the drive for human dignity and legal standing that Dr. King embodied," Khan-Cullors said. "But our work here is not done. We must reclaim Dr. King's legacy and continue to demand justice until the lives of black people and thus all people truly matter."
On Tuesday, members of the California legislature stood with members of Clark's family to announce police reform proposals inspired by Clark's death. Democratic State Assemblywoman Shirley Weber authored a bill that would restrict officers' legal use of deadly force to incidents in which the force is necessary to prevent serious bodily injury and death. The bill would also allow for prosecutions against officers who kill civilians, which in California is difficult to do under an amnesty-like code known as the Police Officer's Bill of Rights.
Nationally, standards set by the Supreme Court only require the use of deadly force to be "objectively reasonable."
"We have been deeply saddened and frustrated by the killing of black and brown men by law enforcement," Weber said in a press conference on Tuesday, according to the Los Angeles Times. "It seems that the worst possible outcome is increasingly the only outcome that we experience."
Faison, the Sacramento BLM founder, said she and others have kept a list of people who were killed in or survived brutal encounters with police in the city and the surrounding area. Since 2015, not one of the more than a dozen cases has resulted in charges against officers.
In a sit-down interview with Mic ahead of Wednesday's events, Faison reflected on her work. "The last two weeks have been like one big, long day," she said. "We're just trying to keep the momentum. Last year, we fought for about seven people. Some of them are still [alive] and some of them are no longer here."