America has done more to protect police than black people in recent years, civil rights lawyer says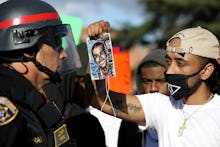 On Monday, the U.S. Supreme Court ruled in favor of a Tucson, Arizona, police officer who shot a woman on her front lawn back in May 2010. Legal experts say the decision has reaffirmed the broad discretion given to law enforcement in use-of-force cases.
Civil rights attorney Lee Merritt says it's the latest example of lawmakers and the justice system creating more obstacles to reform than solutions to the disproportionate affect police violence has on black Americans.
"America has emphatically backed the notion that black lives don't matter by failing to offer any substantive reform... while bending over backwards to change laws, increase penalties and protect [police] from litigation," Merritt said over the phone Wednesday.
Merritt represents high-profile police brutality victims including Jacqueline Craig and the family of Jordan Edwards in civil cases. Edwards was a 15-year-old, black honor roll student fatally shot in the head in 2017 by former officer Roy Oliver in Balch Springs, Texas.
Oliver was later fired by the department and charged with murder. Merritt has filed a civil lawsuit against the police on the Edwards' family's behalf, which is set to be addressed in court after the criminal case against Oliver is finished. April 29 will mark one year since Edwards' death.
Recently, Merritt has been researching ways to combat the expansion of qualified immunity among police, which was central to the Supreme Court's latest decision.
Qualified immunity is a term referencing the civil and criminal legal protection given to law enforcement and other government officials. For police, its purpose is to prevent public interference with criminal investigations and to shield officers from being personally sued or prosecuted for injuring or killing suspects if the officers involved believe those suspects posed a threat to their safety or the safety of others.
The framework for qualified immunity was established by the Supreme Court to apply to presidential aides in Harlow v. Fitzgerald in 1982 and widened to include law enforcement officers in Anderson v. Creighton in 1987, according to the FBI. For the latter case, the late Justice Antonin Scalia wrote in the court's majority opinion that qualified immunity is designed to protect officers "as long as their actions reasonably could have been thought consistent with the rights they are alleged to have violated."
In recent years, the cost of legal protection for police and cities being sued for police brutality and misconduct has surged. In response, law enforcement advocates have tried to expand qualified immunity to prevent civil plaintiffs and their attorneys from accessing evidence that can be used against police during ongoing investigations, which in turn would make it harder to sue them.
Merritt said the Supreme Court's latest ruling does not expand qualified immunity, but it does cement the judicial system's commitment to protecting law enforcement from legal scrutiny as overall public trust in policing has varied greatly over the last three years.
It's also a serious blow to the police reform efforts championed by supporters of the Black Lives Matter movement. The court's ruling was the latest in series of legal wins for police unions and lobbyists across the U.S.
Since the rise of the Black Lives Matter movement in the aftermath of the fatal shooting of Mike Brown by police in Ferguson, Missouri, in 2014, state and federal lawmakers have created more legal safeguards for law enforcement than they have for the people officers are sworn to protect.
The FBI has labeled so-called black identity extremists a terrorist threat. Body cameras may have become almost standard issue equipment for officers across the country, but police routinely block or delay the release of body cam footage thanks to laws passed that grant them greater control over its dissemination to the public.
Additionally, lawmakers in at least 14 states have introduced or passed so-called Blue Lives Matter laws, making it a hate crime to "target officers," with acts of violence, a legal reform critics argue could turn misdemeanor resisting arrest charges into a felony offense for people protesting against police brutality.
Much of this legal action stems from the rise of targeted police shootings in 2016, the year a group of Dallas police officers were shot and killed by a sniper during a downtown Black Lives Matter rally.
In spite of such incidents, the number of officers killed in the line of duty dropped dramatically in 2017 and has been on the decline for decades.
Since Jan. 1, 2015, there have been roughly 187 law enforcement officers killed in the line of duty, according to data provided by the National Law Enforcement Memorial Fund. Over the same span, however, police have shot and killed at least 3,234 people, a rate exponentially higher than any other comparable country.
Merritt worries that the Supreme Court's latest decision will have an impact on future lawsuits like the one being brought by Edwards' family. Merritt said he thinks Edwards' civil case could eventually be taken up by the Supreme Court if its not dismissed based on qualified immunity and Oliver is found guilty in criminal court.
"Conservatives are promulgating a false narrative of violent BLM activists," he said, "And are using that narrative to justify further extending the protections offered to law enforcement in a system already designed for them to get away with murder."