Paul Ryan won't run for re-election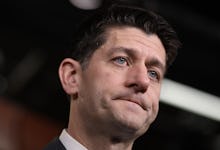 House Speaker Paul Ryan notified his colleagues that he won't run for re-election in November, setting off a fierce battle over who will take the GOP leader's mantle.
"This morning Speaker Ryan shared with his colleagues that this will be his last year as a member of the House," Ryan spokesman Brendan Buck said in a statement. "He will serve out his full term, run through the tape, and then retire in January."
Ryan's retirement has been rumored for months. The House speaker reportedly feels like he accomplished his dream of passing tax reform and no longer wants to lead a difficult-to-wrangle House Republican conference — a job that's only been made tougher since President Donald Trump's election.
Two current House Republican leaders — Majority Whip Steve Scalise and Majority Leader Kevin McCarthy — are jockeying for the role of House Republican leader.
Ryan's looming retirement comes as Republicans find themselves in serious danger of losing control of the House in the 2018 midterms, thanks to a wave of Democratic enthusiasm fueled by Trump's election and the chaos since he entered the White House.
"Speaker Ryan sees what is coming in November, and is calling it quits rather than standing behind a House Republican agenda to increase healthcare costs for middle class families while slashing Social Security and Medicare to pay for his handouts to the richest and largest corporations," Democratic Congressional Campaign Committee spokesman Tyler Law said in a statement. "Unfortunately, for the many vulnerable House Republicans that Paul Ryan is abandoning, his historically unpopular and failed policies will hang over their reelections like a dark cloud."
Ryan will leave vacant a suburban Milwaukee House seat in a district that voted for Trump by a 10-point margin in 2016.
Democrat Randy Bryce has been running a spirited campaign to try and oust Ryan in November, raising major sums of money for his quest. It's not immediately clear whether Bryce's chances go up or diminish with Ryan's exit.
Wednesday April 11, 2017 9:25 a.m.: This article has been updated.