'Wyatt Cenac's Problem Areas' brings comedy to the national dialogue on police abuse, social justice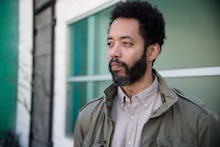 What are some of society's biggest problem areas? According to comedian Wyatt Cenac, one problem is cow poop and its polluting effect on the ozone layer. Converting the poop into fuel is one odoriferous solution, Cenac quips in a new HBO docuseries.
Manure is on the mundane side of topics and solutions Cenac will present in Wyatt Cenac's Problem Areas, which joins the premium cable channel's late-night lineup on Friday. Produced with Academy Award-winning documentarian Ezra Edelman, the series will tackle police abuse with an earnest scrutiny and a wry humor that was a staple of Cenac's correspondent years on The Daily Show with Jon Stewart.
In the 10-episode season, Cenac will swing between hilariously benign topics and serious social and cultural problems, HBO said. Policing and the movements to reform law enforcement agencies will figure prominently in each episode.
"From 1992: 'Police kill an unarmed man in Brooklyn.' From this year: 'Police kill an unarmed man in Philadelphia,'" Cenac says in a preview cut of the debut episode. "That headline has lived longer than the unarmed men that were in it."
He adds: "I guess I'm curious in figuring out how that headline could say something different."
Of all the problems to crack, policing and the rampant use of lethal force are arguably the toughest of them. There are roughly 18,000 law enforcement agencies in the U.S. And policies on the use of force vary across the country, although immunity for officers who kill citizens under controversial circumstances often seems standard. Despite decades of advocacy, the annual number of people killed by police hasn't decreased much in recent years.
In 2017 and 2016, police shot and killed 987 and 963 people, respectively, according to the Washington Post's shooting database. In both years, black people were a disproportionate number of the victims.
Recently, Cenac said he is like many other Americans perpetually frustrated by the footage of black men being gunned down by law enforcement in mainstream news and on social media. But one purpose of the series is to find and show a blueprint to change.
"There's more that we can do, as a community, to try to change what policing looks like in our cities," Cenac said to a journalists' roundtable that included Mic. "Going to these places, you see these horrible stories of policing. But you also see community members and city councils and law officers all working together to try to fix shit."
Problem Areas' documentary-style field segments are aided by a number of expert voices from many sides of the police reform debate. The preview episode shown during the press roundtable featured commentary from Vanita Gupta, the former head of the Justice Department's Civil Rights Division under President Barack Obama. She led federal reform efforts for police departments in Ferguson, Missouri; Chicago; and Baltimore in the wake of protests and civil unrest sparked by officer-involved deaths. The St. Louis activist Johnetta Elzie and other prominent voices in the Black Lives Matter movement make cameos in the series, along with numerous veterans of the law enforcement profession.
Comedy works for tackling police abuse because laughter often eases people's natural defenses on divisive issues, Cenac said. "You're able to disarm people and then say something in a way that perhaps makes them think a little differently," he said later in a sit-down interview with Mic.
The 41-year-old Cenac is far from the first black stand-up performer to use his platform to rib the law enforcement profession over systemic racism and hypercriminalization of nonwhite communities.
Legends like Dick Gregory, Richard Pryor and Paul Mooney have famously done this. More recently, that commentary comes from comedic luminaries like Chris Rock, Dave Chappelle and Trevor Noah, the current host of the Daily Show. John Oliver, a fellow Daily Show alumnus and co-executive producer of Problem Areas, has tackled aspects of policing on his own HBO show Last Week Tonight.
Asked if he feels the new docuseries continues in that tradition, Cenac humbly dodges comparisons. "I don't want to be so arrogant as to say I'm following in the footsteps of [comedy icons,]" he said. "If someone else wants to put that on me, I'm happy for the compliment."
In Problem Areas, the comedic exploration of solutions is just as important as keeping a firm grip on often grim realities about law enforcement in the United States, Cenac said.
"Even to the people who know about police brutality, there's still an element of it that's like, you've still got to remind people," Cenac said. "You can look at the story of Stephon Clark — that story has happened in Sacramento before. So on some level, you've got to pick at the scab a little bit to talk about it."