From Starbucks to H&M: Why are so many big brands struggling with viral incidents of racism?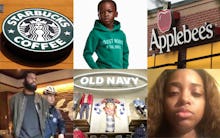 Corporate America is constantly being forced to deal with racially charged public relations catastrophes in recent years, thanks in large part to social media and the election of President Donald Trump, according to experts. Many companies already have proven themselves unprepared to meet the challenges this new era presents.
"We are operating in an environment where racial issues are triggered far more easily than in the past," said Helio Fred Garcia, president of Logos Consulting Group, a crisis management firm, who also teaches crisis communications at New York University and Columbia University. "One of the reasons for that is the tone at the top of the federal government."
The ubiquity of social media and camera phones, combined with racial tensions exacerbated by Trump during his 2016 White House bid, have produced a climate ripe for conflict and its dissemination across the media landscape. This includes interactions between corporate employees and customers — sparking repeated PR crises with potential long-term ramifications for companies and their leaders.
"In an environment where self-proclaimed white supremacists and white nationalists have had seats at the policy table, people who have a regressive view of racial issues feel empowered," Garcia continued. "Many companies do not have effective crisis response plans in place. They tend to make up their response along the way. As a result, more often than not, they miss the mark in their response to the crisis."
Starbucks CEO Kevin Johnson is learning this lesson the hard way. His company's latest story of racial discrimination has made international headlines since Thursday. Two black men were arrested on suspicion of trespassing and detained for nearly nine hours by Philadelphia police after visiting a local Starbucks. A police spokesperson confirmed via email that Starbucks later dropped the charges.
The men had refused to leave the store when an employee demanded they buy something while they waited for a companion, who had not yet arrived. The men told the Starbucks employee they would make a purchase after their friend came. That didn't satisfy the store manager, who called the police. Multiple officers responded to the scene, handcuffing both black men and escorting them out as stunned white patrons looked on in disbelief.
One of the patrons was Phildelphia resident Melissa DePino, who recorded the incident on her cellphone. Her video has been viewed more than 10 million times on Twitter alone.
Protests inside and outside the Starbucks store have persisted for five days. Johnson released a statement on Saturday apologizing for the incident and promising to make amends. On Monday, he announced plans to meet with the arrested men face-to-face after doubling down on his earlier apology during an interview on Good Morning America.
"The circumstances surrounding the incident and the outcome in our store on Thursday were reprehensible," Johnson told host Robin Roberts. "They were wrong. And for that, I personally apologize to the two gentlemen who visited our store. Certainly it's my responsibility to understand what happened and what led to that and ensure that we fix it."
The still-unidentified store manager who called police may now be out of a job.
"We can confirm the manager no longer works at that store," a Starbucks spokeswoman said via email on Monday afternoon. "Unfortunately, this is all we can confirm," they added, after Mic asked if the manager had been fired.
It's the latest development in five days of toxic publicity for one of America's most recognized brands. The coffee company may be the latest example of a major corporation dealing with a viral race-related controversy, but it's far from alone.
In February, the PR team for Applebee's was in crisis mode after employees at a franchise restaurant in Independence, Missouri, called the police on two black women who they falsely accused of dining and dashing during a previous visit. Applebee's fired all three employees involved before permanently closing the restaurant location.
Old Navy fired three of its employees in West Des Moines, Iowa, earlier the same month under similar circumstances, after they falsely accused a black patron named James Conley III, 29, of stealing the bubble coat he wore into the store, which he said he'd received as a Christmas gift.
In January, H&M was forced to close all 17 of its stores in South Africa due to ongoing vandalism and protests after the company posted a picture on its website of a black child wearing a sweatshirt with the words "coolest monkey in the jungle" emblazoned on the front. The company's profuse apologies weren't enough to prevent it from losing endorsement deals with R&B singer The Weeknd and rapper G-Eazy. The struggling retailer subsequently announced it would close 170 stores, the most in two decades, due to declining foot traffic.
Papa John's has faced similar struggles. The company's founder, John Schnatter, was forced to step down as CEO Jan. 1 after criticizing the NFL's handling of players protesting police brutality during the national anthem, saying the situation was adversely affecting the company's sales. Schnatter's leadership role ended not long after the Daily Stormer, the white supremacist web site, gave Papa John's an unofficial endorsement.
"These companies cannot separate themselves from what has been happening in the current climate in the country," activist and corporate consultant Tamika Mallory said Monday.
The Women's March co-founder is also president of the strategic planning and event management firm Mallory Consulting, which counsels Fortune 500 companies on handling issues of race and diversity. She's been working with American Airlines ever since being forced off one of the company's flights in October for what Mallory described as racial discrimination. American Airlines has a detailed history of discrimination allegations, with more racism complaints filed between January 2016 and August 2017 than any airline operating in the United States, according to an October report from Bloomberg, which cited data compiled by the U.S. Department of Transportation.
This revelation prompted the NAACP to issue a travel advisory warning black Americans to be wary of the airline.
"This can't be looked at as a Starbucks thing," Mallory said. "What you see here is a part of a larger problem than any one corporation. It's the climate of the country. It's what we're dealing with in terms of the disrespect and abuse of black people. The corporate climate, it just gives you the opportunity to see it in a public way. This is indicative of the way in which people are behaving in our society, particularly how white people who feel they're in positions of power are wielding that power against black people and particularly black men."
Both Garcia and Mallory indicated that the key to stopping these types of incidents from happening is for companies to be proactive instead of reactive. The first step is requiring employees to participate in training that alerts them to the existence and prevalence of implicit bias, and the added importance of treating all customers with the same level of respect and dignity.
"The first thing they need to do is be very straight forward about the fact that racism and discrimination exist and that they are aware of it," Mallory said. "They have to set very real metrics and training within their company to ensure that they are safeguarding themselves and helping their employees be prepared to deal with people in the public and the communities they are serving."
Garcia said companies should also make their employees keenly aware of the country's current racial and political climate and how it could affect their interactions with customers. Employers should continue with swift and severe punishment for workers who mistreat people from historically marginalized groups. If employees continually see bad actors getting fired, eventually they'll realize even the perception of discrimination isn't worth potentially losing their jobs.
"One of the things I advise my clients of is, you likely have people in your organization who are sympathetic to white supremacy and white nationalism to the degree that they feel empowered to act on it," Garcia said. "You need to be able to come down on it and come down on it hard. If you let them get away with it in the short term, they will be able to in the long term."
On Tuesday afternoon, Starbucks announced it will close all of its more than 8,000 U.S. stores for "racial-bias education" training May 29.
Nearly 175,000 employees across the country will participate in the training, according to a press release.
April 17, 2018, 3:40 p.m.: This story has been updated.