Should you send your kids to online school? These are the pros and cons — and the costs.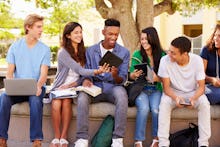 Nearly 45% of teens said they are stressed all the time, in a poll by social network After School. Respondents cited relationships, teachers, college and parents as being the top reasons for angst.
In fact, researchers at the University of Virginia found that some parents may not know how stressed their teens are because of how tangled social relationships can be. "They can be going through terrible social stress or terrible bullying or terrible conflict and they might tell their friends, but they won't necessarily tell their parents," Joseph Allen, UVA's Hugh Kelly Professor of Psychology and study author, said in a release.
Lobbed on top of supersized teen conflict is the need to create an outstanding high school transcript. To get into college, many students feel pressure to take multiple AP classes, hold leadership roles in after-school activities and shine in athletics. Even parents who are doing everything they can when it comes to parenting — from hiring SAT tutors to supporting extracurricular activities — may feel like they're not doing enough to help their children thrive.
For Jazz Jennings, the activist star of the TLC show I Am Jazz and a high school junior, the pressure to excel was overwhelming. "I was stressing out too much," she said. Between filming the show and trying to maintain being class valedictorian, Jennings felt as though she was trying to accomplish too much at once.
Virtual schools — also known as online schools — are becoming a popular option for a variety of students hoping to get their diploma without having to attend a traditional school. It's an education alternative that helps students take some of the pressure off while still gaining the skills they need to succeed. From 2015 to 2016, approximately 528 full-time virtual schools enrolled 278,511 students, according to 2017 data by the National Education Policy Center. So what exactly is a virtual school and how can you know if it is right for you?
Who is virtual school right for?
For some, virtual schools can provide a happy medium between academic rigor and a measure of flexibility most high schoolers can only dream of. Courses are delivered through an online school portal and teachers and students communicate through text, email and ongoing phone calls.
Jennings credited virtual schools with helping her find balance after she enrolled in October. "Virtual school provides me with the flexibility and freedom to get ahead in school but on my own time," she said. "Everything through the virtual school is well organized and the teachers provide good feedback." While Jennings found a good fit at a virtual school, educators caution that full-time virtual school is not for everyone.
"Most kids want to be in a school and need the direct instruction," Christopher McGuire, principal at Broward Virtual School in Coconut Creek, Florida, said in a phone interview. "The social dynamic of a traditional school is strong. However, society has changed and some kids may retreat from the social scenario and feel anxious."
Students in traditional schools can also take classes through a virtual school on a part-time basis. Through a partnership with Florida Virtual School, students who live in Broward or Miami-Dade County can attend the Broward Virtual School full-time. It's an option that makes most sense for students who are looking to accelerate their education, he explained.
"Some kids just want to concentrate on the academics and move forward," he said. "Virtual school allows them to get through the academics without the distractions and provides them the flexibility to graduate on time without the requirement or worry about having to come to the high school campus every day."
Virtual schools have a reputation for being easier, which isn't necessarily the case. In fact, the opposite may be true, and students who have trouble working independently may struggle in an online environment, McGuire said. Not everyone who applies is admitted to the program.
"You definitely have to be self-motivated to push yourself to do the assignments," Jennings advised. "There aren't teachers there handing you work in a school setting so you have to be able to work independently."
Virtual schools are no silver bullet, and also have drawbacks of their own. In fact, some students may withdraw socially and feel distanced from peers, according to LearningPath.
Virtual schools vs. home schooling
Although students typically learn at home, virtual schools are distinctly different from home schooling. The parent directs and delivers the curriculum when the child is home-schooled, whereas virtual schools are run by either the public, private or charter school system. Home schooling options have grown as students are now allowed to participate in sports, take classes at co-ops and even participate in some public schools, depending upon the district, ABC News reported.
In the past, home schooling was more value-based, but parents are now looking at home schooling for academic reasons as well. Students and parents use the same rationale behind enrolling their child in a virtual school.
One main difference is a virtual school can provide the student with a high school diploma, whereas the home-schooled student may need to jump through a few hoops to receive an accredited diploma. Some states have specific requirements for the home-schooled student to receive a diploma and the parent must create an official transcript for college admissions, according to the Home School Legal Defense Association.
What are the costs for virtual school?
Virtual school costs can vary from being free if they're part of the public school system like Broward Virtual, to charging private school tuition. Public virtual high schools are free, employ certified teachers and are funded by tax dollars, according to PrepScholar. Virtual private schools charge tuition, much like their brick and mortar counterpart.
Although a number of choices for virtual schools exist, McGuire said he warns parents and students to do their research prior to making a commitment. Not all virtual schools will have the appropriate graduation requirements and often engage in predatory advertising.
"Be wary of schools that do a lot of TV advertising, especially those that encourage parents to take students out of traditional schools," he said. "For-profit entities do that and you have to question the integrity and rigor of the program."
For example, the Federal Trade Commission busted several online high schools that issued fake diplomas for a fee. The FTC suggests steering clear of any online school that charges you a flat fee for a degree, provides a degree based on life experience, requires little to no coursework and quickly issues a degree. You can also check out a list of online high schools approved by ConsumerAffairs here.
Deepening your discount
While you can save money by opting for an accredited public virtual school, here's where you can save some additional dough: dual enrollment. Unlike taking an AP class at a high school, dual enrollment allows the high school student to take courses directly from a partner college. Many high schools have a list of colleges they partner with that accepts students from their high school.
Students who take college classes while still in high school may be able to complete an entire or partial year of college completely free of charge or at a discount. The student typically has to maintain a certain grade point average in high school and either earn a baseline score on the SAT or other college readiness tests to qualify.
Tuition and lab fee discounts vary per state. In some cases the student may opt to enroll for early admission where they take a complete college schedule with the courses counting toward both the high school diploma and a college degree. Nearly any qualifying high school student may enroll in dual enrollment or early admission, but virtual high school students may have an advantage because they already know how to work independently.
"You have to be very self-disciplined and focused to be successful in our program," McGuire said. "Universities know that students who come from a structured virtual program are ready to engage in coursework too and can endure for four years. We had three students graduate from Broward Virtual last year who already earned their associate's degree."
Jennings said she will likely end her senior year with an associate's degree thanks to dual enrollment.
The college path for a virtual school student
Some students worry that graduating from a virtual school hurts their chances of going to a good college. McGuire reported that students from his school have been accepted to Ivy League schools, and a representative from the University of Florida explained how the college evaluates online school students.
"UF will consider students who attend and/or have graduated from an online high school. However, the school must have the appropriate accreditation for recognition of the courses and diploma," UF spokesperson Steve Orlando said in an email interview.
Other colleges echo UF's policy on how they consider virtual school students. "They are considered the same as other students coming from a traditional school, so long as the online school is accredited and can provide a transcript," Amy Murray, assistant director of university communications at Ohio State University, said in an email interview.
"I met with my guidance counselor who said dually enrolled students look good to colleges," Jennings added. "Plus, you are already motivated to work independently as a virtual student, making you even better prepared for college."
Jennings added that she looks forward to applying to colleges in the fall. Virtual school allows her to juggle a busy filming schedule, maintain a strong GPA and apply for college. "I plan to finish my high school credits over the summer and will graduate from high school with my associate's degree," she said. "I'm already taking the SAT, looking at colleges and planning for the future."
Sign up for the Payoff — your weekly crash course on how to live your best financial life.