After Starbucks debacle, 4chan trolls make fake coupons enticing homeless to flood chain's stores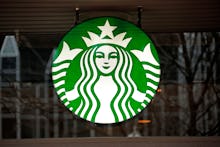 Starbucks appears to have inadvertently thrust itself into the middle of America's ongoing culture wars with its latest controversy.
The coffee company's decision to close more than 8,000 U.S. stores the afternoon of May 29 to conduct racial bias training — in response to the uproar over two black commercial real estate professionals being arrested at one of its Philadelphia locations on April 12 — has riled up internet trolls on 4chan.
On Wednesday, some users on the notorious site, which is often associated with the racist alt-right, started creating and spreading fake Starbucks coupons promising free coffee for African-Americans to make amends for what happened in Philly one week prior.
Another fake coupon posted Wednesday night promised to let anyone use Starbucks restrooms, charging stations and store Wi-Fi free of charge.
"Starbucks understands," the coupon reads. "Our home is your home. We now offer access to restroom facilities, charging stations and Wi-Fi to all. No purchase necessary."
The anonymous 4chan user who posted the latest fake Starbucks coupon apparently hoped to entice homeless people to go to Starbucks stores and use its facilities without buying anything.
"Give to the homeless," another anonymous 4chan user commented on a post including the coupon. "Pin up wherever they go. Print and distribute. Paste to the doors of Starbucks toilet stalls. Leave behind on buses and trains and stations."
The 4chan trolls appear to be trying to exploit the situation to punish Starbucks for what they view as succumbing to politically correct pressure from anti-racist progressives.
"Wow just because a couple a niggers act like niggers now all starbucks have to let homeless faggots in to ruin the bathrooms?" an anonymous 4chan user posted on one fake coupon thread Wednesday night.
Mic reached out to Starbucks for comment about the fake coupons and will update the story if the company responds.
4chan users have performed similar stunts designed to make light of progressive causes in the past. In November, trolls started posting "It's OK to be white" signs on college campuses across the country. The signs were intended to provoke a reaction from the media and illustrate that progressives "hate white people," according to the Washington Post.
Internet personality Bryan "Hotep Jesus" Sharpe also took advantage of the Starbucks controversy by shooting a video of himself demanding free coffee as "reparations" because Starbucks is "racist." Sharpe boasted about his stunt and decried the outrage on Fox News host Laura Ingraham's show.
"I am sick and tired of liberals using black people and making us look like victims, making us look soft with their liberal dogma," Sharpe told Ingraham.
Despite what the trolls say, experts agree there has been an increase in reported discriminatory behavior at retail stores across the United States going viral on social media and making national headlines, with similar incidents recorded at Applebee's, Old Navy and, most recently, a Los Angeles Starbucks location, among others.
The two black men who were arrested in Philadelphia, one of whom has been identified as former Bloomsburg University student Rashon Nelson, were detained for almost nine hours on suspicion of trespassing after they visited a Starbucks to meet up with a friend who hadn't arrived yet.
When the men entered the store, they reportedly asked to use the restroom, but were denied by a Starbucks employee who told them they had to make a purchase first. The men sat down at a table and told the employee they'd make a purchase once their companion arrived. The store's former manager, who has been identified as 31-year-old Holly Hylton, told the two men they had to buy something before sitting down or else leave the store. When the men refused to immediately make a purchase, Hylton called 911.
The officers who arrived took both men into custody as bewildered white patrons looked on in shock.
"The police were called because these men hadn't ordered anything," Philly resident Melissa DePino wrote in a video tweet about the incident. "All the other white ppl are wondering why it's never happened to us when we do the same thing."
On Tuesday, Starbucks CEO Kevin Johnson said he met with the two black men and apologized to them personally for what happened.
"They shared with me the story of their personal experience going through this," Johnson said in a video recorded statement posted on Starbucks' website. "We had a very emotional and a very constructive conversation."
Johnson also said the May 29 bias training session will become mandatory for all new Starbucks employees going forward.
"This is just one step in the journey," Johnson added. "There are many more to take, but it's an important step."