'Westworld' cast and crew talk nude scenes and power dynamics at season 2 premiere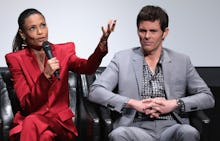 About halfway through the first episode of Westworld's second season, the animatronic Maeve, played by Thandie Newton, once again turns the tables on one of her former masters — in a bloodless, yet gratuitous way.
"Strip," she tells Westworld coder and storywriter Lee Sizemore, played by Simon Quarterman, as they stand together in one of the host examination rooms where Newton's character spent much of season one sitting bare breasted and stoic after being murdered or raped or both, ready to be reprogrammed.
Moments later, a bewildered Sizemore stands before Maeve wearing nothing but dress socks and boxer briefs.
"No... all of it," she snaps.
Within seconds, the camera cuts from behind Quarterman as he's taking off his socks and underwear, exposing his bare derriere, to the striking and uncommon, full-frontal shot of his male anatomy.
The camera lingers for an uncomfortable moment. It felt forced and unnecessary... and that's the point, in more ways than one.
"We talk about these things in a gendered way because often it is only women who get naked and only women who are vulnerable," Westworld producer, co-creator and writer Lisa Joy explained during the post-screening Q&A session at the show's season two New York City premiere in the BMCC Tribeca Performing Arts Center Thursday night. "It's a very vulnerable position for men to be in as well."
Newton herself is an accomplished actress who's certainly comfortable in her own skin despite overcoming the adversity of being both black and a woman in an industry often hostile to both. On Thursday she discussed doing a lot of semi-nude and nude scenes throughout her career and feeling like "a prisoner" in her own body during her long journey as a famed actress.
"Of my body, for my work. ... Abuse and exploitation is rife," she told the Guardian in 2016, ahead of the premiere of Westworld season one. "The number of people who want to distance themselves from me because of how much I'm willing to say is an example of how much [sexual abuse] is occurring."
The 45-year-old star, with more than 40 combined film and television credits over her 25-plus-year career in Hollywood, told the story of a director who once gave her a false promise to shoot a frame above her bare breasts. She also recalled an audition in which she was asked to fondle her breasts while holding a camera between her legs, later learning that the director played the footage at private parties.
It's no wonder then that Newton seemed so grateful for the way she says nudity was handled on the Westworld set during the HBO epic's first season.
"We did a take and [director Jonathan Nolan] rushed out from behind the camera, made everybody, 'Turn around! Turn around!' and got me a robe," she told the audience at Tribeca. "He wouldn't even look at me. He was trying to guide the robe [to] me and not look at me. I just wanted to cry because I had never been treated like that in a situation where I was nude. I was treated that way every single day I was nude. ... It is a revelation to me."
HBO's Westworld is a modern adaptation of Michael Crichton's 1973 film in which the lifelike robots in a theme park meant to satiate the darkest desires of their wealthy clientele eventually attain sentience and go full-on Terminator.
Season one chronicled the horrifying existence of the mechanical humanoid hosts who were brutalized and dehumanized by their guests. There was no shortage of nude scenes for the male and female actors playing the machines through the first 10 episodes.
Newton and Joy say for the hosts in season two, there's much less bare flesh.
"I assumed I'd come back for season two and have to get naked ... I remember reading episode one and being like, 'Boom. I'm wearing clothes,'" Newton said as the crowd laughed Thursday. "I went to Lisa [Joy] and I said, 'Lisa, I'm not naked.' She goes, 'Why the hell would Maeve want to get naked again?'"
Joy explained that it wouldn't make narrative sense for most of the hosts to be naked again in season two.
"What is essential to the story is that feeling of both perfection, but also of tragedy," Joy said of season one, describing scenes where the hosts are repaired and reprogrammed after being killed repeatedly. "It's the fact that they're sitting there being literally objectified and treated like objects, like things to operate on, and talked about while they're sitting right there in the room. ... When the hosts get power, they're not going to spend a lot of time naked on a stool."
Joy applauded the way the cast's male actors handled their added nude scenes in season two.
"When you talk to the men about these things, there's not a moment's fucking hesitation because they're like, 'It's only fair and it's right for the story,'" she said. "I think it's, in part, out of respect for the women who have done it."