In new Trayvon Martin docuseries 'Rest in Power,' George Zimmerman is not the only villain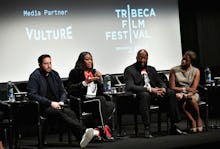 Images of sign-wielding NRA supporters, Black Lives Matter protesters, alt-right groups in Charlottesville, Virginia, and even President Donald Trump flash across the screen during the opening montage of Rest in Power: The Trayvon Martin Story.
The six-part docuseries, which debuted Friday at the Tribeca Film Festival in New York City, is based on the 2017 book written by Martin's parents, Sybrina Fulton and Tracy Martin. Both the book and the series chronicle the 17-year-old's death and the movement it inspired.
Martin was shot and killed by neighborhood watchman George Zimmerman in Feb. 26, 2012. Zimmerman claimed self-defense and was acquitted on second-degree murder charges.
The filmmakers "really put their heart into what you just saw," Fulton said as part of a panel after the premiere. "It was a matter of a book coming to life. And they did just that... It's real life and it happened."
Executive producers Jay-Z, Chachi Senior and Mike Gasparro, teamed up with directors Julia Willoughby and Jenner Furst, who also immortalized the harrowing story of Kalief Browder in 2017, to produce the docuseries. Rest in Power gives Martin's narrative a cinematic treatment with vivid past and present scenes of his former school, his home, his loved ones and the gated Sanford, Florida, subdivision where he was shot and killed.
The series' first episode also brings critical, lesser-known details to the forefront. Among them are Zimmerman's many previous calls to police to report black men he saw traveling through his gated community; the often misconstrued, yet pivotal role Florida's "Stand Your Ground" law played in Zimmerman's criminal court case; and the heart-wrenching story of how police broke the news of Martin's death to his father.
It's also clear after watching the first installment that Martin's parents blame more than Zimmerman for their son's death. The NRA and Marion Hammer, chief architect of Florida's Stand Your Ground law, are referenced as much as Zimmerman throughout the film.
"The reality is Stand Your Ground had everything to do with this story," Furst, one of the co-directors, said during a post-screening Q&A session. "Law enforcement was liable if they arrested [Zimmerman] and he claimed Stand Your Ground. The [local] prosecutor was liable if they prosecuted him and he claimed Stand Your Ground.
"There was even liability for the family if they'd come after him civilly. It's the most disgusting law and the most reprehensible piece of legislation that one could possibly imagine. Yet everybody just rubber stamped and passed it because the NRA approved it."
Martin's father underscored how much of an impact the predominantly white teen survivors of February's school shooting at Marjory Stoneman Douglas High School in Parkland, Florida, have had in reforming the state's gun laws even though he and Martin's mother have been fighting to do the same since their son's death.
"We've been talking about getting these laws changed since 2012," Martin told panel moderator Joy Reid. "The difference is that the Parkland incident hit rural America. It hit the heart of America."
Sybrina Fulton, Martin's mother, emphasized Rest in Power isn't just about memorializing her son — it's also a call to action.
"We don't want you to just come here and see something and nothing happens," she said. "We want you to move on it. ... We want you to be participants in this movement."
Rest In Power is set to air on the Paramount Network in July.